NEO Pro is a third party add-on for Microsoft Outlook, made by a software company Caelo (meaning "the heavens" in Latin). It is indeed a heaven for Outlook users, especially those who use it in a commercial environment. Hundreds or probably thousands of Outlook emails are cluttering your inbox every single day. Sending an email through Outlook is a breeze, but organizing them in a specific manner is another story.
NEO Pro smartly organizes your emails and makes them completely searchable, easier and faster than ever.
NEO Pro Review – How NEO Pro works

After you install and open NEO Pro, it will automatically sync with your Outlook installed in the system. It automatically indexes and organizes your emails, folders, and categories for you. If you have both opened, NEO Pro will synchronize nicely with Outlook whenever new emails arrive. Since it sits on top of Outlook, it's recommended to open Outlook first before you open NEO Pro.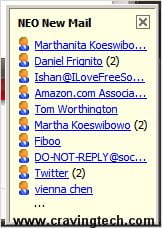 NEO Pro also works together with Outlook. So for example, you can use the NEO Pro advanced search feature (more on this later), find that one email you are looking for, and reply to it through NEO Pro (which will then point to the real email in Outlook and open the Outlook's reply dialogue box). Nifty.
You don't even need to open your Outlook anymore once you have NEO Pro running. All your new emails will be displayed in NEO Pro interface as well + a notification window coming on your Windows taskbar. When you want to reply or create a new email, clicking on the corresponding button on NEO Pro will open your Outlook dialogue window automatically.
When you delete an email from either Outlook or NEO Pro, the other one will be kept in sync (the deleted email will go to Outlook deleted items folder).
NEO Pro Review – Features
NEO Pro Organizer
Neo Pro automatically organizes your emails smartly and here are some of the most useful ones in my opinion:
Correspondent (the email sender)
Most of the time you'll probably want to view all emails coming from a specific person.
Category (from Outlook categories)
I don't normally categorize my emails specifically, but you'll appreciate this if you are using it to manage your emails.
Date (Year-month)
Rather than "Yesterday", "3 days ago", or "Last week", NEO Pro completely segment emails into a year & month value.
Attachment
There are times when you just want to get a document being attached to you some time ago. This is the best place to find rather than trying to browse through hundreds of emails and trying to look for that "attachment paper clip" icon in your inbox.
NEO Pro Search
The best of all, NEO Pro search is powerful, simple, and simply works!
You can totally customize the search without being overly too complex. You search by keywords on specific folders or the whole account, just like Outlook. However, you can also search under the NEO Pro categories I explained earlier. For example, you can go to the Correspondent Tab and use the "Search in folder" from there. NEO Pro automatically searches your keywords under the selected Correspondent. This makes the search much faster and you'll get less cluttered search results.
You can also search for any keywords in the Subject, Body, Names/addresses, and attachments names. It will match any combination of the words. So if you remember a few words of your lost email, type them here in any order and NEO Pro will find it for you in an instant!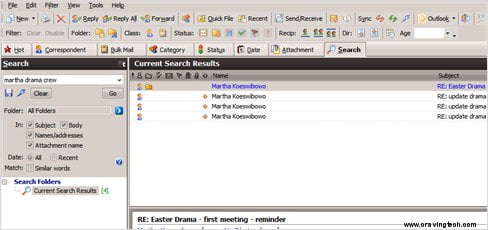 Searching for attachments can be done by going to the "Attachment" tab and type the keywords to search. You can search all attachment types or specific ones (for example, a Microsoft Word or a PDF document)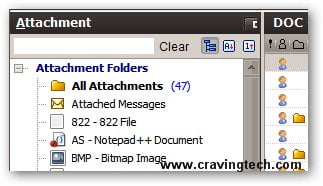 NEO Pro search is actually much much faster compared to the Outlook search. Since emails get categorized automatically by NEO Pro, it helps a lot to trim down the search into getting the results that you really want. Unless you've been putting bunch of rules, filters, and folders in your Outlook, NEO Pro will save your time BIGGGGGG TIME. You never have to worry about maintaining and organizing your Outlook any more!
The only problem that I got is that new emails couldn't be found when I tried to search for the keywords. After some digging into the interface, I found this setting:

Changing this setting to 1 minute (depends on how frequent you receive new emails, I guess) cured the problem. Or you can also click on the "Update the Word Index" manually if you like.
NEO Pro Review Conclusion

NEO Pro is not meant to replace your Outlook but to complement it, greatly. You'll truly appreciate this application if you receive lots of emails every day and you haven't been doing your job well in managing rules, filters, and folders. I honestly have been lazy adding my filter rules because new opportunities and business partners flock my inbox every week. I'm just too lazy in keeping up with this altogether. NEO Pro does all of these for you. It categorizes your emails automatically which means that you can worry about replying business opportunities or support rather than wasting your time managing your own inbox.
Searching in NEO Pro is a breeze, thanks to the great auto management of emails. Not to mention that the search is powerful and very quick, compared to Outlook. I managed to get the email that I wanted to search quicker in NEO Pro. In Outlook, sometimes my search results gave me 10 out of 1 email that I'm really interested in.
So if you've given up trying to manage the constant flux of emails coming to your inbox, look no further than trying NEO Pro @Caelo! NEO Pro is compatible with Outlook 2007, 2003, 2002 (XP), 2000, 98 and operates on Windows 7, Vista, XP, 2000, NT, ME or Windows 98 – with or without Exchange Server (all versions).
Note: Review license provided by Caelo