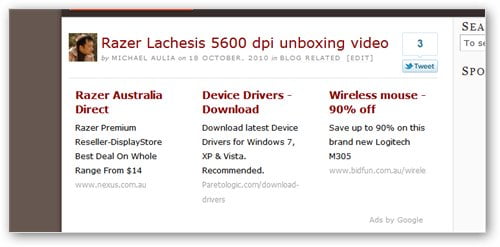 Okay, I owe you all this post that I supposed to write weeks ago. Some of you must have been wondering about the mysterious Google AdSense formats on this blog. Some of you know that these non-ordinary AdSense formats are available only if you have become an AdSense Premium Publisher. How to be a Google AdSense Premium Publisher, you asked? Assuming you have millions of visitors per month on your site/blog, then you are eligible. To regular bloggers like us, we can keep on dreaming and wishing for the day to come.
So how do Craving Tech have access to these AdSense formats then with only around 3,000 unique visitors per month?
I was actually contacted by TechMediaNetwork for opportunities in CPM advertising. On the email however, we've also talked about the possibilities of becoming their partner and have access to these Google AdSense premium ad formats. Of course, a mutual agreement was needed for both parties – to split the AdSense earnings between the two parties. How much? It's best not to disclose here, of course, but they are being very reasonable. They'll look at how your current AdSense is performing and make the benchmark/split based on your earnings history. Suffice to say, I'm really happy with the agreement that we both agreed on.
Since you'll be using their AdSense codes on your site/blog, you'll have to fully trust them. My manager, Shannon, send me a weekly report (or daily if I want to) with the impressions, clicks, and earnings. Once they've calculated your past month's earnings (minus the split amount, according to the agreement), they'll transfer the money to your PayPal account. It does take a few weeks before you can get it (which is a pity), but so far it's definitely not a scam and they've sent me a couple of payments to my account.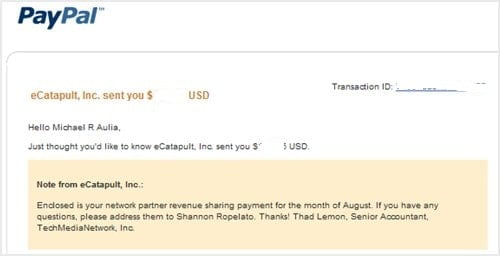 If you've been monitoring my previous income statistics, you must have noticed that my AdSense earnings went doubled ever since I joined TechMediaNetwork and put the new formats on this blog!
Of course in reality, I earnt more than the figure I gave but I had to split the earnings with TechMediaNetwork as agreed. But what do I get to lose? Now I earn more and the new formats also make Craving Tech looks more professional, don't you think? It's also not as hideous/annoying as the 336 x 280 that we've been taught to use everywhere. You can also customize the ads further to perfectly match every single font format on your site/blog like you can see by yourself.

I'm sure they are quite picky in picking the sites to join in their network but you can try contacting them should you decide to give it a try. You can contact Shannon Ropelato at:
[email protected]
Office: (801)452-7675
Just make sure to tell her that I sent you and she might arrange a good partnership with you too :) If you are not interested, you may know someone who does, so please help to share this great news to other bloggers (tweet, stumble, etc).