Craving Tech's traffic statistics summary for May 2010: 68,248 unique visitors and 83,150 page views.
Traffic details:
Referring sites: 21,994 visitors.
Search Engine: 38,906 visitors.
Direct Traffic: 7,306 visitors.
Other: 42 visitors.
Total money made online in May 2010: $275.35
May 2010 Referring Sites Breakdown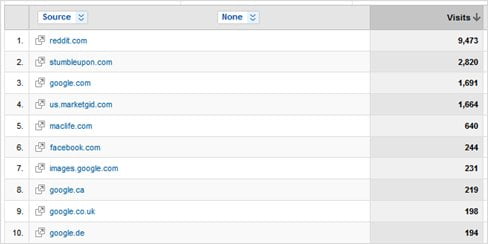 Money made online in May 2010 breakdown
Private Advertising: $106
Google AdSense: $147.32
Amazon Associates: $22.03
Total: $275.35
A steady income to AdSense but a decline on the private advertising last month, I may have to work harder on advertising my blog's adslots somehow. I also tried CPA Lead for a couple of weeks. Basically if you have a page or a download area, you can monetize it further with CPA Lead. It works by "locking" the page and requires the visitor to fill in a short survey (or other actions) to unlock. It's a great monetizisation tool if you have a premium area on your site/blog. After a week or two of trying it, I got around $7.62. Not bad at all but I'm a bit scared to drive my visitors away so I took it off in the mean time. Feel free to check it out and experiment on your blog though.

I also tried to move my AdSense around but couldn't seem to squeeze more out of it..
How's your traffic and income stats going last month?