Some of you have been using Sparrow, an elegant email app for the Mac OS and iOS (iPhone), and fallen in love with the user interface. I honestly never used Sparrow in the past before but I've heard good things about it. So when I heard about Mailbird, a Gmail desktop app, and that it has a similar look-and-feel like Sparrow, I was intrigued.
So we have Outlook, Mail, Thunderbird, and many other good email clients for the Desktop. Why another one? Well, why not?
For a start, I like the simplicity and the look-and-feel of Mailbird.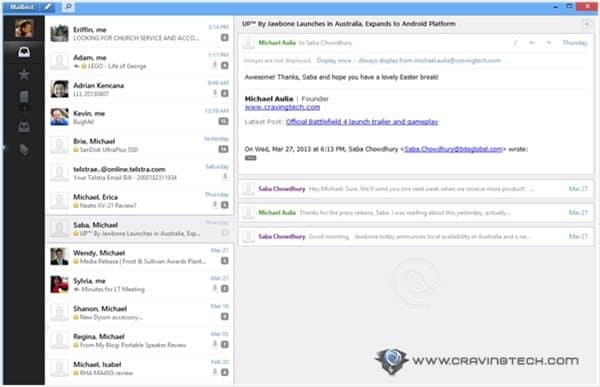 It's not cluttered and there simply is no space being wasted. Before I continue, however, note that Mailbird is a Gmail desktop app (at least, at this stage). This means, Mailbird only works with Gmail account and nothing else. Of course, the team has a plan to allow multi accounts and non-Gmail support but at this stage, you can't use Mailbird if you don't have a Gmail account. Period.
If you have enabled two-factor authentication on your Google accounts, don't forget to generate a separate app password to be used in Mailbird.
Now, back to the interface. You have access to your Inbox, labels, drafts, and your other Gmail folders on the left. The main window displays your inbox with the conversation details on the right side of the app. You can also search your emails anytime within the desktop app.
You can quickly compose a message within the app and do a quick reply directly from the conversation threads.
Compose pop-up window: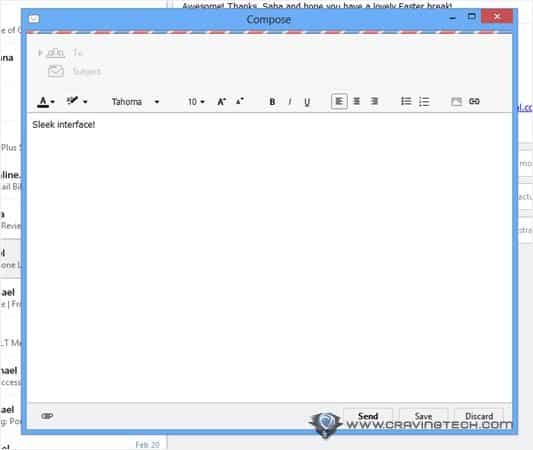 Quick reply:
Whatever you do in Mailbird will be auto-synced to your Gmail account; so if you send an email to the trash, it will be sent to the trash in Gmail, and so on. The sync is flawless so far.
There are also quick keyboard shortcuts which I actually bother to learn this time. Pressing "e" will quickly archive an email, "r" to reply, and so on. You can see all of the keyboard shortcuts by right-clicking your mouse.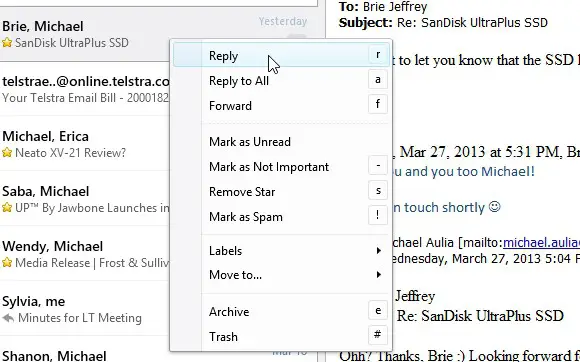 When you have a new email on your Gmail's inbox, Mailbird will notify you with a tray icon showing how many new unread emails you have, a notification sound, and also a tray notification pop-up. You can turn any of these off if you don't want to get distracted while you are working.

Mailbird also supports apps as plug-ins. At the moment, there aren't many but we'll surely more to come. This makes Mailbird powerful (assuming we get high quality and useful apps)
At the moment, Mailbird is still in a beta kind of phase. It is free, but in the future, you have to pay to get the Pro version – which will remove ads, add more features, and remove Mailbird branding signature (so yeah, the free version adds a Mailbird signature to your outgoing emails, sadly).
"Sent from awesome Mailbird."
The Pro version is only $12 a year – or around $9 if you "pre-order" now. Among the other desktop email clients, Mailbird is definitely my favorite as a free Gmail desktop app, except for the signature branding part.