Note: This is a guest post written by Rob Boirun

iTunes alternative – iTunes is dissatisfactory to many users.  There are limitations that cannot be overlooked in terms of synchronizing files and transferring media.  By creating separate files, it is possible to create new options for iTunes but this is often tedious at best.  These options are limited and also often leave users feeling that something is lacking.  Despite the abilities of the user to manipulate files, the possibilities with iTunes remain limited and have become increasingly less compatible with the future as media technology advances and iTunes does not.  iTunes has its good points and has served users well over the years.
Now, that simply is not good enough and there are iPod transfer software alternatives available to give new options and software features that leave iTunes flailing.  Certainly, Apple created a decent program with iTunes, but they have missed the target for users of late.  This article will take a look at the options available as an alternative to iTunes.
Windows Cucusoft iPod Transfer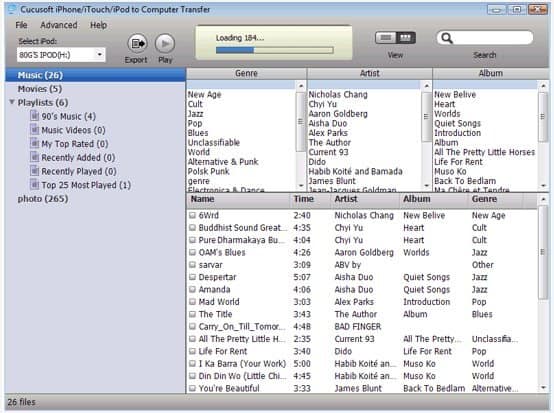 Cucusoft is a software alternative to iTunes for PC users. It is designed to help you backup data from any iPod device and even the iPhone.  Its primary feature is data- backup, essential to keep your tracks, videos, pictures and other stored media safe in the event of device failure.   This program makes data-retrieval simple and straight-forward.  You should still keep iTunes around.  However this program will take the place of iTunes with features that include all of the iTunes capabilities with greater ease of iPod transfer and security.
Lenogo: Software for iPod to Mac Transfer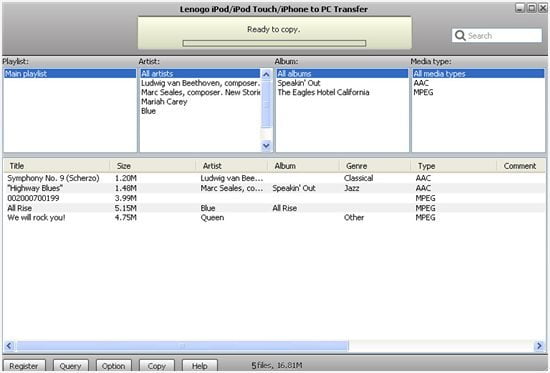 Lenogo is a software that makes media transfer from Mac an PCs simplified and many find that it is an oasis in the desert for iTunes users frustrated with iPod to Mac transfer.  Lenogo software is offered in different versions to suit appropriate needs and replaces the need for iTunes entirely.  This is a good alternative software to sync iPod without iTunes.
Lenogo iPod/iPod Touch/iPhone to PC Transfer
AVGO iPod, iPhone, iTouch to Mac Transfer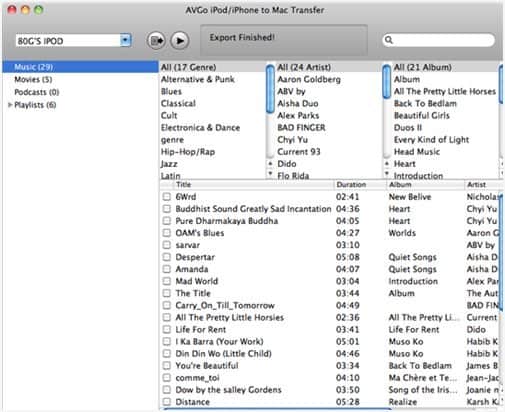 AVGO is a utility for the iPod, iPhone and iTouch that is an easy-to-use program designed to help you back up all of your data from these devices.  Data recovery is important for computers and it is also important for media devices as well.  You could either drop the device in the water or you may change the software that you use for the device and inadvertently erase information.  Having a backup for all of these devices is rolled up into a nice package with AVGO.
AVGO is software that makes iTunes easier to use and can act as an alternative to iTunes.  It offers auto-scanning, indexing and searching.  It automatically indexes all content on your iPod, and other i-devices.  You can import and export data with ease.  Among the alternatives to iTunes, this one displays a signature mark of multiple device compatibility.
AVGo iPod/iPhone to Mac Transfer
iPod to Mac Transfer
iPod to Mac Transfer is another software that is an alternative to iTunes.  This is artistic software that offers versatility for iPod music, video, audio recording, photographs, movies, and podcasts and TV programs.  With this software, transfer between media devices is streamlined.  It is just as good as any other of the alternatives, except that it offers an array of features.
Key Functions of iMacsoft iPod to Mac Transfer: Transfer music, videos, photos, movies, and playlists from iPod, iPhone, or iPod to Mac
Works as iTunes alternative to transfer files from Mac to iPod, iPhone and iPad
Supports non-purchased subscription files including CD ripped music and downloaded songs.
You can manage multiple i-Pods, iPhones, and iPads simultaneously with supportive drag and drop.
All iPod models are supported.
All file types are supported as are all iPod devices in addition to iPhones and iPads.  It does not mean that it is the best, but it is good and has much more to offer than iTunes.  This particular software alternative to iTunes offers many other features.  You may or may not need them all, but this one has all of the bells and whistles.  Be critical, however, as bells and whistles do not always mean good news.  Sometimes simpler is better, depending on your needs. And if that is the case, all the bells and whistles will do is take up space and/or confuse you.
Those above are the options for the Mac user.  Now, the PC user needs to be addressed, because of course, not everyone who uses and i-device is such an Apple enthusiast that they want to make the transition to an Apple computer.
Media Widget
Media Widget is software for the PC user that is an alternative to iTunes and creates new possibilities for media transfer for the iPod to PC needs.  It allows users to capture various media on their iPod and transfer this to a PC with a few simple steps.  It is another of the software programs available as a way to move beyond iTunes and make iPods easier to use with PC software.  iTunes is a cumbersome program for Mac users.  For PC users it can be more trouble than it is worth.  Many switch to new devices because of this.  This software can help the frustrated user get more enjoyment out of their music files.
Media Widget – iPod Music Transfer
The options for iTunes alternatives are readily available.  If you are fed up with iTunes, try a different option.  There is something for everyone, and you are certainly no longer limited to only Apple developed software to enjoy your music.