Note: This is a guest post written by Jeeva Shanmugam – Threads": Meta's new foray into social networking, debuted on July 6, 2023, which is a direct alternative (or) clone of Twitter. This product is designed to build personal and meaningful interactions rather than hiding behind free speech crises.
The app provides a new and intimate channel for communicating with the world. Threads, which is seamlessly linked with Instagram, allows users to share their thoughts, and quotes, and improve communications by sharing photos, videos, and GIFs with the internet community.
Aside from its integration, the platform has a broad set of features precisely designed to spark deeper discussions, including targeted replies, and quote threads, which contribute to the creation of a new era of meaningful online connections.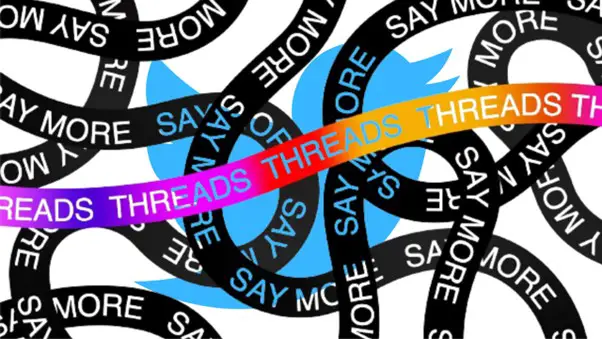 Threads Initial Popularity
Threads witnessed an early surge in popularity upon its launch, attaining exceptional success. The app amassed a mind-boggling 100 million users in an incredible five days. This accomplishment propelled Threads into the annals of record-breaking products outpacing even ChatGPT's amazing growth trajectory, which had taken two months to reach the same user milestone.
Threads' amazing success may be traced to several aspects that have surely contributed to its global recognition. First and foremost, the app has an excellent design that is distinguished by user-friendliness and simplicity of navigation.
The interface is intelligently developed, radiating a clean and minimalist style, with functionality positioned naturally to improve the overall user experience. This design strategy was critical in attracting and maintaining users.
Threads' integration with Instagram has been a crucial factor in its success, providing the application with direct access to an established user base. Threads have effectively avoided the traditional issue of creating a user base from scratch by tapping into Instagram's huge ecosystem, distinguishing it from many other new arrivals in the social media industry.
Current State of Threads
Threads' once-soaring popularity has gradually declined over time. As of now in August 2023, the application has a user base of around 50 million active users. While this amount is still significant, it is far lower than the application's peak, when it had an amazing 100 million users.
Threads' popularity has declined due to a variety of issues. One critical aspect is the criticism leveled at the app for its remarkable similarities to Twitter. This resemblance has sparked mistrust among users and onlookers alike, possibly undermining the app's attraction.
Another key aspect is the app's inability to attract a significant influx of new users because of its lame features, resulting in a stagnation of its user growth trajectory.
Future of Threads
It's uncertain what Threads' future holds. The app's popularity might continue to drop, or it could find a way to reinvent itself and attract new users. Only time will tell if Threads can reach its objective of becoming a platform with 1 billion users.
Here are some of the elements that might influence Threads' future:
Instagram's continuous development. If Instagram continues to grow, people may abandon Threads.
New social media applications are being released. If new social media applications with similar features to Threads are developed, the app's popularity may suffer.
X formerly Twitter's criticism towards the Threads app, it is nearly impossible to attract hardcore Twitter users towards threads, so it forms a question on the Threads future.
Overall, Threads' future is dubious. The app has had a great launch, but it remains to be seen whether it can maintain its popularity.
How do Twitter users see Threads?
Twitter users had different feelings about the Threads app. Some people consider it a beneficial tool to engage with intimate friends and family while avoiding Elon's turmoil. Others perceive it as a worthless Twitter clone. The app has several advantages, but it also has some disadvantages. Threads' ability to overcome its obstacles and become a popular social media network remains to be seen.
Wrapping It All
To sum it up, Meta's newest foray into social networking, Threads, had an impactful debut as an alternative to Twitter, striving for more meaningful communication. Threads developed a stunning user base of 100 million in just five days, thanks to its early rise of popularity fueled by user-friendly design and connection with Instagram.
However, difficulties arose over time, including criticism for its similarities to Twitter and a halt in user growth, causing its popularity to dwindle to roughly 50 million active users.
The trajectory of Threads' success remains uncertain, leaving open the question of whether it can sustain its early achievements and redefine itself in the evolving landscape of social media. But Think about running away from Elon and staying in the hands of Zuck.