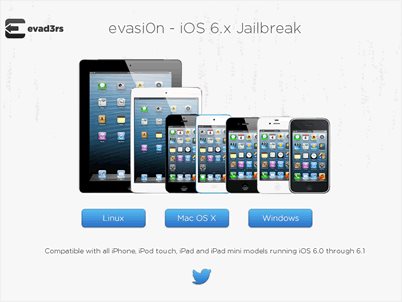 iOS 6 Jailbreak – The first untethered iOS 6 jailbreak to be produced for the iPad Mini and iPhone 5 has finally arrived. It's called evasi0n, and it's available for download right now at evasi0n.com, for Windows, Mac OS X and Linux.
There are a few helpful steps to perform before you get started, though. You'll want to back up your device using iTunes or iCloud, to ensure that if anything goes wrong your data won't be compromised. You'll also want to disable the lock passcode, as this can reportedly "cause issues" with the installation.
Finally, don't mess with either iOS 6 device or iTunes software while the installation is ongoing – while you can hard reboot the iPhone and restart the jailbreak process, it's best to leave it alone until something goes wrong.
iOS 6 Jailbreak by Evasion
The iOS 6 jailbreak Evasi0n is compatible with all models of the iPhone, iPod Touch, iPad Mini and iPad that run iOS 6.0 or 6.1 – pretty much all of them.
Evasi0n was released one week after Apple released the latest version of iOS, version 6.1. That timing is no accident – it's quite common in the jailbreaking scene to sit on exploit discoveries until they're really needed, and only release details or an implementation of a new exploit right after a new version of iOS hits. This ensures that users have the maximum amount of time until the next release, at which point the exploit will likely be patched. For that reason, it's not too surprising this was also the case for the iPhone 5 exploit.
So far the iOS jailbreak has been quite popular. Jailbroken software repository Cydia has been down or slowed to a crawl since the jailbreak's release, as users go looking for interesting apps to install. The main evasi0n site has also been hit hard, with their logs showing 270,000 unique visitors simultaneously immediately after the jailbreak was released.
Have you already jailbroken your iOS 6 device or are you planning to have an iOS 6 jailbreak? Let us know why or why not in the comments below!