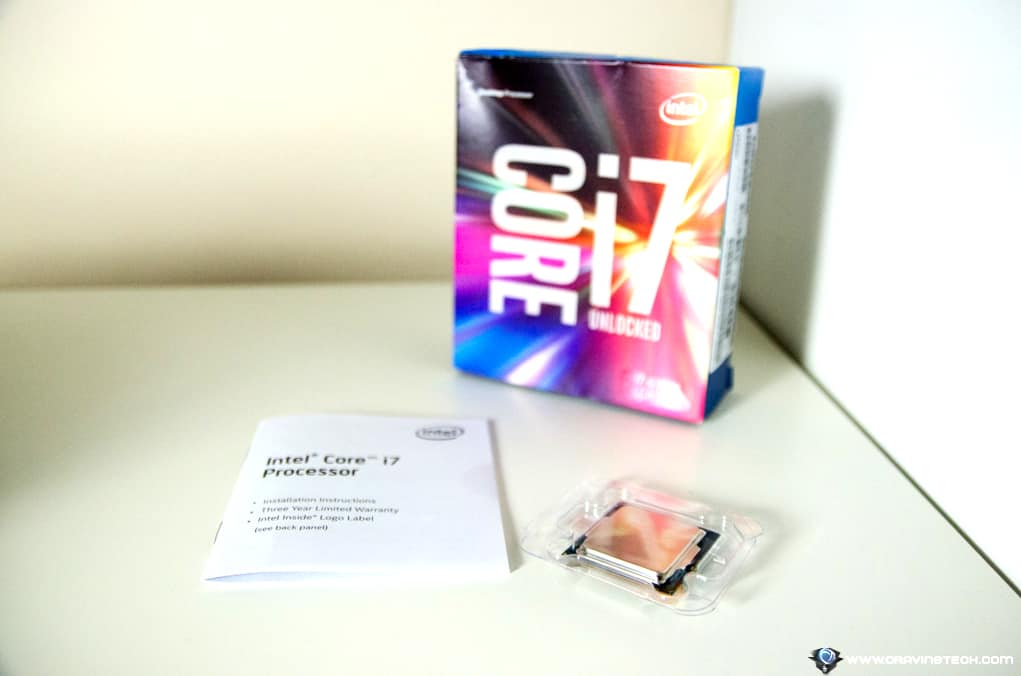 I'm building up a new PC powered by Intel's latest generation of processor, codenamed Skylake (6th Gen), thanks to Intel Australia. Intel's latest generation of processor brings up more performance and features but most importantly, the new Z170 chipset which brings support to DDR4 memory, USB 3.1, Thunderbold 3 support, and more.
The Skylake processor chip I have here from Intel is the i7 6700K, which is a beast of its own and is the best on the Skylake line of processors by the time this article is written. The "K" at the end is an unlocked version, meaning the CPU is overclockable for performance tuning from the get-go. If you don't plan to overclock at all, grab the non-K 6700.
Some specifications on the Intel i7 6700k Processor:
Quad Core, running 4.0GHz (overclockable on the "K" variant), can process up to 8 threads simultaneously
8MB Cache
Intel® HD Graphics 530 (integrated graphics)
Designed for Microsoft Windows 10
and here are some of the Z170 platform benefits:
Supports for DDR4 Memory (I'm going to install a 32GB HyperX Predator DDR4, thanks to Kingston Australia)
Supports USB 3.1 (Gen 2) with double the transfer speed from USB 3.0 (from 5.0 Gbps to 10.0 Gbps!)
Supports USB Type C connector (plug the USB connector any way you want, like an Apple Lightning cable)
Supports more USB ports (up to 6 USB 3.0 ports, 14 USB 2.0 ports)
Supports up to 6 SATA ports 6Gbps (more SSDs in your machine!)
Supports for Thunderbolt 3
Supports for more PCI lanes and M.2 slots.
Intel based technologies such as Intel Turbo Boost, Intel Hyper-Threading, Intel Ready-Mode, Intel Smart-Sound, Intel Smart Response, etc.
Find out more about the all new Z170 Chipset.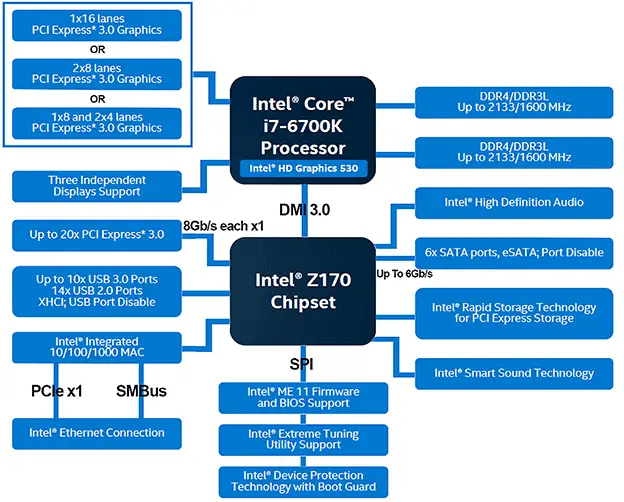 At the end of the day, though, it also depends on the motherboard you are purchasing – not every motherboard will include every single thing that the Z170 chipset supports. As a rule, you do need a Z170 motherboard for the unlocked ('K') version if you intend to overclock your Skylake processor. The motherboard I have for the build is the ASUS Z170 PRO GAMING.
One of the technologies the Skylake supports is the Intel RealSense 3D Technology and I think it's awesome. Using an Intel RealSense Camera, it's able to sense depth and motion tracking with high accuracy and a lightning fast performance.
https://www.youtube.com/watch?v=DuUVIat40YU
Here are some examples of Intel RealSense Technology in action, used in games:
and of course, you've probably seen Lady Gaga performance at the last 58th GRAMMY Awards 2016, which utilised the same Intel technology with the help of RealSense 3D cameras:
https://www.youtube.com/watch?v=3fGBZhsa4VU
If it's too much for you, well, how about being able to have more fun when you are doing a video call, or do a fitting when you are in a clothing shop, etc? Intel RealSense Technology definitely has a lot of potentials and it's also for the general consumer market.
Stay tuned for the next article as I build the new monster Skylake PC up. I'll write on my impressions and some comparisons with my old PC.
[AMAZONPRODUCTS asin="B012M8LXQW"]