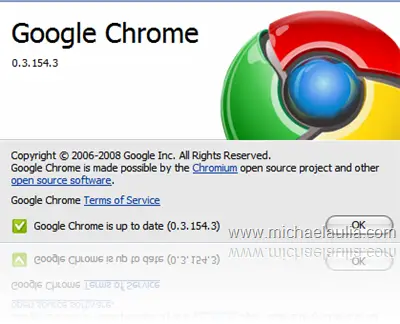 I love Google Chrome. It's fast and minimalistic. However, I had to "ditch" it simply because it freezed a lot, especially on pages with Flash movies. Recently I noticed however, that the latest development beta version, Google Chrome 0.3.154.3 has been quite stable and hasn't freezed on me so far, yet.
If you're having problems with Google Chrome freezing every now and then on pages with Flash movies (or Flash based web sites), I'd recommend you to update to version 0.3.154.3 (or newer). If you download Google Chrome from the official page, though, you will not get this version as it's not officially released by Google yet. You have to "switch" your Google Chrome to receive updates from the developer channel, as explained on my previous post here.
On this version, you may also notice that whenever you are downloading an executable (EXE) file, Google Chrome "Save As" dialog will show unconfirmed_SOMENUMBERS.download as the name of the file. This is not a bug (I thought it was). Google Chrome actually tries to warn you that you are going to download an executable file. If you proceed, the file will be renamed back to its original.

Google Chrome will display a warning on the bottom left of the browser before you can download the executable file.
So far, Google Chrome has been promising and constantly being updated every single day by its developers. I'm sure the next major update of Google Chrome will be more exciting.
Are you still using Google Chrome as your primary browser?