Razer Nabu Watch Review – Razer Nabu Watch is a digital watch from Razer with smart functions – which functions like a smartwatch (they somehow try to avoid the term "smartwatch"). It's basically a wearable product that can track your activities and notify you when there are notifications coming from your smartphone.
The watch is unique compared to the other watches out there because it is actually powered by 2 different kind of batteries, powering different purposes. This prevents the need to charge the watch too often, making it more efficient and convenient.
Razer Nabu Watch Review – Packaging
The packaging showcases the Nabu Watch on display, similar to what Razer did with their classic gaming mouse packaging. The packaging comes with the Nabu Watch unit, charging cable, and a manual.
Razer Nabu Watch Review – Introduction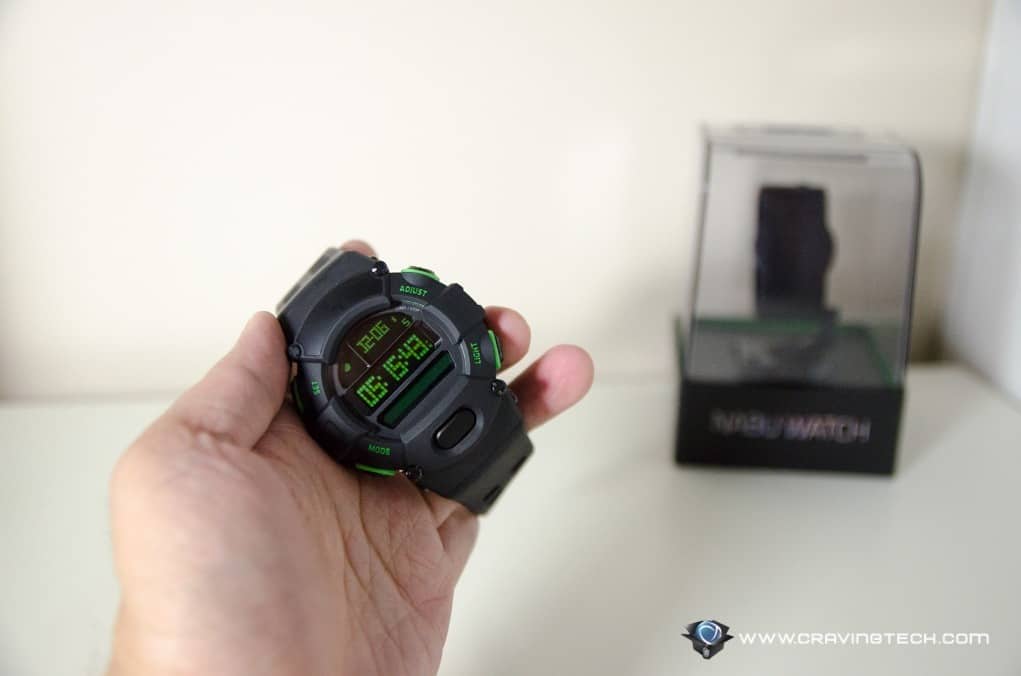 At a glance, Razer Nabu Watch looks very similar to a Casio G-Shock watch and you either like it or hate it. To some, it's too big, clunky, and bulky. But to some, it's awesome, cool-looking, and a "Just take my money" product. From the fans' comments and my own circle of friends, the feedback is similar too (some love it, some don't).
The Nabu Watch actually looks much better in real life compared to the pictures you see online. If you like G-Shock style watches, you will not be disappointed with the Nabu Watch.
Razer Nabu Watch Review – Design & Features
I like the straps design. It makes it really easy to take off/put on the Nabu Watch. The material doesn't make me itch and it has enough strap holes to make sure that I have the fit I want.
What unique about the Razer Nabu Watch is that it has 2 separate screens or modules powered by 2 different kind of batteries.
The primary screen (where the digital clock is displayed by default) is powered by a coin cell battery (CR2032) that is replaceable and lasts for around 12 month. The secondary screen is powered by a rechargeable battery (like other smartwatches) that can last for about a week, that depends on how you use the watch obviously. I still got 33% left after a week of usage.
Because of this design decision, the watch needs to be charged less often (which means less frustration) and cheaper in the long run. It's a great combination and balance. Place the burden onto the coin cell battery too much and you'll end up having to buy and replace its battery too often. On the other side, place the burden onto the rechargeable battery and you'll have charge the watch daily like most smartwatches.
Apart from displaying the time, you can also activate a countdown timer, world time, and stopwatch. I rarely use these to be honest, but I certainly love the other Razer Nabu Watch functions such as the activity & sleep tracking.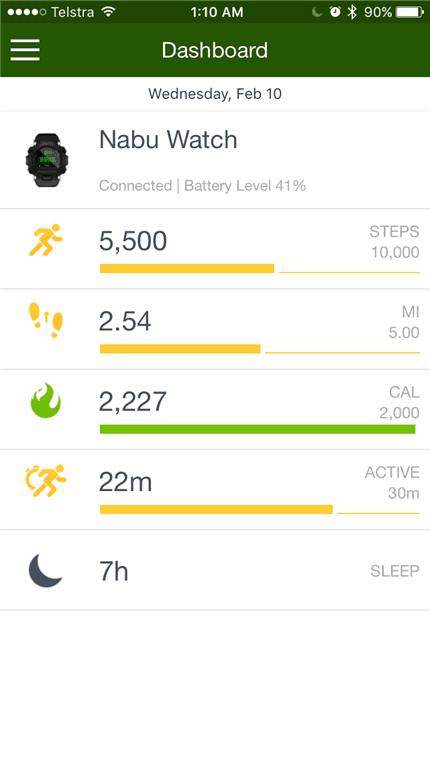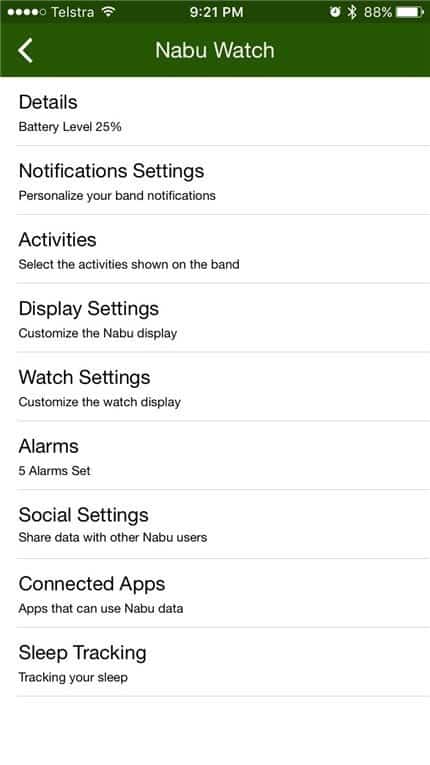 The Nabu Watch counts and records the number of steps you've taken a day, the distance travelled, and calories burned with its built-in accelerometer and algorithms. These will be displayed on the secondary screen and can easily be browsed by pressing one of the buttons on the watch.
Its automated sleep tracking seems to work well though wearing a watch this big to bed might be uncomfortable to some. Occasionally, the sleeping activity can be inaccurate (for example, it recorded me sleeping while I was working in the office – it looks like the software got the PM and AM wrong, but even then, I was never awake that early).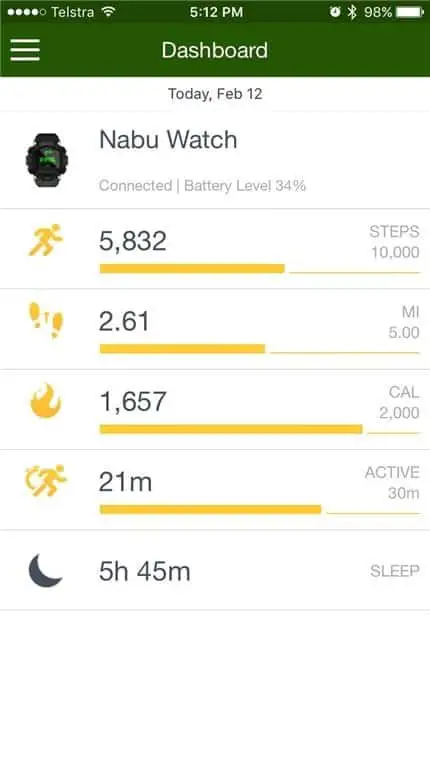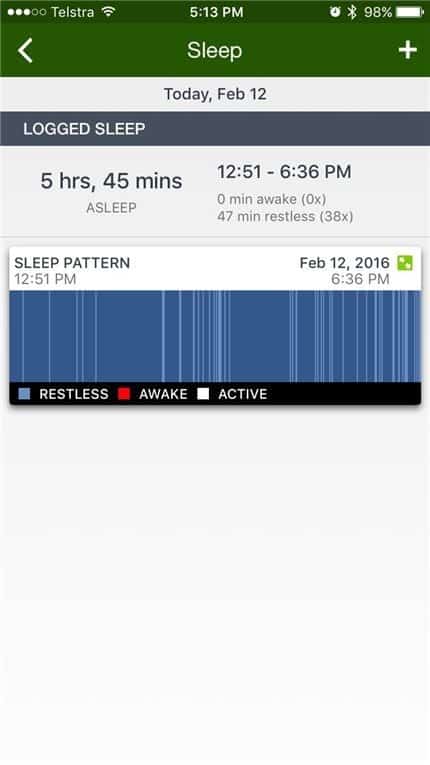 Messages and notifications will be scrolled through the secondary screen and the scrolling speed can be set through the Razer Nabu mobile app.
When your Whatsapp group gets chatty on the #Razer #Nabu #Watch @Razer pic.twitter.com/CdUyf1nm8V

— Michael Aulia (@michaelaulia) February 11, 2016
Nabu Watch can only store the last 5 notifications so you'll have to use your phone to see them if you miss the previous notifications.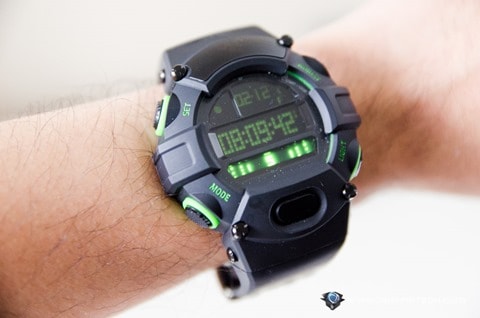 With the help of Razer Nabu app, you can set goals, set silent alarms (vibrate), check your statistics, change some of the watch settings, and more. The app notifications unfortunately cannot be tailored specifically to the Nabu Watch. If you set to receive a specific app notification on the phone, you'll also get it on the Nabu Watch (note: this was tested on the iPhone 6s. Not sure if Android has more freedom in this).
After a week of testing, about twice I'd lose synchronisations with the Nabu Watch and ended up losing my stats (steps, etc). I wasn't sure what was causing it but turning my Bluetooth off and on seemed to pair it up again (tested on iPhone 6s). I occasionally left my Nabu Watch at home though and my phone was often paired with other Bluetooth devices in between. Perhaps along the way, the pairing got broken?
The backlighting on the watch is also a mixed bag. In a brightly lit room or outdoor, you can see the primary screen clearly. Indoor, however, you can barely see it from afar. Pressing the "Light" button does not help unless if you are in a completely dark environment. The secondary screen is bright (brighter than the primary), but suffers greatly under direct sun light. You either have to look it up close and personal, or cover it with your hand to be able to see the notifications.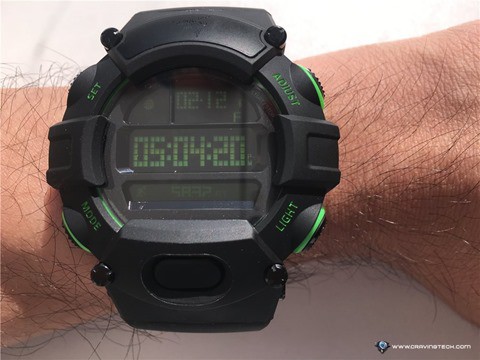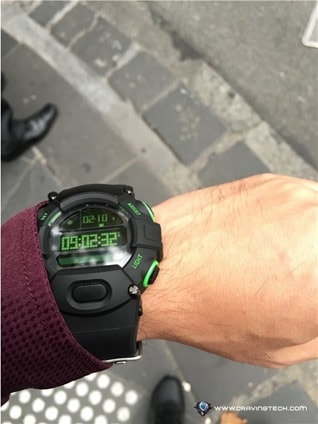 The watch is water resistant. At one point during my testing, I accidentally spilled my banana smoothie all over the watch but with an easy rinse under the tap, it's as good as new.
But wait, why does a gaming company makes a digital watch? Is there a gaming aspect to it? There is, but not so much at the moment. If you do a handshake with someone who's wearing a Nabu wearable product, you can quickly exchange contact information (Steam ID, for example). There might be more gaming related features in the future though, so stay tune for an update.
Razer Nabu Watch Review – Conclusion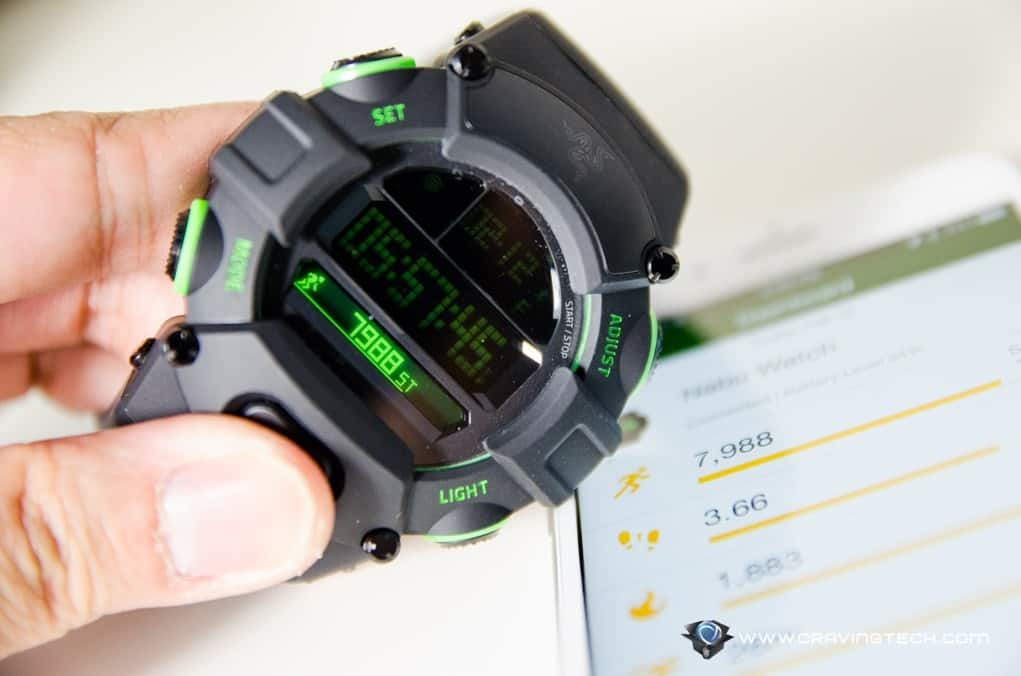 Whether you like Razer Nabu Watch or not is quite subjective from one to another. If you like a G-Shock watch style, then you'll definitely love the Razer Nabu Watch. But if you like a more elegant-looking watch that looks simpler, minimalist, and classy, you probably will not like the Nabu Watch as the size and style may not be for everyone.
In my own opinion, I've grown to love the Razer Nabu Watch. It may not always fit to every occasion (such as a wedding or other formal event), but for a day-to-day wearable, it's a great digital watch that tracks my activities but more importantly to me, alert me for important notifications. It seems that teenagers and youth like the watch more compared to the older generations, but again, style is always a subjective matter.
The notifications are instantaneous, the vibrating alarm helps me to wake up, and the watch alerts me when I have an incoming call. Future updates to further enhance the capabilities of the Nabu Watch are possible too. For example, at the moment you can use the watch as a remote control to your phone so there might be other features being tested in their lab.
If you like the looks and design of the Razer Nabu Watch, you certainly won't be disappointed with it, especially after a few more firmware updates. Check out what else can Razer Nabu Watch do.
Disclosure: Sample was supplied for reviewing but all opinions are mine and not paid
| | |
| --- | --- |
| [AMAZONPRODUCTS asin="B01B237EP2″] | |