ESET has done it again. The new ESET Smart Security 4 contains all the protection that you need for your personal or business PCs: the popular NOD32 anti-virus and anti-spyware, along with anti-spam and a personal firewall.
Gone has the days of purchasing or installing different applications to protect your computer. With ESET Smart Security 4, you can spend less time worrying about the security and more time in using your computer.
ESET Smart Security 4 System Requirements
Processors supported: Intel or AMD x86/x64
Operating Systems: Microsoft Windows 2000, Microsoft Windows XP (32- and 64-bit editions). Microsoft Windows Vista (32- and 64-bit editions)
Memory: 48 MB
Disk Space (download): 32 MB
Disk Space (installation): 46 MB
Note that it doesn't support installation on Windows 9x family (Windows 95/98/ME) but ESET Smart Security 4 works very well on my Windows 7 Build 7000 x64 computer, even though it's not mentioned on the requirements.
ESET Smart Security 4 Interface and Overall impression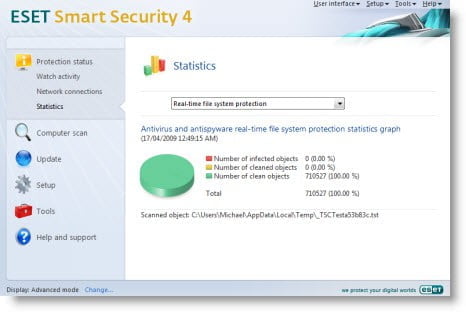 Once installed, the software provides a nice and easy navigation throughout its menu and settings. You can switch between the Standard and Advanced mode (to switch to Advanced mode, simply click on the "Change.." link at the bottom left where it says "Display: Standard mode". If you are one of those technical people, I'd recommend selecting the Advanced mode. It provides more configurations and controls over the Smart Security 4 modules.

ESET Smart Security 4 sits nicely on the Windows system tray and occasionally pop-ups a non-intrusive message at the bottom right corner of your Windows (an antivirus definition update report or a suspicious file found on your computer and waiting for you to submit it for further analysis on the ESET lab).
The interface is very clean and quite minimalistic. You'll see what you need to access the most (to find out how healthy/protected your system is and also to scan your system) readily available on a glance. Crucial events are time stamped properly on the logs so you will not be lost with what's going on while ESET Smart Security 4 takes a good care of your system.
ESET Smart Security 4 also uses a small amount of CPU & memory usage that you won't probably even remember having an antivirus (and the other security modules) installed and monitors your system. I still remember having my AVG antivirus installed in my office computer and can really tell the performance difference between the two. The ESET smart products work flawlessly and quietly without affecting my work and eating my CPU resources.
ESET Smart Security 4 Modules
Firewall
ESET Smart Security 4 offers a more advanced Firewall than the default Windows Firewall. It has a few modes (Automatic mode, Automatic mode with exceptions (user-defined rules), interactive mode, Policy-based mode, and also Learning mode) depending on how strict you want your system to be. I tend to leave it as automatic though and so far I haven't got any complaints. Feel free however, if you want to monitor & approve every single HTTP (internet) traffic request from your installed applications. It can be quite annoying after a while (at least for me) but it can probably be the most secure steps that you've taken. It ensures no application tries to make an HTTP connection to some dodgy servers and most likely send information that they shouldn't have.
Just make sure that you choose either to use the ESET's Firewall or the Windows Firewall (not both). Enable one and turn off the other.
Anti Spam
Admit it. No one can escape from spam emails no matter how hard you try. One or 2 spam emails will always get through to your system no matter how good the anti spam plug-in on your email server is. ESET Smart Security 4 Anti Spam will add an extra layer of protection to your email traffic. It supports POP3 and IMAP protocol and most popular email clients such as Microsoft Outlook, Outlook Express, Windows Mail, Windows Live Mail, and Mozilla Thunderbird.
If you get hundreds of emails a day, ESET Anti Spam will save you more time in checking whether spam emails are really spam emails and making sure that spam emails get tagged as spam. It's not perfect but no anti spam software is perfect.
Anti Spyware
Prevention is always better than the cure itself. I don't know how many times I have fixed my friends' computers simply by downloading an anti spyware program and use it to clean their Windows. ESET Anti Spyware will try to flush all hidden Trojans and spyware to your attention when you run it through the scanner. It will also monitor your files to make sure that a spyware is detected at the earliest time possible.
Don't expect ESET anti spyware to be able to scan every cookies from well known advertisement agencies or well known adware, however. Unfortunately you'll still need to use anti spyware software developed specifically for this (Spybot, etc).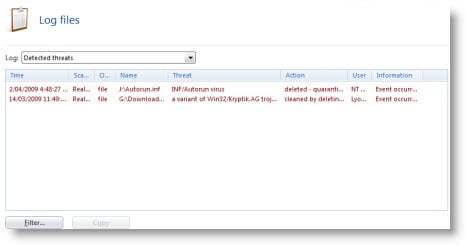 Antivirus
ESET NOD32 is one of my most recommended antivirus (apart from Kaspersky) to have. It's light-weight, minimalistic, and reacts swiftly. Often my USB flash drive contains the famous "autorun.inf" infection and NOD32 never failed me even once. Once I plugged my infected USB flash drive, NOD32 pops up a red warning about the virus and that it has removed the file automatically from my USB drive even before the file gets executed.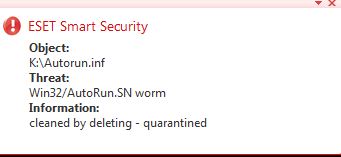 Scanning your whole system with any antivirus product takes a while, depending on the scanner settings (in which you can modify to your needs). You can select which drive you want it to scan and also how thorough you want it to be.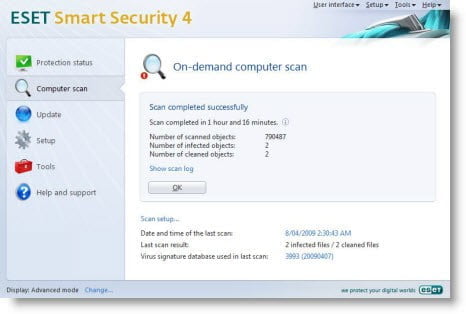 NOD32 also has a ThreatSense engine which will examine and identify new types of malware using its advanced heuristic approach. Since new viruses and worms are created almost every day, this is a must have to always keep your PC safe and secure from any types of malware and virus attack. Always keep your anti virus definition file up to date.
Conclusion
ESET Smart Security 4 is a complete solution for your PC's security. It's bundled with NOD32, anti-spam, and also a highly configurable firewall. Not to mention other nifty tools such as SysInspector that diagnoses your system and you can also create a bootable media to scan and clean your system. It may sound like bloated software at a glance (judging just by looking at the features) but ESET Smart Security 4 proves otherwise. It's very light weighted and very rarely you'll notice that it's even running in the background, scanning and monitoring your HTTP traffic & files.
You can configure it to be fully automated or half automated, depending on your needs and technical level. Most people will be happy with the automated mode so that they can focus more in using their computers than dealing with confirmation dialogue boxes.
ESET Smart Security 4 is highly customizable and if your computer gets attacked very frequently, you can always tweak the settings higher to increase the heuristics levels to detect possible unknown viruses and trojans.
If you want a complete solution for your computer, I highly recommend ESET Smart Security 4. You basically install and forget about it (since the CPU & memory usage are fairly small).
If you just need the anti-virus and anti-spyware, buy NOD32 instead of the whole package. You will save a bit of money since Windows already has its own firewall and most email servers/clients have their own spam detection system anyway.