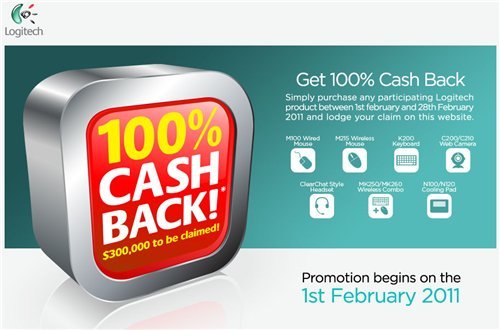 Got an amazing news today in my inbox about the Logitech's 100% cashback program. The idea is, if you purchase a specific Logitech product between the 1st and 28th of February 2011, you can lodge a claim and get all of your money back.
That's basically like getting a Logitech product for free!
The eligible products to be purchased are:
M100 wired mouse
M215 wireless mouse
K200 keyboard
C200/C210 web camera
ClearChat Style headset
MK250/Mk260 wireless combo
N100/N120 cooling pad
Unfortunately, this offer is only available for Australians and it depends on whether the budget has run out when you make the claim (Logitech allocates $300,000 for the cash back).
Check Logitech's CashBack official site for more details.