BlueAnt X4 Portable Party Speaker Review – As a Melbournian, I must admit I am proud to review something that has been designed here in my hometown. BlueAnt is a 100% Australian owned company; founded by Taisen Maddern in 2003. They've been making innovative premium audio products across 20 countries.
Their latest product is the BlueAnt X4 portable party speaker, the perfect speaker for your indoor or outdoor Christmas gathering this year. Cue your favourite Christmas carols.
What do you get in the box?
1 x BlueAnt X4 portable speaker
1 x Microphone
1 x Microphone cable
1 x Rapid charger
1 x User manual
Key features:
Powerful 50-Watt Party Speaker
Connect up to 100 X4 speakers at a time in party mode
Bass Boost Button
Weighs just 2.6kg and comes with an easy carry handle
1 x Bonus Microphone
Up to 12 hours playtime* (50% volume) *Continuous Play on AC charger
2 EQ modes tuned by studio engineers
IP54 Splash Proof
1 x 133mm woofer, 1 x 51mm in tweeter, 1 x bass vent
Rapid charge DC adaptor
Psycho-acoustic bass extension
Bluetooth 5.0
Colour: Black, White, Teal, Pink, Purple
Design
Initially, I thought that it's going to be a relatively heavy speaker given its size. However, I was genuinely surprised by its lightweight design. It only weighs 2.6 kg and I can easily carry this around with one hand. 
In the era of ubiquitous apps and minimalistic design, it feels great to have physical buttons to press. Kudos to BlueAnt. There are physical buttons on top of the speaker such as on/off; Party mode; Bluetooth mode; Disconnect party mode; Bass Boost; Skip back a track; Play/pause; Skip forward a track, LED mode; Mic echo control; Mic volume; and Volume dial. I also find it nifty to have a phone/tablet slot holder located near those buttons. 
Furthermore, BlueAnt X4 is IP54 splash proof and comes in five different colours (Black, White, Teal, Pink and Purple).
Pairing
The pairing is super simple as once I turned on the speaker, my phone scans for new devices to pair, and "BlueAnt X4" appears on the list. Voila, it's paired. 
If you have two BlueAnt X4 speakers, you can pair them to enable the Party Mode so that each is placed in the corners of your room. You can pair up to 100 speakers! That's right, it is one hundred speakers. You can party like it's 1999.
Audio quality
I must admit I am very impressed with the audio quality, especially for its price point. The audio quality is crisp and clear. It has also enough bass for my liking. If you fancy yourself Hip Hop or R&B songs, you can turn on the Bass Boost function. But since I am more of a fan of Big Band music lately, I'm happy with the default audio settings. Plus, the LED lighting system is a pretty cool feature and it certainly lights up your room's atmosphere.
There are five LED light modes to choose from (Revolver, Space, Studio 54, Limelight, and Fabric) to suit the music by pressing the LED button. The microphone's quality is more than enough for my amateurish singing ability. 
Battery life
The BlueAnt X4 speaker can run up to 12 hours at 50% volume, and at 100% volume, it will do 5-6 hours. It'll take 1.5 hours to fully charge the speaker. However, if you have a power socket nearby, it'd be more convenient to use the supplied rapid charger so that you will have unlimited playtime. 
The speaker has a built-in power bank function so that you can charge your phone, should you need to. It's located at the back of the speaker (output: 5V 1A).
Tech specs
Power Requirements: DC 12V 2A
Power Output: 25W (RMS) @10% THD
Total Max Power Output: 50W
Frequency Response: 75-20k
Bluetooth® Version: 5.0
Compatible Bluetooth® Profiles: A2DP
BlueAnt X4 Review Conclusion – Should you get one?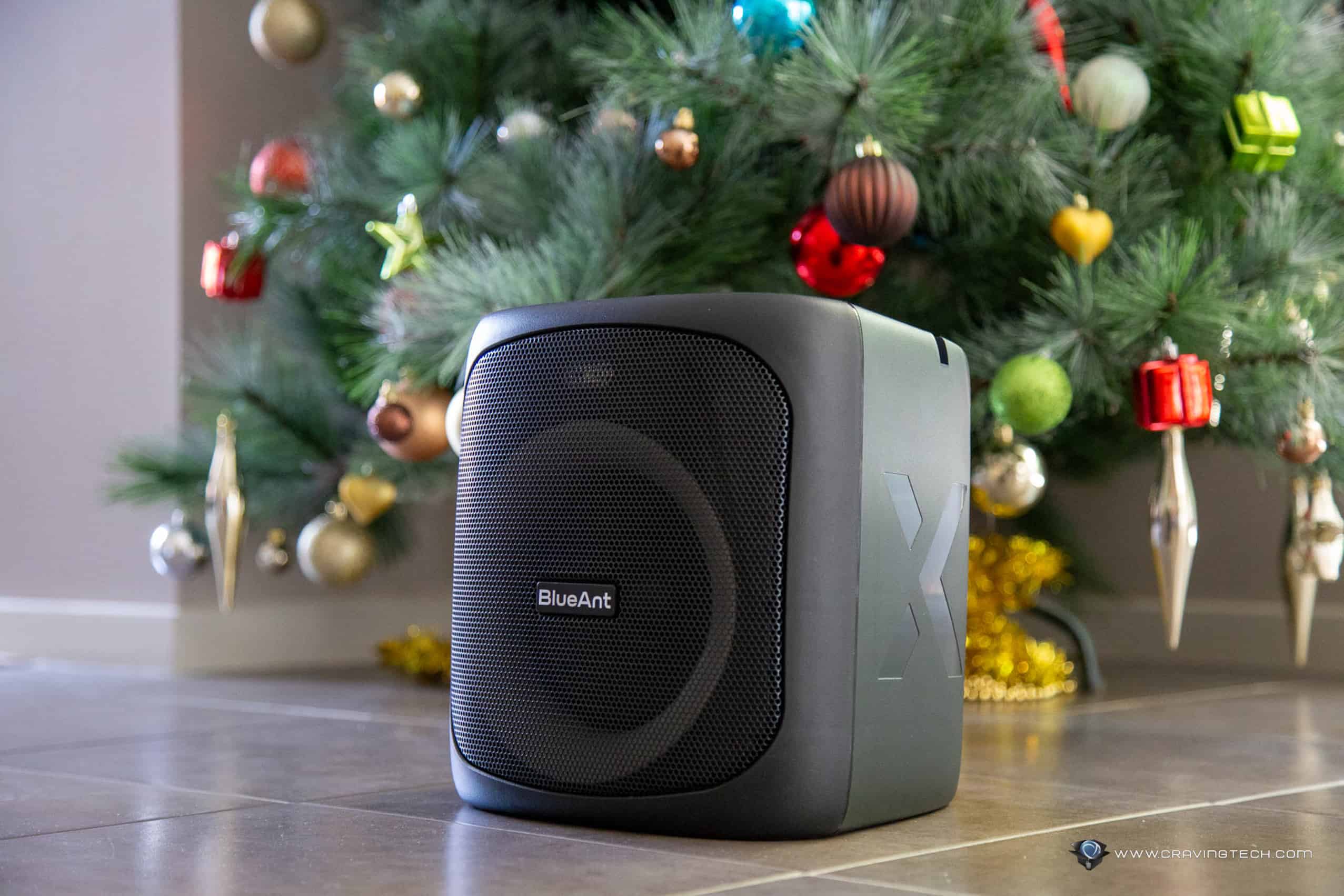 Yes, absolutely! Given its affordable price point and superb audio quality, BlueAnt is giving many well-known audio companies a run for their money.
You can get this brilliant BlueAnt X4 speaker at the BlueAnt website for A$299 with free delivery or you can get it at retailers such as Officeworks. 
Disclosure: BlueAnt X4 review sample was supplied for reviewing