A surprising news today came when I read about Google Inbox, a new service by Google to revolutionise our emailing experience with Gmail. Inbox is basically Gmail redefined. It tries to promote a better experience and offers what we need the most at this moment: a way to handle the bulk of our emails.
Sure, to most people, Gmail is good enough. However, if you get 10-100 emails a day, then Gmail is definitely not versatile enough to handle them all. There are ways to organise your emails with browser extensions, starred icons, labels, and all, but they feel disjointed and incomplete.
Inbox will try to organise your emails into groups (or Bundles) such as purchases, travel/flight information, and so on. It would somewhat be similar to the current Gmail's smart inbox (which I never use). This might be smarter and more customisable though, so I'm really looking forward to this.
There are also to-dos which will be displayed on top of your inbox. Definitely a better version than my red-starred emails as my way to organise my to-dos (emails with review opportunities).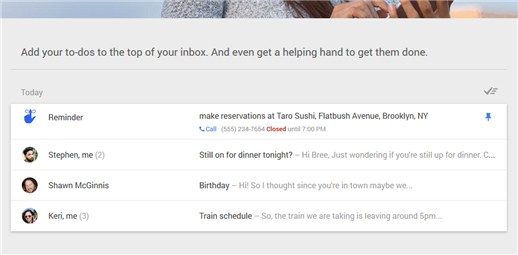 Messages/emails can also be snoozed to whenever and whereever (if you are on an Android or iOS devices using Location Services), which is perfect for those who need to send reminders at a certain point in time (or place). I wish they also include a way to schedule our emails – hopefully in the future.
There are some things that excite me like the To-dos (Reminders) and Snooze. I'm unsure about the Bundles as it depends on how customisable it is and whether it is smart enough to capture and differentiate my emails.
For now, Google Inbox is invite only (shame) but you can register your interest on their official page. I did send an email to them earlier today with "Dear awesome Google team" as the first paragraph. Let's see if that works.