HUAWEI WATCH GT Review – While there are already many smartwatches and activity trackers out there, nothing has really hit that perfect spot yet.
Lots of smartwatches offer cool apps and functionalities, but they don't normally last very long (for example, Apple Watch has to be charged daily). Or when they do last long like the Fitbit Versa, they are not exactly has that classic watch look.
But HUAWEI WATCH GT seems to get everything right. With its astonishing looks, fitness-related functionalities, and weeks of battery life, will this be the perfect watch to win that precious spot on my wrist?
HUAWEI WATCH GT Review – Packaging
HUAWEI WATCH GT Review – Design & Features
Featuring a classic watch design with 1.39″ 454×454 AMOLED screen, the watch looks quite natural on the wrist (i.e I kind of dislike square-shaped watch like Apple Watch) and actually luxurious.
I had a few remarks from my friends asking me what I was wearing and all of them said the watch looked really good. One of them even thought it was a TAG Heuer smartwatch at first.
I personally really like the HUAWEI WATCH GT with the Saddle Brown leather Silicone Strap, which is more classy compared to the Graphite Black. But then again, it's a matter of preference. I also like how the strap is dual colour & materials, i.e: leather on top and rubber on the parts where the strap touches the skin.
This is useful because when I was sweating all out during my Badminton session while wearing the watch, but the strap didn't get drenched in sweat and got smelly (which normally happens on leather straps). If you exercise a lot, you don't need to swap to a sport band because the leather one will do just fine.
The dual materials work really good and I hope every leather strap maker is following this approach.
While HUAWEI WATCH GT looks like a luxurious smartwatch, it's actually more like an activity watch than a full-blown smartwatch. It does not support those cool apps like an Android or Apple Watch, and all notifications on the watch are quite static (i.e you cannot respond to them directly on the watch). App store is also inexistent.
If you are familiar with Fitbit activity trackers, you'll find some similarities of features in terms of fitness tracking within the HUAWEI WATCH GT. But surprisingly, HUAWEI WATCH GT has a built-in GPS of its own.
While it took a while to lock in the Melbourne CBD surrounded by tall buildings, I could use my phone to help fasten the process through the Huawei Health app.
HUAWEI uses its own Lite OS for the watch, and it's there for very good reasons. With Lite OS, HUAWEI can enable a power-saving algorithm that enables it to dynamically switch between performance and efficiency modes depending on your activity. As a result, HUAWEI WATCH GT has a very long battery life and no one can complain.
With notifications turned on, the watch can go for up to 2 weeks between charging (depending on how many notifications you get) and months if you turn the heart rate monitoring off. This makes it highly desirable to wear HUAWEI WATCH GT all the time, even while you go to sleep.
However, not going with the mainstream also means you are relying on HUAWEI alone to give you watch faces and apps. At the moment, I'm pretty happy with the selection of watch faces and I'm not into running apps on my wrist, but some might prefer the Android Wear OS way.
HUAWEI TruSleep™ 2.0 tracks my sleeping patterns but more importantly, also offers a sleeping quality score with more than 200 recommendations available – depending on why you are not sleeping well.
I have a borderline sleep apnea and the watch seemed to pick that up through my breathing quality at night.
With constant heart rate monitoring, the watch will notify you when it detects irregular heart beats, which is really crucial and lifesaver to some. It's great to know that the heart rate monitor is not just there to show how healthy you are and to push yourself during exercises, but also to save your life when things go awry unexpectedly.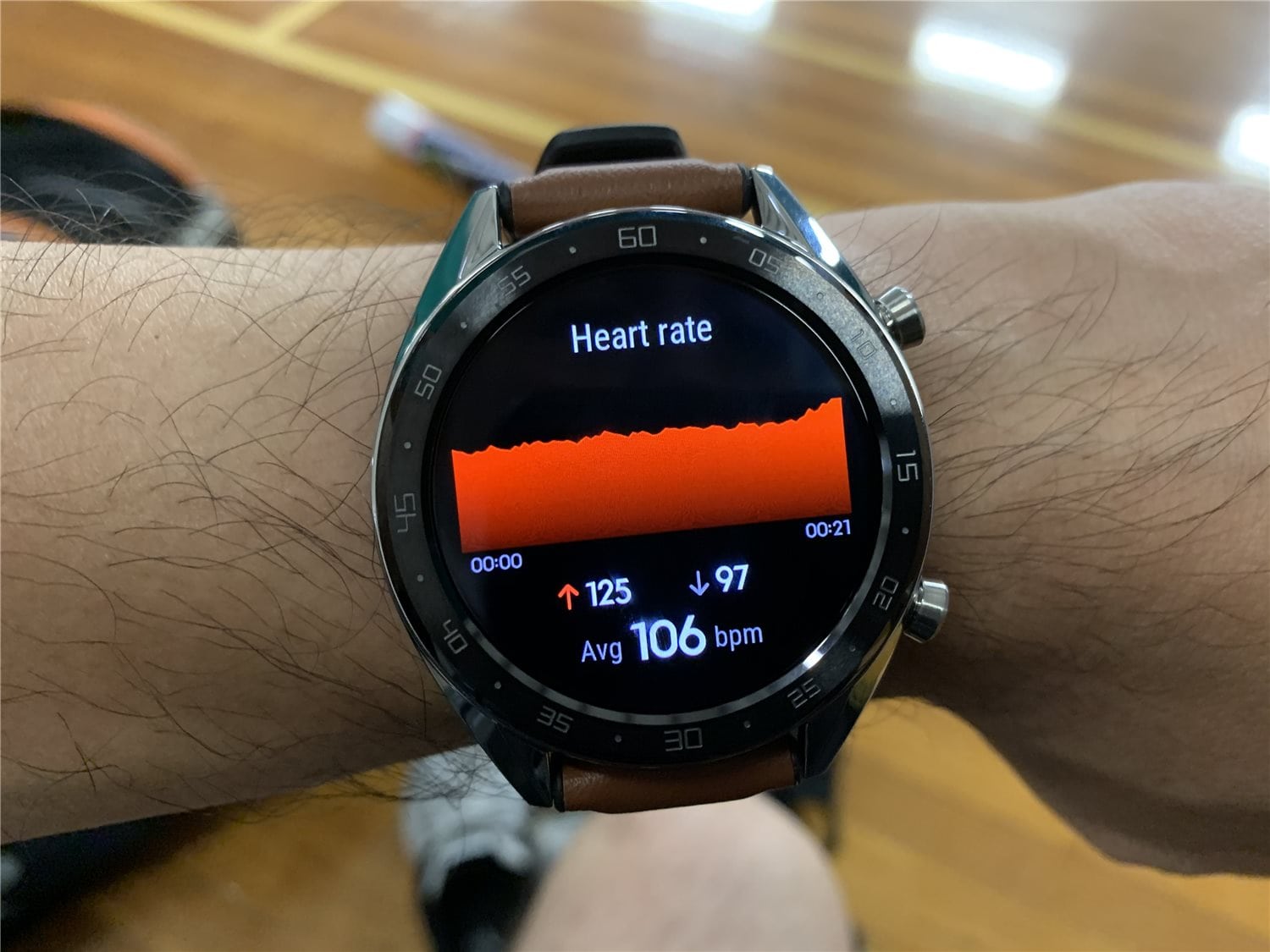 HUAWEI WATCH GT also offers coaching through running courses and supports both indoor and outdoor activities tracking (even swimming). Unlike Fitbit trackers, however, these have to be triggered manually from either the watch or app on your phone (i.e it can't track exercises automatically – yet).
HUAWEI WATCH GT Review Conclusion
HUAWEI WATCH GT is a truly commendable watch worthy to be on your wrist.
I usually wear a Fitbit Versa on my wrist but I really like how the HUAWEI WATCH GT looks. While it can't auto-track my exercises and don't support apps & a payment gateway, I have chosen it to be my primary wearable for now on my precious wrist.
As long as you don't expect HUAWEI WATCH GT to be a full-blown smartwatch, you will not be disappointed with its capabilities, design, and longevity. It monitors your heart rate for any irregularities, offers different exercises tracking and coaching, tracks your sleep with deep analysis and statistics, displays notifications, and has an awesome battery life.
Plus, you actually get the watch for FREE as long as you purchase a HUAWEI Mate20 Pro by 17 March 2019. It's unclear whether HUAWEI is going to sell it separately after (the watch itself is valued at AU$399) but you should grab that offer now if you are thinking to upgrade your phone.
While I didn't get a Mate20 Pro to review, the phone receives many glowing reviews out there, especially for its amazing camera. You'll be happy either way.
Disclosure: HUAWEI WATCH GT review sample was supplied for reviewing but all opinions are mine and not paid