One of the features that I love the most from my point-and-shoot digital camera is the Panorama mode (where you can take multiple shots of a scenery and then use a photo stitching software to combine them into a single image).
Thanks to AutoStitch for iPhone, I can also do the same thing without having to bring my camera along.
What makes AutoStitch special is that it can stitch photos of any arrangements, including vertical, horizontal, or mixed. As far as I know, my old digital camera could only do horizontal arrangements and I could only take 3 shots out of it. With AutoStitch, I can shoot like 10 images and the app would not complain.
The interface is really simple and let you use your photos in the iPhone's photo library. You take some shots with the Camera (making sure you follow the basic guideline on the app's info screen) and then use the AutoStitch to magically stitch the photos into one.
For example, here are some photos I took and the final stitch result from AutoStitch:
Final result:
This one below was taken at night around 1 a.m:

Final result:

Because you are not supposed to move your body when taking the individual photos, the final result may look a bit weird (or cool?). This is true if you take too many shots to stitch. Nevertheless, it's really cool and if you take reasonable angle of shots, you'll get a perfect stitch.
After the stitching process, you can crop the result although the app has done a good job by automating the crop selection for you.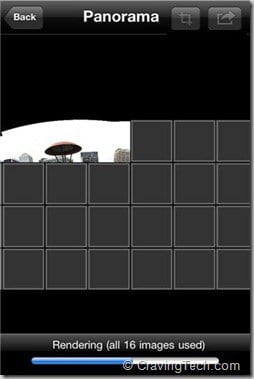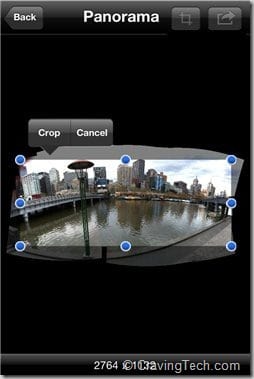 There is a few settings (such as quality) and also an option to share your creation to Facebook or email it to your friends. Overall, AutoStitch is a great and easy to use app to create panorama shots with your iPhone. If you are travelling to see some great sceneries, make sure you have this app handy with you on the go.
AutoStitch Panorama – Cloudburst Research
Note: Promo code provided for the review