Today all the telco in Australia release their upcoming iPhone 4 plans, which should be available in a few days! Here are the compilation list of all the iPhone 4 plans in Australia for Optus, Telstra, 3, and Vodafone.
Optus iPhone 4 Plans
Extreme plans:
Timeless Extreme (unlimited SMS and calls to any network):
Source: Optus
Telstra iPhone 4 plans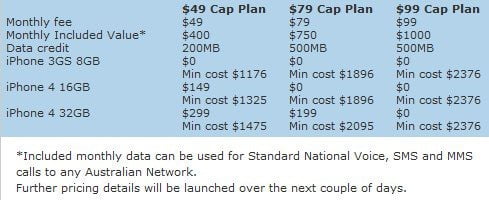 Source: Telstra
Three iPhone 4 plans

Source: Three
Vodafone iPhone 4 plans

Source: Vodafone
Virgin iPhone 4 Plans

Source: Virgin
Telco shops will be opening this Friday, at midnight so expect chaos in the CBD area where people are queueing to be the first to own iPhone 4 in Australia!
Are you getting an iPhone 4? :)