ROG Claymore II Review – It's been a long while since I've come across keyboards with detachable numpad. People may not realise how good and flexible this offers to your experience – especially if you are using your keyboard not just for gaming, but for working as well.
I think the dilemma is real if you are about to make a purchase of a new gaming keyboard. Should you go full-size? This is great for both gaming and working, but at the expense of some ergonomics to your mouse placement. Should you go TKL? It's awesome for gaming but losing the numpad can be quite devastating if you work as an accountant who needs to type lots of numbers on spreadsheets and an accounting software. Should you go 60% mini keyboard? It's perfect for a small desk but is only great for gaming.
ROG Claymore II is an answer to gamers who want a TKL gaming keyboard but still want an option to be able to use the numpad during certain times for certain tasks.
Apologies for the long introduction but I think it serves as a great prologue to this ROG Claymore II review article. So, is it a good gaming keyboard?
ROG Claymore II Review – Packaging & Unboxing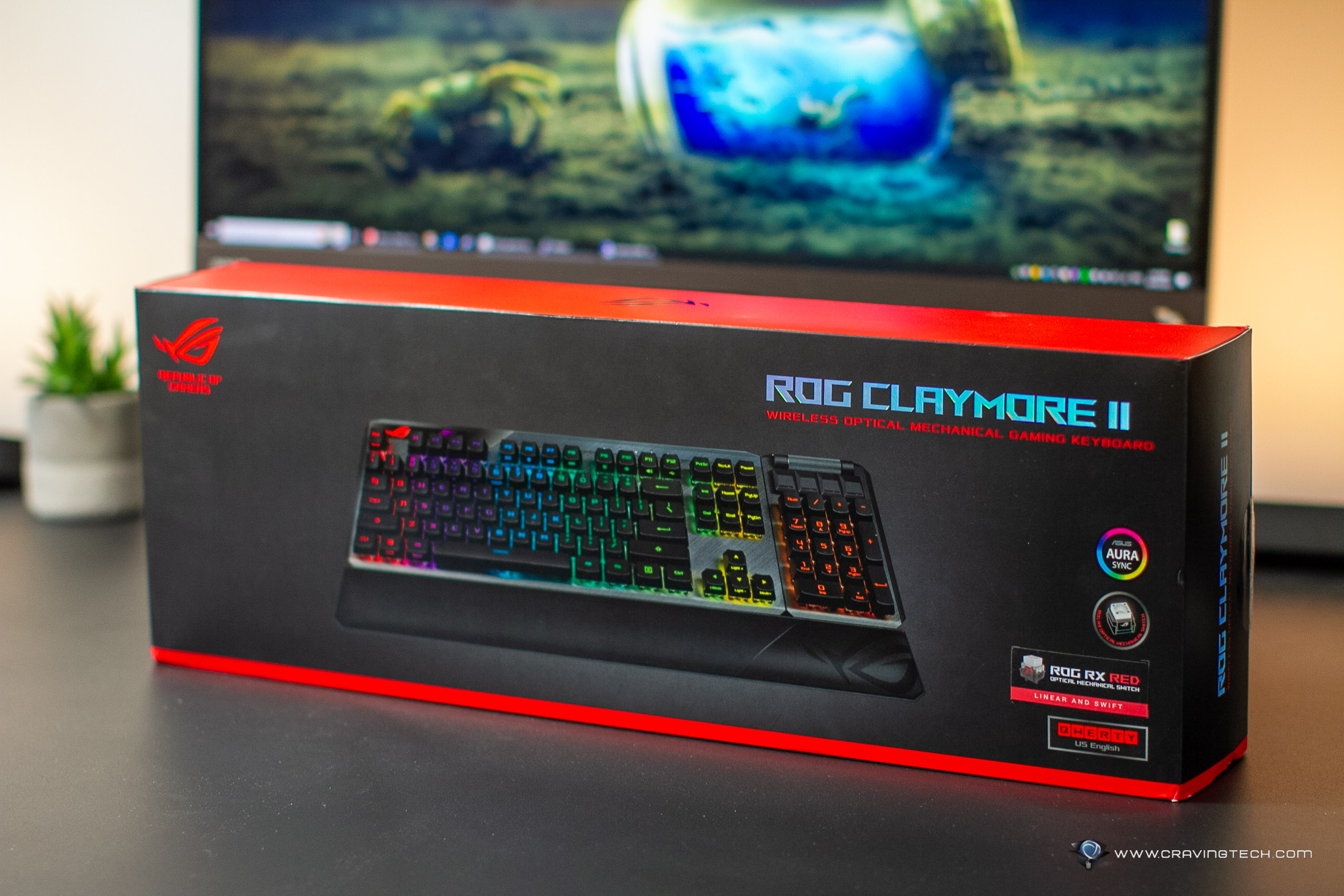 A detachable magnetic wrist rest is included in the packaging.
ROG Claymore II Review – Design & Features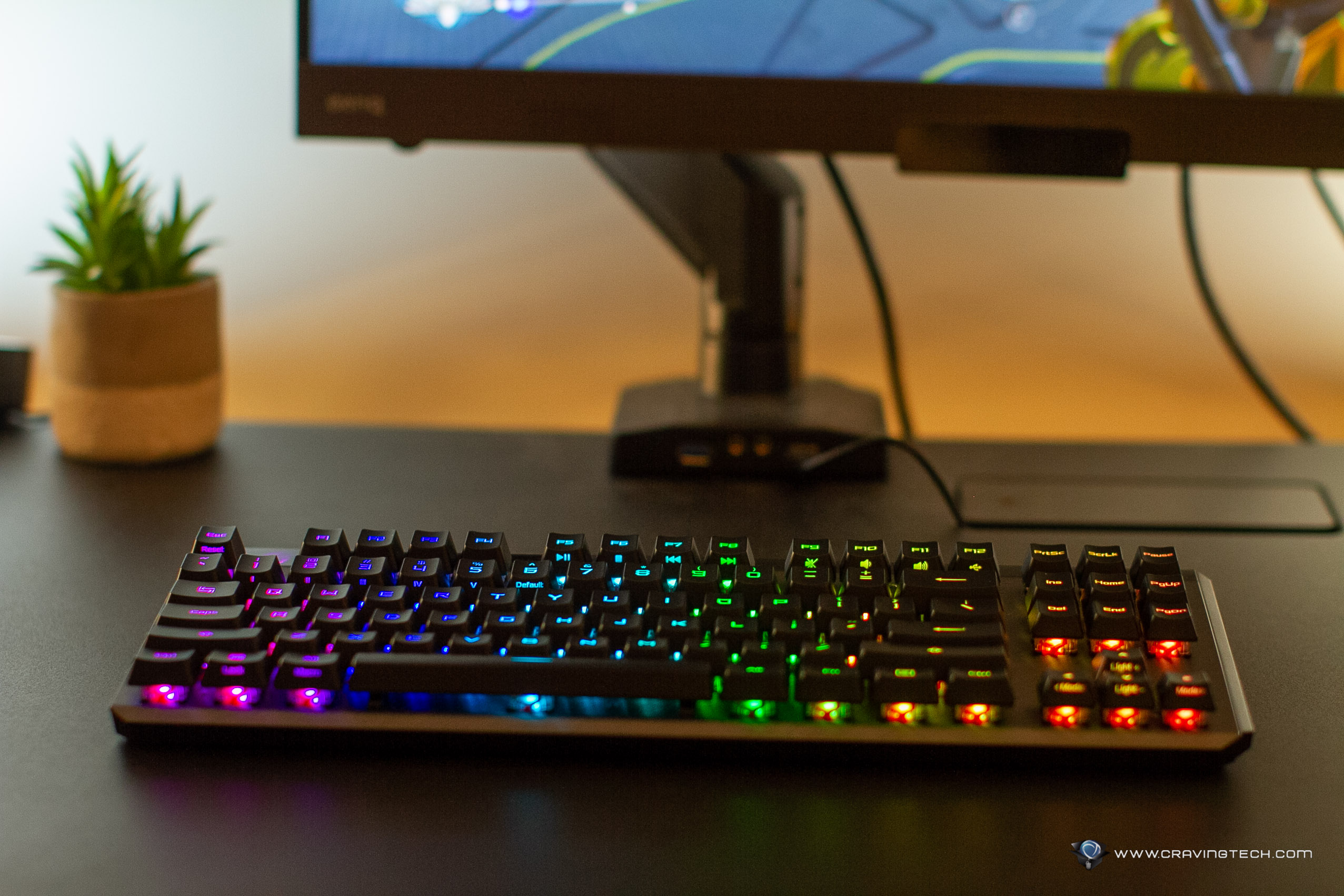 ROG Claymore II is equipped with ROG RX Optical Mechanical Switches with two options: RX Red (Linear) or RX Blue (Clicky). The ones I have on my review unit is the RX Red switches which have a 1.5mm actuation point, 40gf, with 4mm total travel distance.
The feel of the switches is pretty good and actually not as hollow or flat as I thought it'd be. For gaming, even on a fast-paced game like Overwatch, the switches are responsive to my presses and I have no complaints whatsoever.
Typing experience is pretty good though I kind of miss the bouncey-feel of non-Red mechanical switches. Claymore II switches feel stickier while you type, although it responds quickly to the touch of my fingers. I could get 111 WPM (Words per Minute) on typingtest.com (1 minute test, medium text), so this is an excellent keyboard for both gaming and working as well.
All keys are individually back-lit and even includes the secondary-key-functions, which is quite rare to find in most gaming keyboards. This makes it easy to see the secondary functions even in a completely dark room.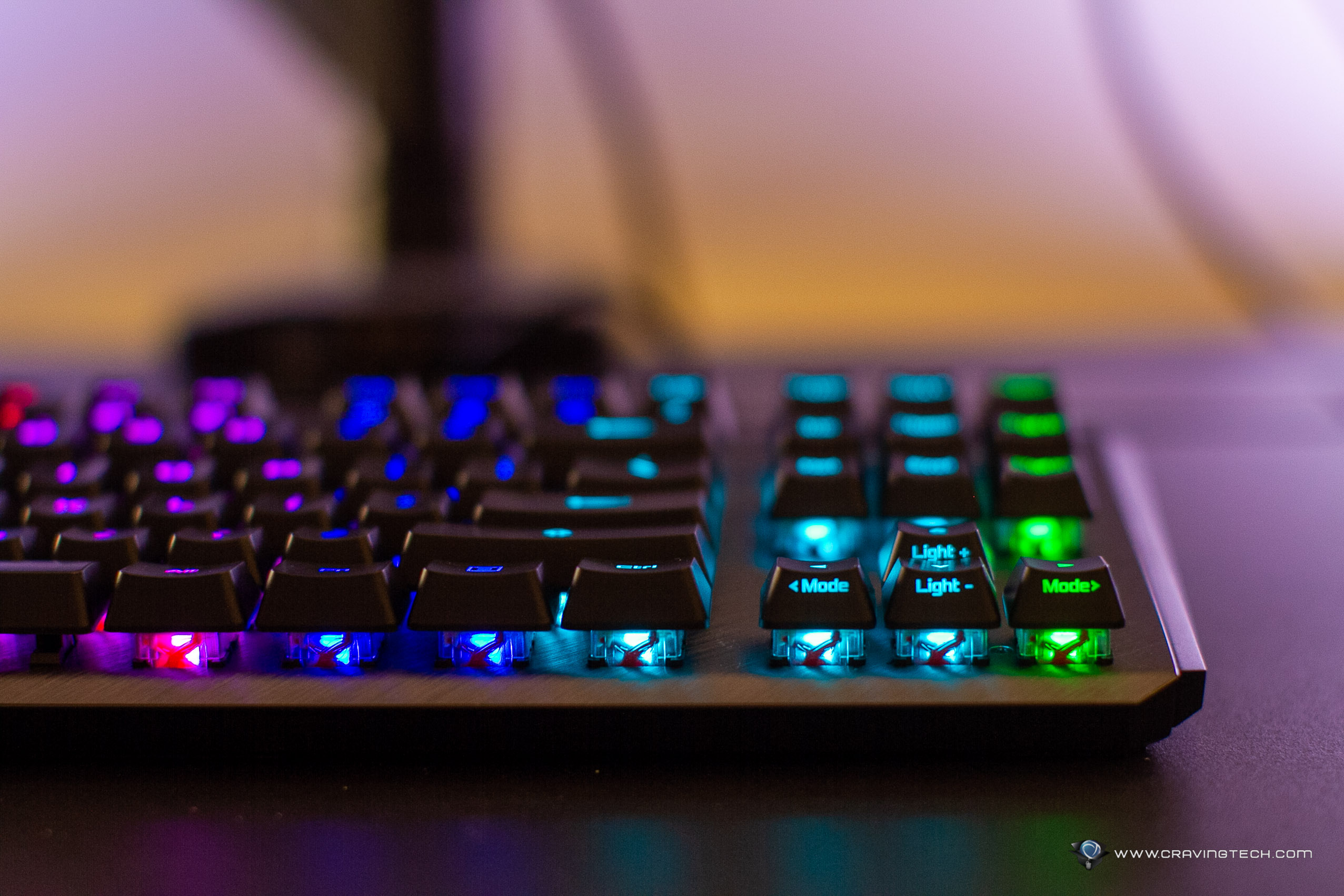 You can find all the shortcuts like media controls, a volume control wheel + four fully-customisable hotkeys (on the Numpad), even brightness, lighting modes, and Macro.
It's also a wireless gaming keyboard so it comes with a built-in battery and allows you to use the keyboard without cables through 2.4GHz wireless connectivity. According to ROG, you can get up to 144 hours with the lighting turned off, 61 hours with 50% lighting brightness, and up to 43 hours with 100% brightness (this is considering you plug the Numpad bit in, so you should get a bit more if you detach it).
As for charging the keyboard, according to ROG, a 30-minutes of USB-C fast charging will enable the keyboard to be used for up to 18 hours (lighting off) or 8 hours (lighting on). From 0-100%, the total charging time is 203 minutes (about 3 1/2 hours) with fast charge. The fast charge function has to be enabled first (in expense of providing a USB-A passthrough) and you'll see the battery indicator flashing purple when fast charge is on.
I find that I need to plug the USB-C cable to my PC to use the fast charging feature as this won't work if I plug the keyboard on a USB-C power wall adapter. You also need to switch the USB-passthrough off to enable this, which can be done quickly through a Function key.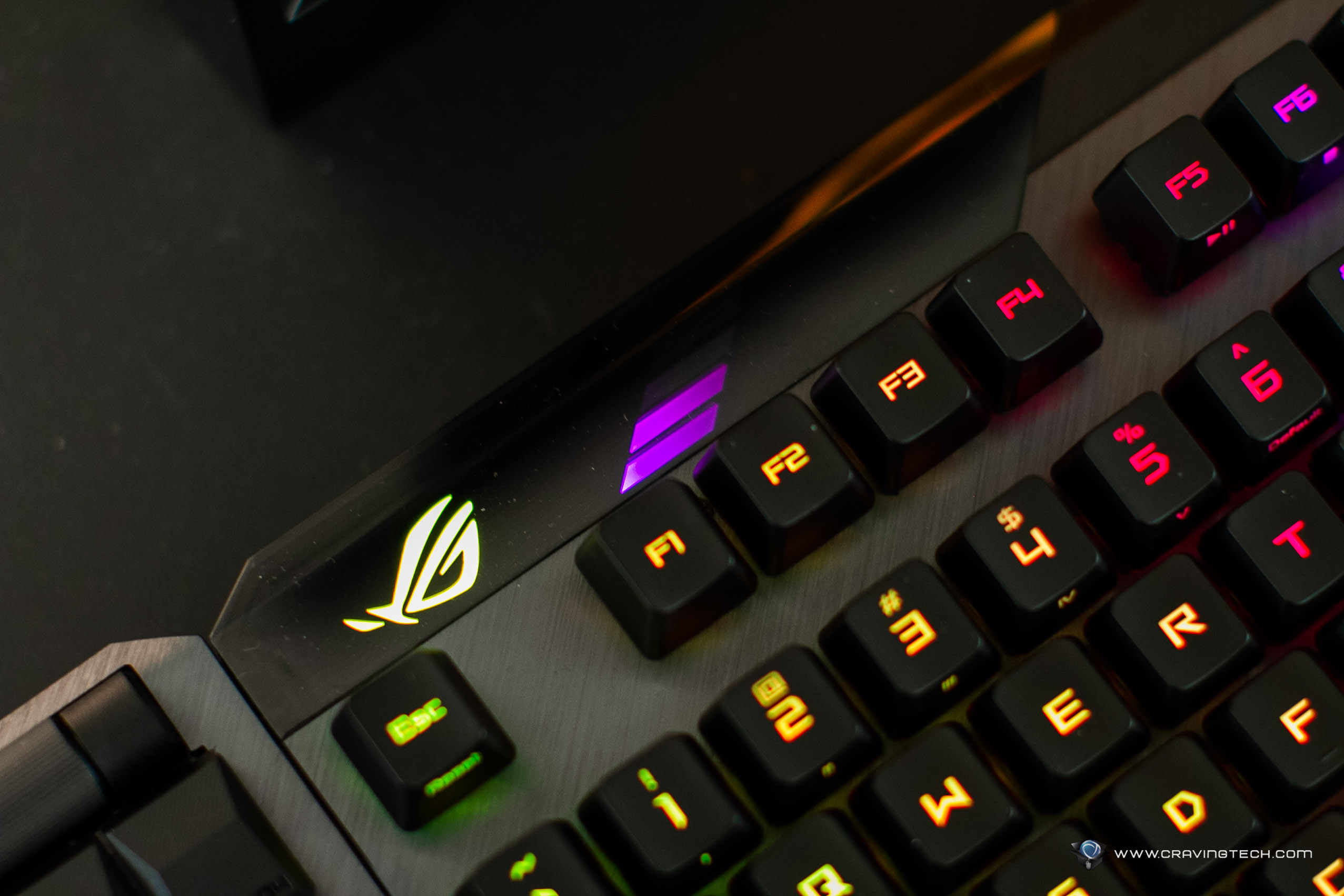 As for the unique feature on the ROG Claymore II, it's definitely the detachable numpad. It can actually be attached on either side of the 80% keyboard size to suit your preference. I myself find that attaching it on the left side of the keyboard offers the best value in terms of ergonomics and productivity.
Having the numpad on the left means good ergonomics for your mouse placement so you don't get shoulder pain but at the same time, it means you can enter the numbers in when needed, quickly.
To attach or detach the numpad, you have to take the magnetic caps out from each side and then slide the numpad part into the keyboard (the process is similar to attaching the Nintendo Switch JoyCon Wrist Wrap accessory). The numpad will then be powered (through the main keyboard) and you get a full-size keyboard as a result.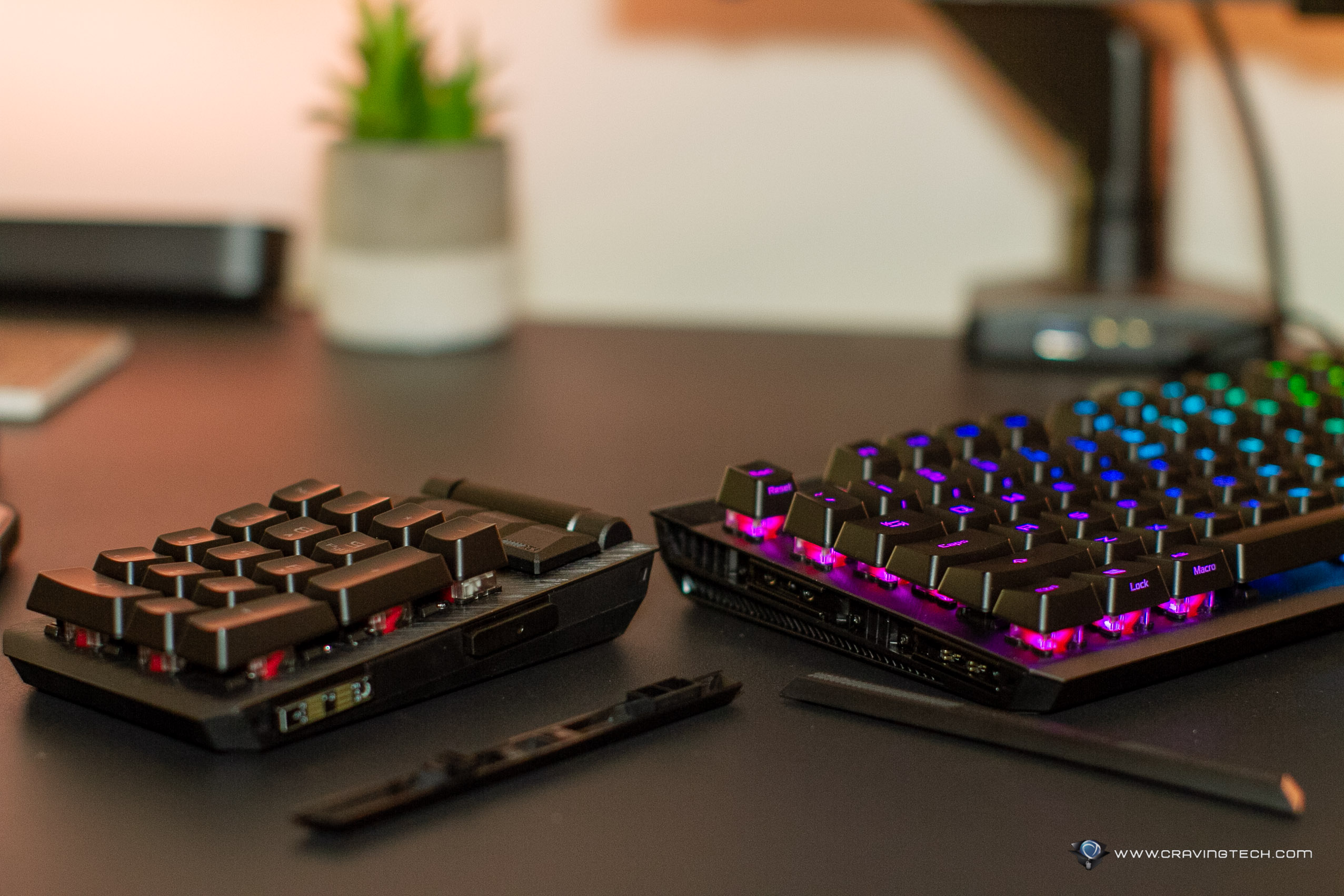 I honestly wish that the attach/detach process is fully magnetic for intuitiveness though or even better, has the numpad area self-powered so I can just stow it away and take it out when I need to. But for now, it's still nice to have access to the numpad while having the ergonomic at the same time.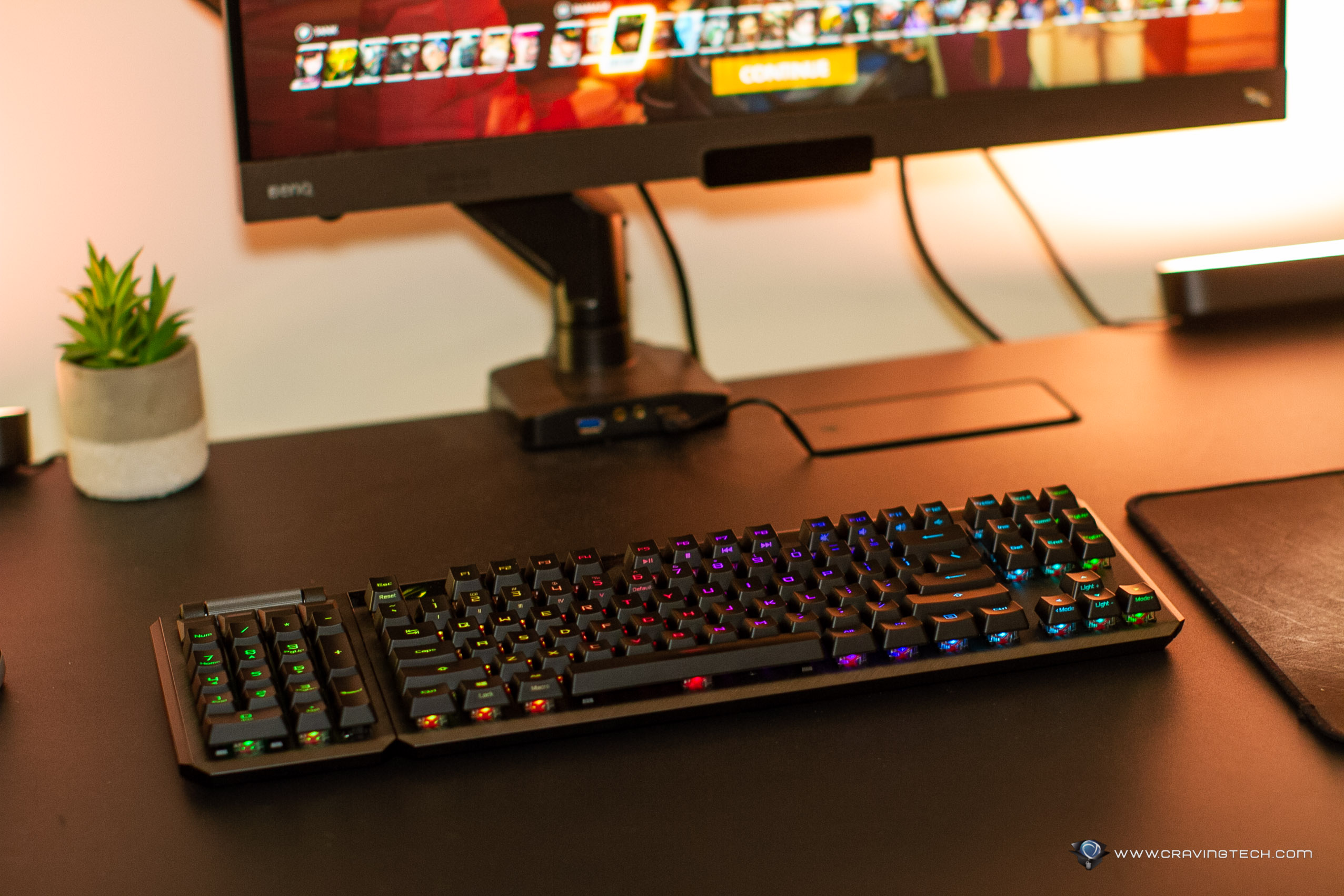 ROG Claymore II Review Conclusion
The ROG Claymore II is a one unique, wireless gaming keyboard. It's one of the only gaming keyboards out there that offers you the option to have a full-size or TKL keyboard in a single unit. It's perfect if you just can't decide or if you are going to need them both at different times of the day.
The numpad can be attached on the left side of the main keyboard if you wish, giving you the ergonomics while gaming and the productivity needed while working. Combined with ultrafast 1ms response (both on wired and wireless) and ROG RX Optical Mechanical Switches, this is a high performing gaming keyboard with excellent design, durability, and flexibility.
ROG Claymore II is available now and retails for A$399 at retailers around Australia and also at Amazon.
Disclosure: ROG Claymore II review sample was supplied for reviewing
ROG Claymore II Review
Summary
A wireless, mechanical gaming keyboard with detachable numpad, giving you the best of both worlds (full-size or 80%/TKL)
Pros
Unique design
Numpad can be attached on the left or right side of the main keyboard
Bright backlighting, including side function labels
Solid wireless performance
Fast charging support, good battery life
Included wrist rest
Cons
Sliding the numpad in and out is not as intuitive as magnetic, plus the cover caps may get lost
If you can decide whether you want a full-size keyboard or TKL, getting the Claymore II is quite pricey