17th April 2013 marks the official Australian launch of two new Samsung Smart TVs to hit the Australian shores in 2013: Samsung S9 UHDTV 85" and Samsung F8000.
(Phil Newton, the Director of Samsung Electronics Australia, unveils the new Samsung Smart TVs for 2013)
Samsung S9 UHDTV 85''
This year, Samsung is bringing their most important flagship product that is Samsung S9 UHDTV. What is special about this is that it is 85" wide.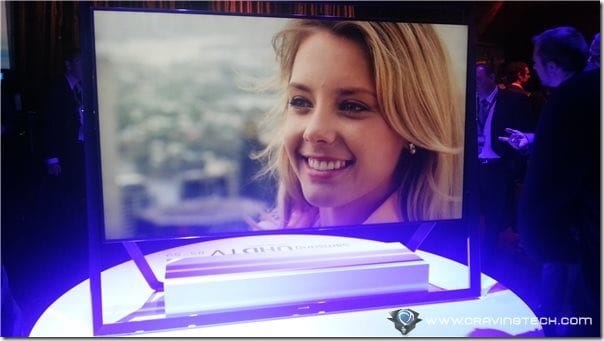 (Samsung S9 UHDTV 85" as seen during the launch)
With classic minimalistic look, Phil Newton calls it "timeless gallery design." It has a 2.2 channel surround system with 10 speakers built-in within its minimal frame.
S9 also has a world-class upscale technology that ensures HD and Full-HD content can be up-scaled and presented in almost perfect 4K.
S9 UHDTV 85" comes with a price tag of around $40,000 AUD, which also gives you "total experience":
Delivery, installation, and setup,
On-demand training for customers,
Customisation of content offerings,
Direct contact to the "White Club" service specialist within Samsung,
Hosted privileges, events, and offers.
Also included in the "total experience" package is a 5-year Evolution Kit upgrade. Evolution Kit is basically a hardware box (of the size of a normal portable hard drive) inside the TV panel which is upgradeable to ensure that your Samsung TV has the latest technology and standards. The latest Evolution Kit features quad-core processor and extra memory for better performance both in terms of speed and its ability to multi-task as we increasingly use our TV to access on-demand content, Internet and social media.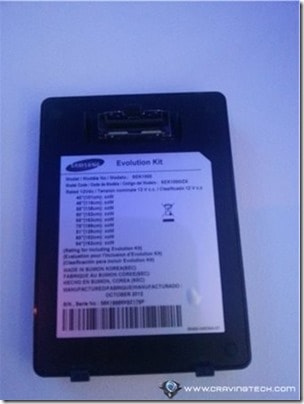 (Evolution Kit as seen during the launch)
S9 is expected to arrive and sold in Australia by June 2013.
Samsung F8000
The new Samsung F8000 is also minimalistic and features "360-degree design" which basically means that it looks great not just at the front and the side, but also at the back (not sure why you would want to see the back of a TV though).
F8000 Series 8 LED TV has the following specifications:
200Hz
FHD
Micro Dimming Ultimate
SI 2.0
Quad Core
Wi-Fi Built-in
3D
It comes in 55", 60", and 65" — AND for the first time in Series 8, the ultimate 75"!
F8000 series is one of the firsts in the world to support High Compression Video Codec, mainly known as HDVC which doubles the compression rate without sacrificing quality, even when streaming in low bandwidth.
One most important thing about F8000 is that it features quad-core processor that allows greater multi-tasking (switching between online services, apps, on-air TV) so much faster than its predecessor.
Series 9 Home Entertainment System
Also new in 2013 is the new Series 9 Home Entertainment system. It is one of Samsung's flagship products that offers 1330-watts with 7.1 channel to deliver unparalleled sound quality. It uses vacuum-tube pre-amp (which was also used in earlier models) and is combined with the new hybrid digital-analog GaN (Gallium nitrate) amplifier for better sound quality.
Content
1. On TV
Samsung has re-designed the TV guide by introducing the Timeline View:
2. Photo, Video & Music
As expected, you are able to view your photos, video and music not just from your Galaxy phone, USB and other registered devices (such as your tablet), but also from cloud storage services such as SugarSync, Dropbox and SkyDrive.
3. Social
Samsung also refreshes the social media apps in their Smart Hub.
4. Apps
Samsung has extended their latest content offering in Smart Hub with the addition of pay-per-view TV integration with Foxtel and exclusive agreement with Yahoo!7 on Plus 7 for catch-up TV in addition to existing apps such as iView.
On 3 June 2013, Samsung will be launching the "Movies & TV Shows" tile to allow viewers to rent premium content on-demand from Quickflix, with more providers to come at a later date.
In terms of Sports content, Samsung allows you to have access to at least 90% of all the world's sports content through the combination of Fox Sports, LiveSportsTV.com, ESPN and various other apps, on top of already existing Foxtel content.
One thing that might be of concern with this addition is the increasing bandwidth usage. Unless you are using unlimited Internet data, you are in for a bad ride (even Telstra broadband internet only gives unmetered data to the Foxtel app).
One new feature that is being unveiled is the new S Recommendation which gives recommendation on what to watch based on past viewing, all on the "Recommended Bar".
At launch, S Recommendation will be recommending items from free-to-air networks, with Foxtel recommendation coming later in the year.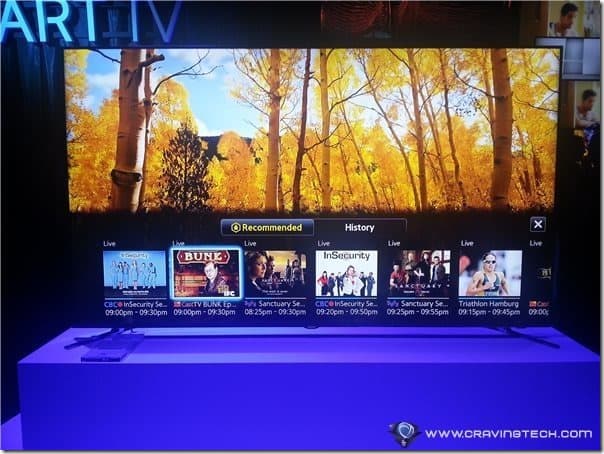 Internet browsing
Samsung has also updated their proprietary Internet browser. It now features tabs to take advantage of multi-tasking capability.
Smart Interactions Version 2
Gesture Recognition
Samsung has improved their gesture recognition by upgrading the camera to 5MP (previously VGA) and ability to understand two-handed gestures (rotate, zoom) and even thumbs up for Like or Add to Favourite.
Voice Control
In regards to voice control, Samsung has made it more natural for Australian consumers to interact with their TV by developing a new software locally in Australia with the help of well-known linguists in the country. By programming hundreds of thousand of localised, individualised sentences, Samsung TV can now understand Australian jargons and replies in Australian accent (you can choose between a male or a female) using text-to-speech technology.
The range of questions is no longer only limited to TV functions on traditional remote but also allows you to look up recommended TV shows, record them, look up favourite artists, or even finding out the meaning of life.
Touch Pad Remote
For those who still prefer to use a remote control, Samsung has unveiled a new Touch Pad Remote:
It has a dedicated "Recommended" button
It allows you to draw the number of the channel you'd like to watch on the touch pad to go to that channel.
It has the voice button.
(Brad Wright, Director of AV at Samsung Electronics Australia unveils the new Touch Pad Remote)
Connectivity
Ability to connect to your Samsung smartphones (currently limited to the following devices: Samsung Galaxy S3, Samsung Galaxy S2, Samsung Galaxy Note II, Samsung Galaxy Note 8 and Samsung Galaxy Tab 10.1) to your TV wia Wi-Fi Direct (ie. without the need to connect to a Wi-Fi network).
It also has a feature called Group Play to allow others to see your live presentation on their own compatible Samsung device.
Have you got a Samsung TV at home? What do you like most about it?