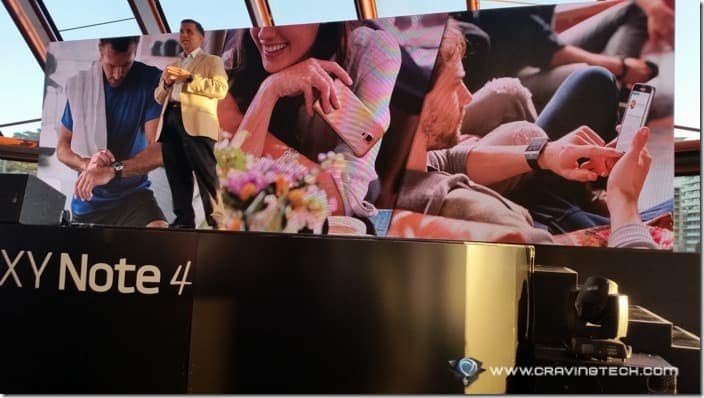 On 23 September 2014, four newly anticipated Samsung mobile devices have officially being launched in Australia: Samsung GALAXY Note 4, Samsung GALAXY Note Edge, Samsung Gear S, and Samsung Gear VR.
The GALAXY Note 4 has a 5.7-inch 2560×1440 Super AMOLED display with better viewing angles for different light conditions. It features Multi-Window to enhance multi-tasking ability by allowing you to create split or pop-up screens out of many of the supported apps.
The back camera is 16 megapixel with Optical Image Stabilisation. The front camera is a 3.7-megapixel camera with f/1.9 aperture and 90-degree shooting angle and up to 120-degree wide angle for what they call "wide selfies".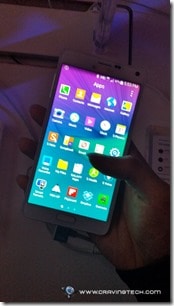 The iconic S Pen has also improved on its tilt, rotation, and speed, with double the amount of pressure points it can register.
The voice recording has also improved, thanks to 3 separate microphones (2 at the bottom and one at the top), perfect for meetings in which it can recognise up to 8 people.
In regards to battery life, it now introduces fast charging that allows charging from 0% to around 40-50% in 30 minutes (previously 55 minutes).
GALAXY Note 4 will be available from 29 October 2014 for an RRP of $949 (with pre-sale from 15 October 2014).
The GALAXY Note Edge has all the bells and whistles of GALAXY Note 4 but with the additional unique curved Edge screen which provides quick access to "REVOLVING UX": frequently used apps, alerts and device functionality with a simple swipe of the finger, even when there is a closed flip cover on the phone.
GALAXY Note Edge is only made available to a select few countries and is available for purchase in Australia from 5 November for an RRP of $1,249.
Samsung watch also sees a product refresh with the introduction of GALAXY Gear S. It features 2-inch curved Super AMOLED screen and has 3G (using nano SIM), Bluetooth, and WiFi capabilities. The connectivity allows you to receive and make calls and SMS without having to have a phone with you, thanks to the screen keyboard.
Unfortunately, as of now no Australian network has partnered with Samsung to allow number sharing across multiple devices, so for the time being you would have to settle with call divert or even have a separate number for your watch.
GALAXY Gear S has 1 GHz Dual Core processor and 4 GB storage for music and apps, amongst other things. It is also IP67 Certified Dust and Water Resistant although it no longer has a camera.
Also available are the new Samsung Gear Circle earphones. When paired with a smartphone, users can easily receive calls, listen to music and issue voice commands through a Bluetooth connection straight through the earphones. The Gear Circle features a magnetic lock which clasps around the user's neck when not in use, as well as a vibrate function to signal incoming calls and notifications. The Gear Circle was not available for viewing during the launch.
Gear S and Gear Circle will be available in November with RRP of $449 and $179 respectively.
The fourth device being presented at launch is Samsung Gear VR. In partnership with Oculus, this wearable mobile virtual reality device allows you to attach your Note 4 into it and play games, watch movies, amongst other things.
The device is completely wireless and allows virtual reality content (to be made available for download from the global online Oculus store) in 360 degree angle.
Samsung Gear VR will be available in November 2014 with a RRP of $249.
As a side note for Samsung Gear VR:
– Do not use Gear VR if you are under the age of 13 and please see a doctor before using Gear VR if you are pregnant, elderly, have pre-existing binocular vision abnormalities or psychiatric disorders, suffer from a heart condition or other serious medical condition or have had a seizure linked to an epileptic condition. Always be aware of your surroundings when using the Gear VR and remain seated at all times. Immediately discontinue use of Gear VR if you experience any visual abnormalities, dizziness, disorientation, nausea, any discomfort or pain, or any symptoms similar to motion sickness.
In addition, Samsung also partners with Swarovski to make special back covers for Note 4 as well as Gear S bands. Further more, Mont Blanc also now have cases for the Note range.