Eve Aqua Review – Don't have the time to water your garden? Rather than spending hundreds of dollars hiring a gardener or installing a smart irrigation system, there's a cheaper and cooler option. Eve Aqua.
Eve Aqua is a smart water controller that can turn any standard outdoor water tap into a smart one. Once connected and set up, you can turn your watering system on and off remotely anywhere in the world but most importantly, schedule watering like a boss.
Eve Aqua Review – Packaging
AA batteries are included in the packaging which will be used to power the Eve Aqua later. The batteries will be well hidden and concealed as the seal prevents water leaking into the battery compartment. The body itself has an IPX4 water resistant rating and a child lock.
Eve Aqua Review – Design & Features
Eve Aqua is very, very simple to use. Rather than buying those cheap, complicated water irrigation system from Bunnings Warehouse or hiring a gardener to install you one, you can just grab a cheaper sprinkler or like mine here, a multi-sprayer that can be twisted and transformed into a sprinkler.
There is a power button on the Eve Aqua itself for turning it on and off manually – which will allow water to pass through.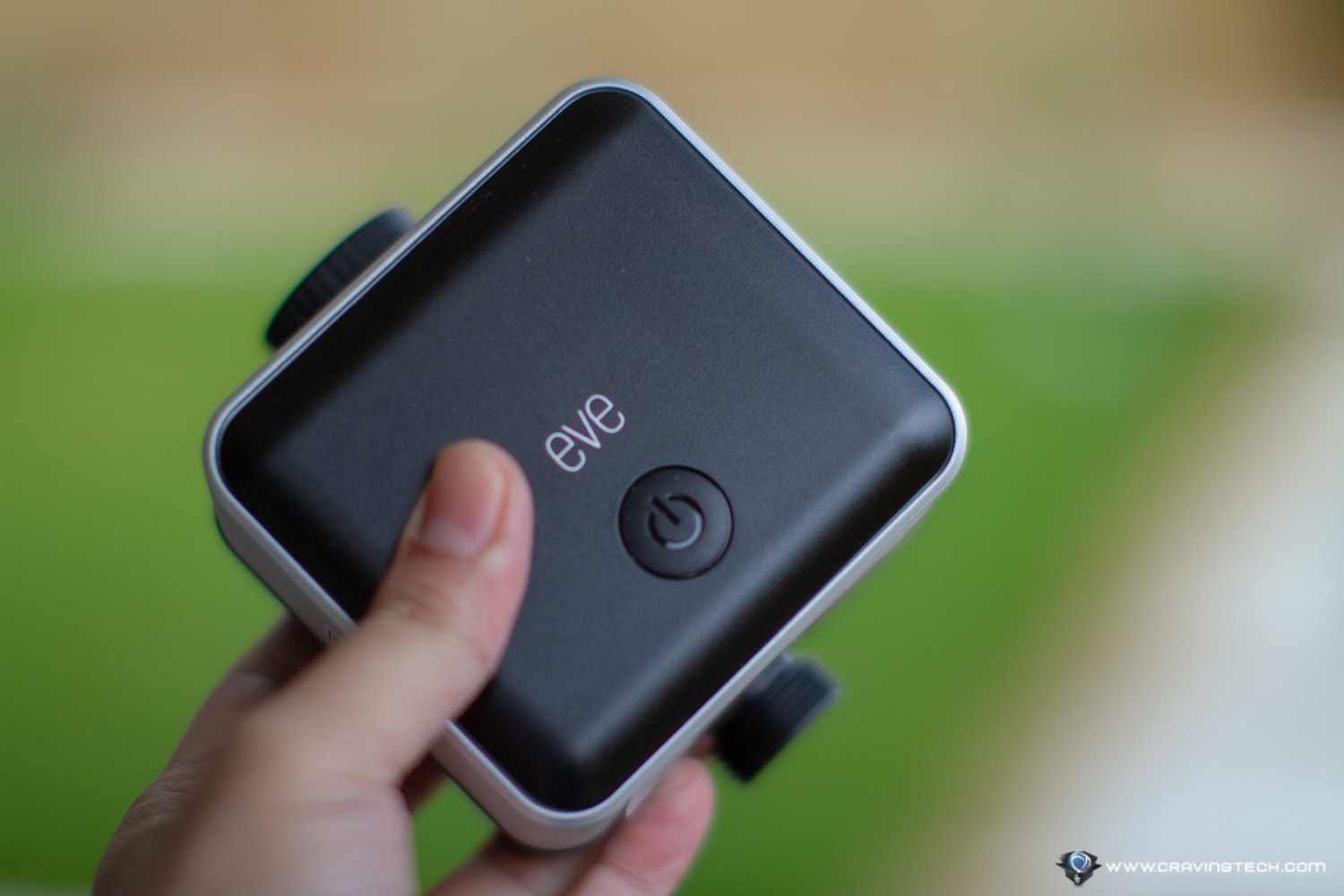 But of course, thanks to the Apple HomeKit support, you can use your iPhone and Siri to turn it on and off with just your voice command (PS: I should have renamed my "Eve Aqua" to "Garden"):
Note that you cannot use Eve Aqua if you are on Android – it'll only work with Apple devices like an iPhone or an iPad. And if you want access to Eve Aqua remotely, you do need to have an Apple Home already running with an Apple Home hub (by using your iPad or Apple TV).
Okay, I'm getting ahead of myself here. What about the installation? Well, it's super simple: place the batteries in, plug Eve Aqua to your outdoor tap, and use the Eve app on your iPhone to finish the installation. As it uses low-powered Bluetooth for connectivity, you need to stand close to the Eve Aqua when setting it up for the first time.
Just follow the instructions on the app and you'll good to go within minutes.
Once you've got it installed, the fun then begins.
Use Eve app to change the settings such as how often do you want it to water your garden automatically (i.e scheduling). You can also set a few other important settings like how long do you want it to water your garden for, etc.
During my tests, all schedules were executed properly at the right time and the watering stops after 2 minutes (which is the duration I set on the app). I can also see the water consumption on the app, which is a nice addition if you like seeing stats.
Eve Aqua Review – Conclusion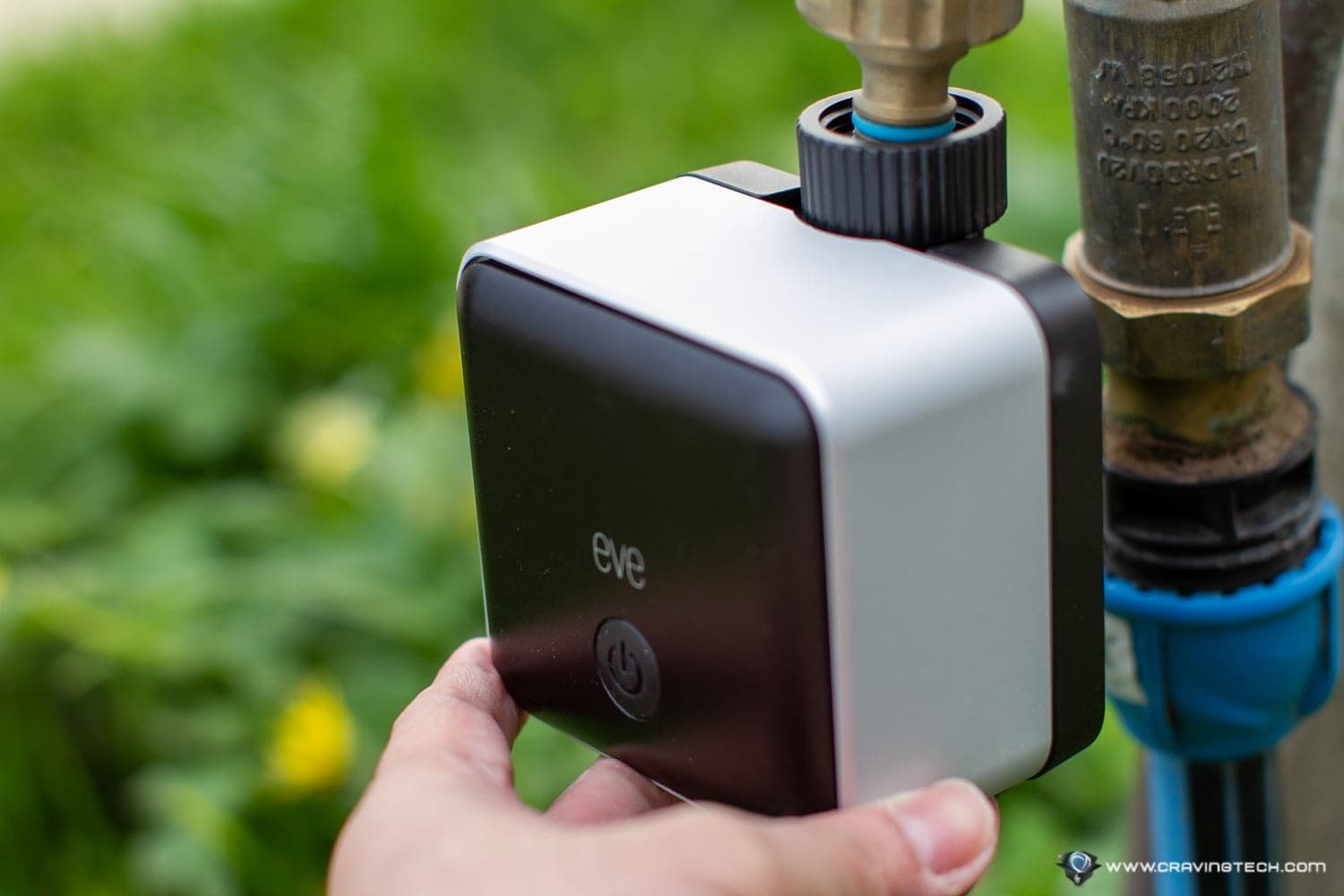 Eve Aqua Smart Water Controller offers a smart watering system to your home that is easy to setup and easy to use. You don't need to hire a professional gardener to install a smart irrigation system because you can do all this by yourself. Having Eve Aqua can save you hundreds of dollars or in our case, over a $1,000!
Simply plug Eve Aqua to your outdoor tap, plug a hose and a sprinkler that you can get cheaply at Bunnings Warehouse, and you have yourself your own smart watering system at a 1/5 of the price.
I really wish we had Eve Aqua before we got a gardener to install a water irrigation system with timer on our backyard!
With the ability to use Siri and advanced auto scheduling, you can just set the watering settings once and forget about it. Eve Aqua only works with Apple devices unfortunately, so if you are on Android, you need to find another solution.
Also, Eve Aqua does not work with Alexa, Google Asssistant, and IFTTT so you are quite limited in terms of the flexbility and creativity. For example, you cannot set it so that it waters your garden when the temperature is 38 degrees in Summer, etc.
However, since you can just run it remotely with your iPhone while you are at work, Eve Aqua is still a powerful tool, even better sometimes than a traditional water sprinkler system that your gardener has installed for you. For example, if it's raining hard, you can just stop watering remotely – but you can't do that with a timer irrigation system.
Eve Aqua is available at many retailers around Australia like JB Hi-Fi and Apple Store for AU$179.
Disclosure: Eve Aqua review sample was supplied for reviewing but all opinions are mine and not paid