Note: This is a guest post written by Calvin Raharja | NBA 2K24 Review – Launched in September 2023, NBA 2K24 is the newest entry in the esteemed basketball simulation series developed by Visual Concepts and distributed by 2K Sports. Building on the franchise's storied history of delivering authentic and immersive basketball experiences, this latest installment raises the bar even higher. In this comprehensive review, we'll go deeper into the game's various aspects—from gameplay mechanics to visual fidelity—to determine whether NBA 2K24 truly hits the mark or falls disappointingly short.
So, let's lace up our virtual sneakers and step onto the court.
Gameplay Dynamics
Fast-Paced Action
NBA 2K24 perpetuates the series' legacy of offering fast-paced basketball gameplay that closely mimics the real-life sport. The control scheme remains intuitive and user-friendly, inviting both newcomers and veterans to easily engage with the game.
If you are playing this on the PS5 and Xbox Series X|S, you will be greeted with the newest iteration of ProPLAY technology which translates real NBA footage into the NBA2K24 gameplay. While I didn't notice dramatic change in terms of graphics fidelity or quality, everything (animations, especially) does feel smoother – most likely thanks to this new tech.
The dribbling, passing, and shooting mechanics are smoother, enabling players to emulate the agile moves of their favourite NBA superstars. A revamped dribbling system introduces an additional layer of complexity and strategy, making it an absolute pleasure to navigate through defenders and execute those breath-taking plays.
Realistic AI and Tactical Depth
A standout feature of NBA 2K24 is its improved AI. The computer-controlled teams dynamically adapt to your gameplay style, making each match a dynamic and highly challenging experience. Whether you're facing off against formidable champions or up-and-coming underdogs, the AI opponents keep every match feeling intense and unpredictable. The inclusion of multiple offensive and defensive strategies empowers you to fine-tune your gameplay and test your tactical skills.
Game Modes
MyCareer Mode
The MyCareer Mode remains the heart and soul of the NBA 2K series, and NBA 2K24 takes it to new heights. As you dive into your MyCareer journey, the game immerses you in a narrative where your custom-created player experiences the highs and lows of an NBA career. Obviously, this is a basketball game so don't expect the Last of Us' quality of storytelling or plot here.
It is still somewhat fun in a sense, being able to play as a new player who's aiming to be a GOAT (Greatest of All Time) player. However, the "open world" doesn't really give a sense of exploration (again, this is not those RPG-kind of game anyway) and the microtransaction is always there to haunt you, just like the previous series. But it takes longer to earn the "in-game coins/VC" so to speed everything up or even to make your characters look good, you are being urged to spend through real money. You then have to choose whether you want to spend real money to make your character look better, or do better.
These micro transactions will definitely upset many people, especially new players who would never expect things like this in a full retail game. It's a pity because MyCareer has so many potentials to be that single, awesome feature of the new NBA2K24.
Franchise Mode
For those who enjoy the intricacies of team management, NBA 2K24's Franchise Mode is an expansive playground. Players have full control over every aspect of their team, from drafting promising rookies to making strategic trades and managing your finances. The extensive customisation options and simulation settings ensure that each season unfolds in a unique manner, offering endless replayability.
Streetball and Playground Mode
NBA 2K24 doesn't confine your basketball experience to professional arenas. The addition of streetball and playground modes lets you take your skills to the neighbourhood courts, bringing a refreshing change of pace. These modes are ideal for social gaming with friends and offer a delightful diversion from the intensity of NBA action.
Mamba Moments
This time, Mamba Moments lets you play as Kobe Bryant and takes you through 7 levels of Kobe Bryant's career. You can experience his biggest moments through playing this mode.
NBA2K24 Review Conclusion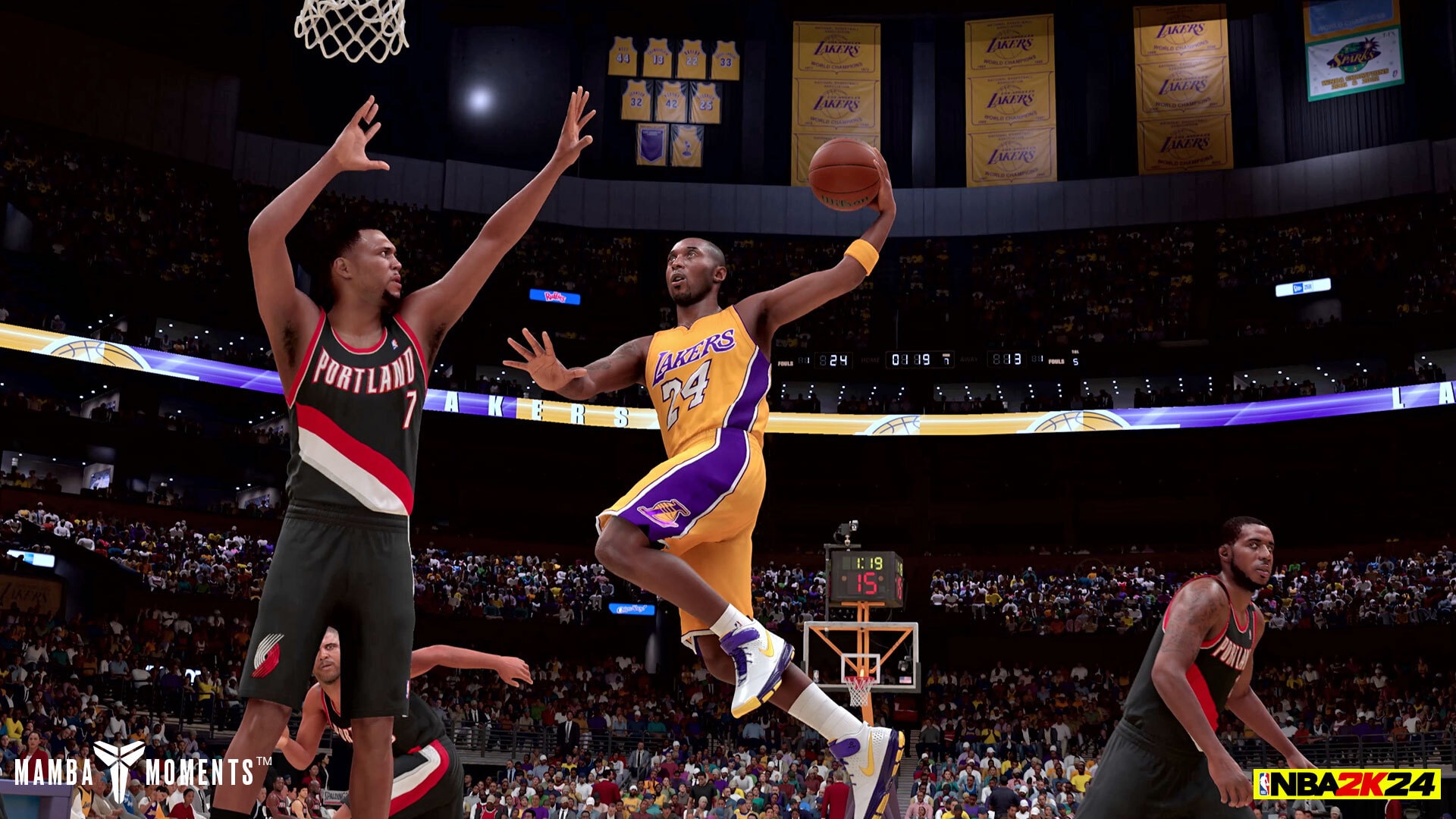 NBA 2K24 upholds the franchise's tradition of delivering a gameplay experience that captures the essence, excitement, and complexity of real-life basketball. With its intuitive controls, challenging AI, and an array of captivating game modes, NBA 2K24 is bound to captivate both basketball enthusiasts and casual gamers alike.
However, MyCareer and its endless, hard grinding (unless you pay real money for the microtransactions) is a bit of a disappointment. If you are mostly going to play NBA2K24 in casual mode or with friends who come over to your place to play, NBA2K24 is still an excellent iteration from the previous game and a good upgrade from NBA2K23. The movements and other animations are much smoother, the AI has improved, and there are many little things that you will notice in the game as you play.
Disclosure: NBA2K24 review code was supplied for reviewing