Every morning, I go to TheAge.com.au to check for today's Melbourne weather forecast (after all, Melbourne's weather is like women, people say :D) but often I have to live with bogus forecasts like "isolated showers", "late thunderstorm", or "developing rain". These information sometimes are not totally informative as I want to know:
If it rains, where does it rain? On the city? Which area?
If it rains, is it going to be a heavy rain? Or just drizzles?
If there's going to be a "late thunderstorm", how late?
A new site called The Weather Channel has just gone live and apparently could have provided the answers that I've been searching for all this time.
The official press release
The Weather Channel has transformed the way weather is presented on the web forever with the relaunch of weatherchannel.com.au.
weatherchannel.com.au makes finding simple and detailed weather information easy with its unique one page experience. This one-of-a-kind website delivers a navigation experience like no other. Its full screen interactive weather map combines local, state and national weather forecasts, radar, satellite and lightning information all on a single page.
The site was conceived following extensive user research that found users wanted a superior solution for finding both simple and complex weather information in a format that was easy to use. In response to this, weatherchannel.com.au created a one-page experience with a highly interactive map targeted to favourite locations, that can be viewed full screen or with the zoom function, all with a simple drag of the mouse. weatherchannel.com.au provides local three-hourly, part-day and 10 day forecasts with a minimum of clicks.
In another first for Australian weather websites, weatherchannel.com.au utilises cutting-edge geo-targeting technology. The website recognises the user's location and immediately delivers weather information for their area, enabling faster access to local weather information. Users also have the option to save multiple locations for easy access to forecasts for other parts of Australia.
"The Weather Channel has broken new ground in terms of presenting weather online," says Julian Delany, General Manager at The Weather Channel. "weatherchannel.com.au provides all your weather information on the one page in a format that is fast, logical and easy-to-use. It is the perfect complement to the expert opinions of our presenters on-air."
The Weather Channel website was built in collaboration with Tongue, who delivered the design, IA and communications strategy, and Artis Group, who built the database and the mapping and backend elements of the site.
What you'll find on The Weather Channel
A weather forecast for morning, afternoon, and evening
This way, you don't need to carry your umbrella if you are only out for a period of time and know that it won't rain during that period. Here is an example of Melbourne's weather forecast: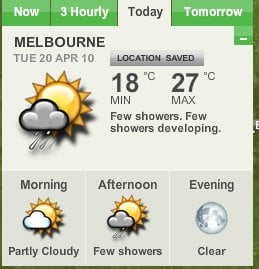 Specific suburb's weather forecast
If you are travelling to a different suburb, this info will definitely be useful before you travel.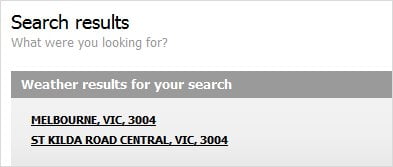 Three hourly weather forecast
Find 3 hours weather forecast for the day, including how heavy the rain will be, the temperature, and also the wind's strength. I don't normally bother carrying my umbrella if the wind is going to be a strong one.

There are also other things to look for on The Weather Channel, such as information about the cloud (if you are going to take professional outdoor photos, this is important), lightning, etc. You can also view for example a Melbourne's Weather Forecast for 7 days straight.
The one question remains though: How accurate it is? Only time will tell (and oh, feel free to tell us in the comment section too).