Apple iPad Pro – At the Bill Graham Civic Auditorium in San Francisco today, Apple announced the iPad Pro, the latest iPad model that Apple has made.

iPad Pro features a bigger screen compared to the iPad Air 2. Its screen is 12.9″ compared to the iPad Air 2's 9.7″. That 3″ difference is huge in real life.
The iPad Pro also houses more power compared to the previous generation (up to 1.8x faster) – though I seriously never noticed any slowdowns on my iPad Air 2. If you have been using AutoCAD, iMovie, and other heavy applications though, you'll definitely notice the difference. The power of the new iPad Pro even surpasses some compact laptops out there in the market.
iPad Pro Official Video
iPad Air 2 vs iPad Pro
iPad Pro's display is 3″ bigger
iPad Pro is 0.8mm thicker
iPad Pro is 276 grams heavier
iPad Pro is about 1.5x more expensive than iPad Air 2 [about $300 difference]
iPad Pro is almost twice as fast as iPad Air 2 (performance wise)
iPad Pro has 4 speakers (2 on each side)
Why would we need a bigger iPad though (assuming you only see the iPad Pro as just a "bigger iPad Air"? Isn't a 10″ iPad big enough for us to read e-books and articles on, or watch movies on? Is bigger always better? I think it depends on what you use the iPad for.
iPad Pro Accessories
Apple has officially made 2 accessories for the iPad Pro: a keyboard with Smart Connector (like Microsoft Surface keyboard) and a cool Apple stylus named Apple Pencil.
Apple Pencil Video
Why a bigger iPad Pro would make sense
If you have been using your iPad to see and work on your sketches (architectural, illustration, personal), a bigger screen makes everything easier to work on. You'll see more area and your drawings, plus, your annotations can be seen clearly without doing too many zoom-ins and outs.
If you have been using your iPad to create musical scores or recordings with Garage Band, then you'll have more space to work with.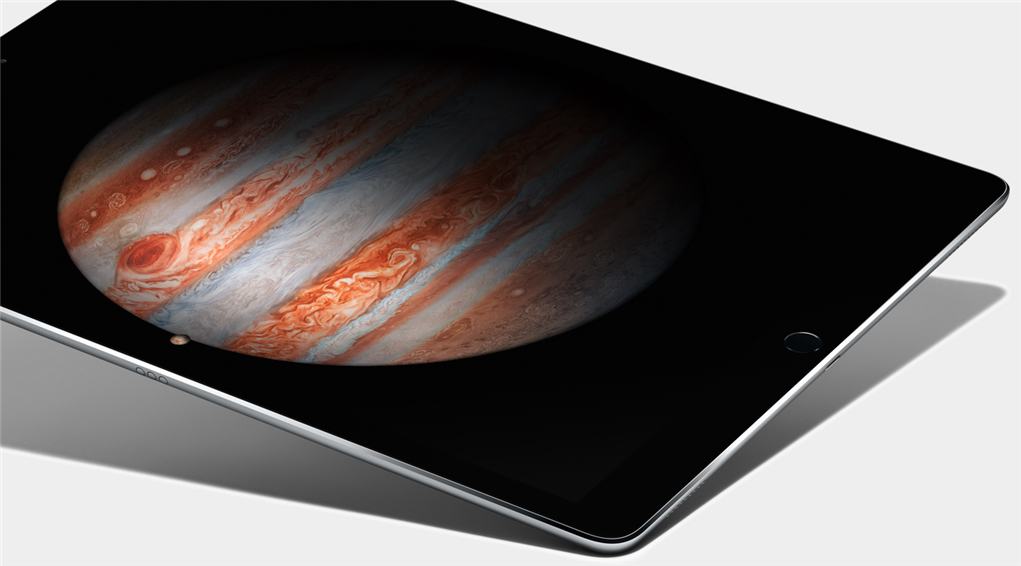 If you are a photographer who likes to do their finishing touches on an iPad, the iPad Pro is a gem. With its higher resolution display on a bigger screen, your photos come to life and again, you have a bigger canvas to do your magic touches. iMovie users will also appreciate the 3″ jump.
Thanks to iOS 9's new multitasking feature, if you like to do two things at once, you'll love the new iPad Pro. For example, you can compose a music score in Garage Band on the left side of the screen while having Safari or Notes on your right.
Should you get the iPad Pro?
It entirely depends on what you are going to use the iPad for. For casual reading, browsing, or games, I'd suggest to just stick to the thinner, lighter, and cheaper iPad Air 2.
I myself definitely won't be upgrading to iPad Pro. iPad Pro will be available in November 2015.
Note: Images courtesy of Apple
[AMAZONPRODUCTS asin="B00OTWNSMM"]