Note: This is a guest post written by Demi
Accidents and mishappenings
Almost all of us have gone on a deleting spree on our PCs and ended up deleting a file or photo one too many before we even realize our mistake. Or maybe you have been subjected to a malicious and unsuspected virus attack and ended up losing a major portion of important documents. What do you do in such a situation apart from sighing in despair into the palms of your hands?
Simple. You look for aid from the free EaseUS Data Recovery Software!
Available both, for the Windows and the Mac systems, the software is an extremely easy to use platform which can be utilized to recover any deleted or lost data through thorough scans. The Wizard can help you recover files from your PC, laptop, hard drive, SSD, USB, memory card or digital camera. It is the perfect tool for recycle bin recovery and hard drive recovery.
INSTALLATION
First of all you must install the software from the website. You can either purchase a package or use the free version. It is a simple .exe file that can be downloaded through the click of a button. Launch the application after you have installed it to get started on data recovery.
HOW TO USE AND RECOVER
The User Interface of the app is as simple as it gets to facilitate your use of it. Starting from the Home page, you may first select the type of files you are searching for, whether they are documents, pictures, videos or any other. The next step is to select the drive that you would like the software to search through.
SCANNING FOR FILES
By clicking on the "Scan" icon on the bottom right corner, you can instruct the wizard to perform a Quick Scan for you which takes no more than a few minutes and extracts major files. If you still fail to locate your desired file, you can run a Deep Scan which can be time consuming but recovers a huge amount of files.
EXPORTING RESULTS
You can pause a scan in the process if you would like to and view which files have been recovered so far. If you would like to save your scan results for use at a later time, you can export them by clicking on the "Export Scan Status" icon.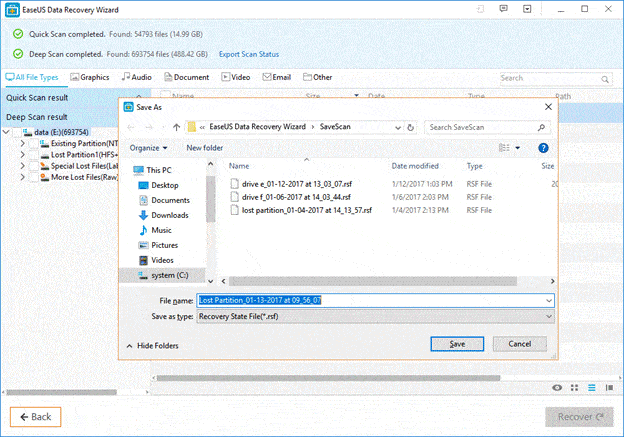 AN EASY AND EFFICIENT TOOL
The free EaseUS Data Recovery Wizard is extremely simple in its working and use and is indeed a handy tool for any and every person, whether you are someone who works with a plethora of files and documents in an office or a photography enthusiast who has drives upon drives filled with photos. Having the EaseUS Wizard will always ensure you the peace of mind of having a safety net to fall back on in case you end up losing part or all of your important data due to a mishap.
Invest in a safe present and future of your files today by getting the EaseUS Data Recovery Software which is the perfect tool for recycle bin and hard drive recovery.