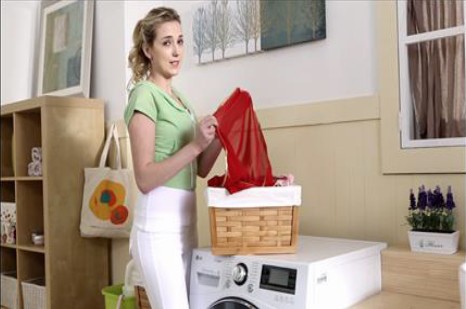 LG unveiled a few new Smart appliances in this year's CES, such as the 6-motion technology washing machines to wash every single fabric that you can think of, smart vacuum cleaner bot called the LG HOM-BOT with scheduled and advanced cleaning technology, and a smart oven that can be operated with Wi-Fi powered by a variety of heating system.
To celebrate the launch of these new smart products and promote their Smart products range, LG is having a cool LG SMART DISCOVERIES competition.
The competition is fairly simple and interesting to participate. Simply submit your own story (with a photo) on how you use your home appliances at home in a creative, unique, or smart manner (you need to register and logged in to submit). You pick the product category that suits your story, in order to win the actual LG product of that category.
For example, one of the entries I like is how this mom uses her fridge to freeze her 4-year-old daughter's toy to kill dust mites because she has a bad allergy:
If this entry wins at the end, then she will get the new LG fridge from the Smart product range. Cool, eh?
That is just one of the entry examples, of course. Feel free to submit your own fun or creative idea/story of your life. Once submitted, people can vote on your story or idea by pressing the "Love" button. The more people who love your story, the higher chance you get to be picked. Obviously, the judges will also look at the creativity and uniqueness of your story (and other judging criteria that you can read yourself on their FAQ page).
The deadline of the submission is September 30, 2013 (Midnight, GMT) so you still have plenty of time to think this through and submit your stories.
Some official unique ideas and stories by LG can be seen in these videos:
My new best friend:
Belly dancing made easier:
Coffee brewing mania:
To find out the other entries (to vote) and to participate (no reason why you shouldn't), hop in to LG SMART DISCOVERIES
Disclosure: Post sponsored by LG