As a blogger, have you ever wondered how many stumblers are there on your stumbled posts?
Of course, you can stumble your own post and then look at its stumblers + reviews on the StumbleUpon page, but what about posts that you don't stumble yourself?
This small program, runs in Windows, will satisfy your curiosity. This app is for you Stumblers as well, to track what posts have you stumbled before and the activities around them.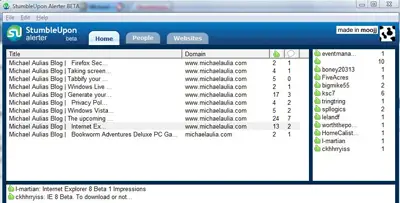 StumbleUpon Alerter

StumbleUpon Alerter will sit on your system tray when "closed" and notify you with a sound when a new stumble or review has been detected on your watch list.
You can add a URL on the program (that links to the post you want to watch), and the program will retrieve its current stumble and review for you.
StumbleUpon Alerter:
Plays a sound whenever a person reviews your discoveries
Plays a sound when one of your discoveries is liked
Displays a list of your discoveries on StumbleUpon
Shows a list of people who have rated your sites
Lists all of the reviews for your discoveries
Ranks your friends in order of most reviews
Made with the same interface as StumbleUpon
To download and install the program, go to the Author's site, Adam Lyttle, here.
It's fun to see those numbers, especially if you are the blogger of the post. One of my posts was "only" stumbled 24 times and it brought me 15,000 traffics in 2 days from StumbleUpon. I wonder how much traffics 50 stumbles will bring…hm
Source of the news: Tast & Egg & Me