Razer DeathStalker V2 Pro Review – Razer DeathStalker keyboard is back! They come in the form of DeathStalker V2 Pro, DeathStalker V2 Pro Tenkeyless, and DeathStalker V2. The one I have here is the DeathStalker V2 Pro which features Razer HyperSpeed Wireless technology and supports for Bluetooth 5.0 connectivity that allows you to connect to up to 3 devices at once.
Combined with an all new Razer Low-Profile Optical switches, you've got yourselves one hell of a beast.
Razer DeathStalker V2 Pro Review – Unboxing and Packaging Contents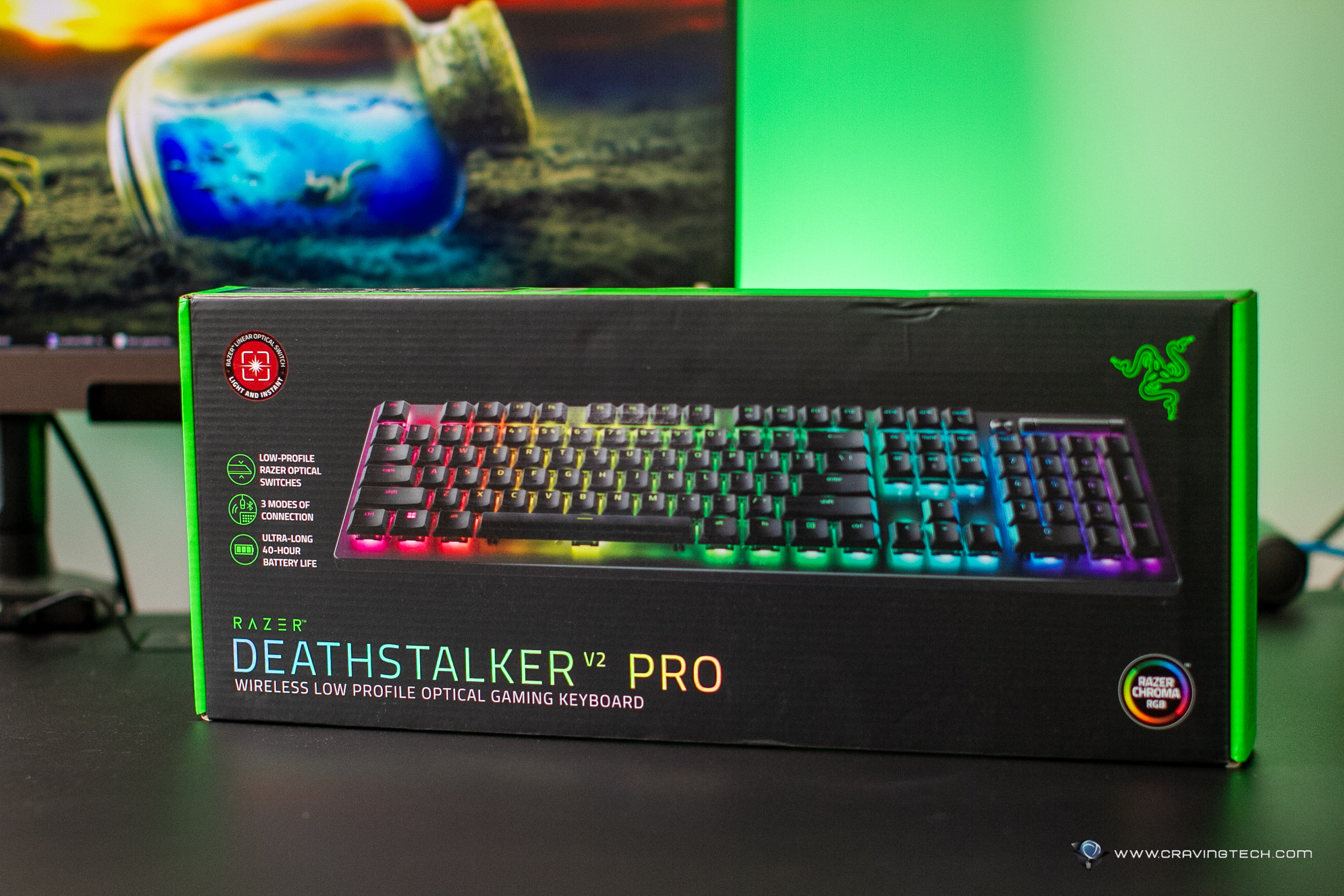 Razer DeathStalker V2 Pro Review – Design & Features
Razer Low Profile Switches
First impression: this keyboard looks totally flat and cool. This is because it features Razer's new low-profile switches and is designed with ultra-slim casing for ergonomic. The keys are situated not too high from the desk to create a more natural posture for both your hand and wrist. This allows long hours of use without a wrist rest (which I don't normally use to save space on the desk).
So when you game for hours every day and over the weekend, know for sure that the low profile keyboard is not just there for the looks, but also to help reducing discomfort and pain.
Despite of the slimness, the keyboard itself is made to be durable, thanks to the aluminium alloy top case material with coated ABS keycaps. The switches themselves have around 70 million keystroke lifespan which means the keyboard should last a long while!
Speaking of switches, these low profile switches are actually optical switches. They are somewhat different than mechanical switches but if you want to find out more, make sure to check Razer's official page for more info on the low profile optical switches.
You are offered two options of switches when you make a purchase of the DeathStalker V2 Pro: Smooth and Silent (Red) or Crisp and Clicky (Purple). They are quite similar in terms of feel to CherryMX Red and Blue. The review unit I have here utilises the Smooth and Silent switches and they feel pretty good.
The Smooth and Silent switches feel like you are typing on a combination of the good-old chiclet keyboard with mechanical responses. Compared to the Crispy and Clicky ones, the Smooth and Silent switches actually have a shorter actuation point: 1.2mm – which is similar to a CherryMX Speed/Silver.
In short, the switches have fast response times and not-so-bouncy tactile feel. I kind of missed my mechanical switches for the first day or two while reviewing this keyboard, but I get used to them by now and love them too – for both gaming and working. For gaming, the switches respond to every presses without any delays and they feel instantaneous, thanks to the low profile design. For working, they also feel quicker to respond and during a keyboard typing test, I could get 111 WPM (Words pre Minute) on typingtest.com on a 1-minute, Medium typing test.
But in all honesty, I do miss the feel of a bouncier mechanical switch for typing but this is more of a personal preference and taste, I guess.
Connectivity
Razer DeathStalker V2 Pro supports both 2.4GHz wireless and Bluetooth 5.0 connectivity – and they are both top of the line in terms of performance. I've been playing Overwatch in wireless mode (powered by Razer HyperSpeed Wireless technology) and never had any issues.
The USB dongle can be tucked away into a compartment underneath the keyboard for easy travelling and if you have a compatible mouse like my Razer Viper V2 Pro here, you can just use a single dongle to pair both. It's great as USB slots are becoming scarce on my gaming PC here.
You can switch between Bluetooth and Wireless easily through a switch on top of the keyboard, and you can even switch between up to 3 devices easily on Bluetooth with three dedicated profile buttons.
Battery life
As for the battery life, Razer says you can get up to 45 hours of battery life when you set the RGB lights to around 50% of brightness, or 195 hours without any backlighting. So that's pretty sick. If you want, you can set it to 20% brightness (which still gives you some cool lights) and get around 120 hours of battery life. But obviously this varies depending how vigorous you are using the keyboard too while gaming, so this is on average.
There are also power saving options through Razer Synapse to you can turn the lights off when you are idle, etc. Charging can be done through USB-C.
Razer DeathStalker V2 Pro Review Conclusion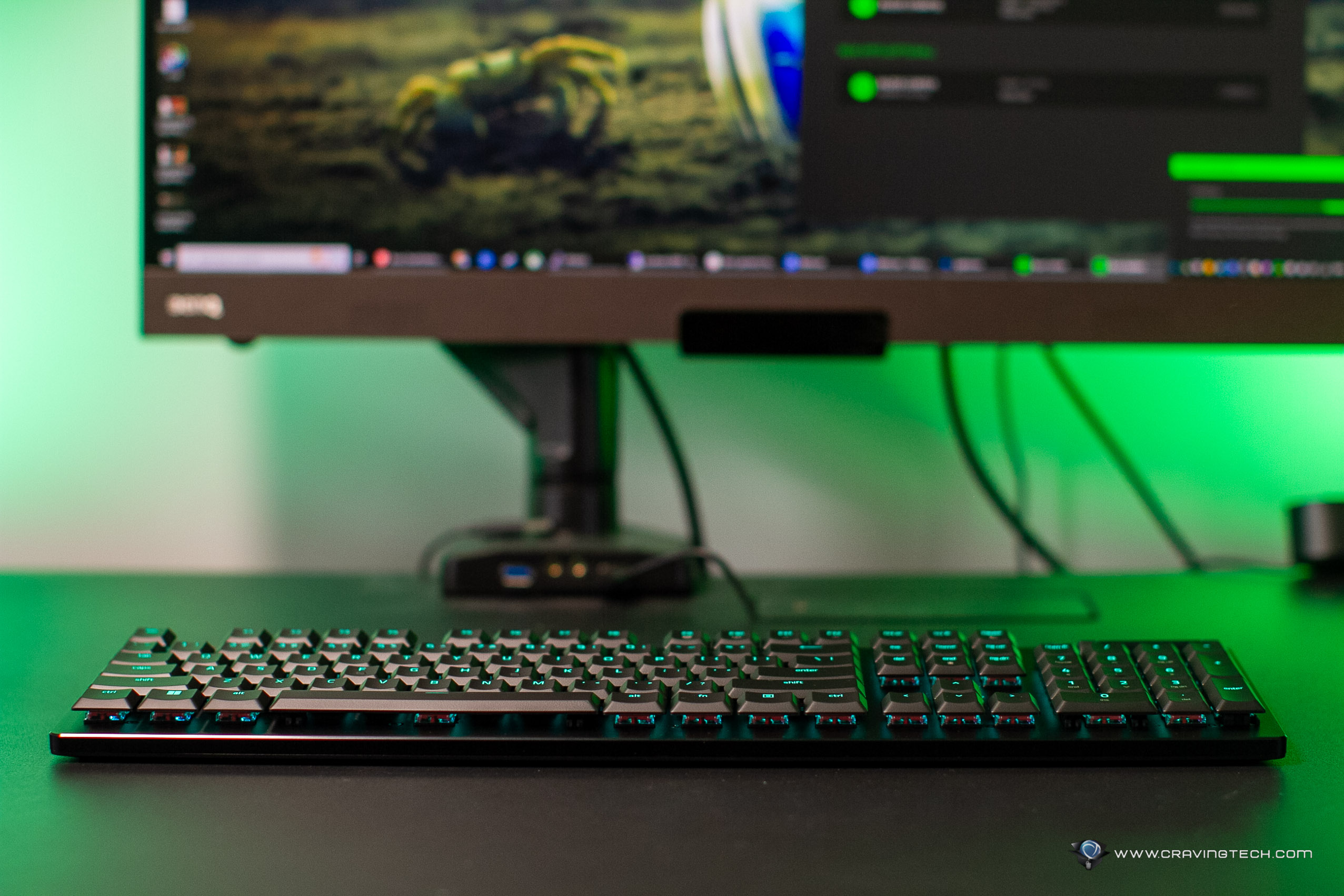 Razer DeathStalker V2 Pro is great-looking, slim, wireless, keyboard that comes with ultra-fast performance. The optical switches offer fast response times and the low-profile design offer ergonomic to reduce discomfort while you game longer. Whether the switches are far more advantageous than mechanical switches, are debatable and heavy typists might not like the tactile feel of the switches (sure, there is the Crisp and Clicky model, but there is nothing in between like a CherryMX Brown/Black/Silver feel).
It offers wireless, Bluetooth, and wired option (which will also charge the keyboard). On wireless mode, gaming is as responsive as ever and according to Razer, you can get up to 40-50 hours with 50% RGB lighting brightness. But if you are happy with a dimmer setting, you can easily get up to 100 hours and more, which is quite crazy for a cordless, high-performance keyboard.
The keyboard also has a dedicated media key and volume roller key which is always my favourite on any gaming keyboard, along with other keys like a numpad with a full-sized keyboard. There is also a TKL (Tenkeyless) version if you want a more compact version.
Razer DeathStalker V2 Pro is available now at Razer's website and retailers around Australia for A$359 RRP.
Disclosure: Razer DeathStalker V2 Pro review sample was supplied for reviewing
Razer DeathStalker V2 Pro Review
Summary
Razer's latest, wireless, flagship gaming keyboard comes with low-profile optical switches
Pros
Slim, flat, cool design
Low-profile, optical switches offer fast performance
Multiple connectivity options: Wireless, Bluetooth, or Wired
Dedicated media key and volume roller
Long battery life
Cons
No magnetic wrist rest included
Switches' feel and bounciness may not be for everyone who types a lot
Would love the option to turn keyboard off quicker than the minimum 15 minutes of inactivity on Synapse
No higher than 1,000ms polling rate