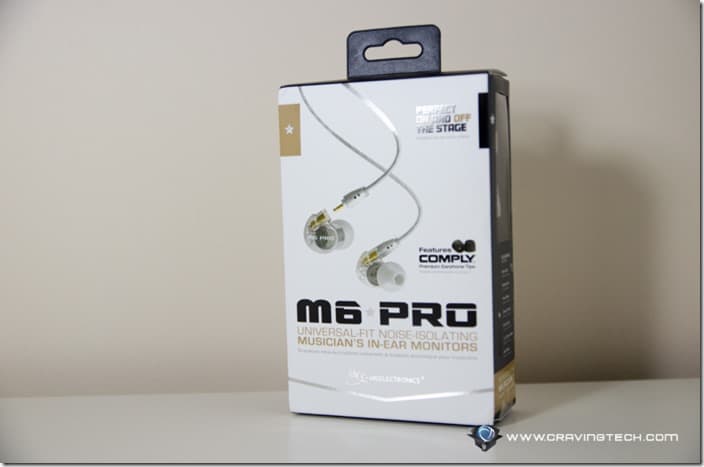 MEElectronics M6 PRO Review – Our praise & worship team at church have been using the original M6 earphones from MEElectronics as our in-ear stage monitors for quite some time now. They are popular, has a subtle design, and offer great value for money (we've bought like 20 of them, if not more). I use them almost every week (I'm playing the Bass guitar) and love them.
The original M6 wasn't specifically made as an in-ear stage monitor though, despite the popularity of musicians using them as one. Seeing the potential and the need, the team at MEElectronics has done many months of research to redesign the M6 and release the M6 PRO.
MEElectronics M6 PRO Review – Design & Features
MEElectronics M6 PRO has a somewhat similar design to the original M6, though lots of things have been tweaked and improved. For a start, the M6 PRO has a clear see-through design, which is kind of cool, yet subtle enough not to be noticeable when you are on-stage.
The cable is detachable and can be swapped with either a stereo (for stage monitoring) or headset cable with built-in volume controls and a microphone, making the M6 PRO a versatile product. When you are off-stage, you can use the M6 PRO to listen to your music and answer calls.
The cables are also sweat-resistant, braided, and tangle-resistant. You can re-adjust the cable cinch and also attach the cable onto your shirt with the included shirt clip to keep things tidy.
Different ear tips are included in the packaging, giving you options to wear the tips you like and to get the perfect fit for your ears. Thanks to the varied ear tips' sizes and types, I could pick the ones that fit my ears best.
There are more goodies included in the packaging, such as a gold-plated 6.3mm stereo adapter and a really nice travel case. The case is of high quality and big enough to slip both cables, adapter, and even all the buds if you want to. I've been carrying the M6 PRO back and forth inside this case for the past 3 weeks and it gives ample protection and style.
MEElectronics M6 PRO Review – Experience
The M6 PRO is comfortable to wear and the stiffer, yet flexible part of the cable (memory wire) helps to provide a personalised fit specifically to your ears. It's like having them custom-made. The noise isolation is really good, both on-stage and off-stage. The ear tips go deep into the ear canals, offering the best music listening experience and noise isolation.
Compared to the original M6, the M6 PRO is definitely more superior in sound quality. I can hear every channel clearly on-stage with better quality (i.e all the different musical instruments, vocals, the drum snares, etc) and amazed at how solid the low frequency (Bass) is. The Bass feels more powerful and punchy compared to the original M6, which helps me further to hear my own play more effectively and adjust dynamically.
MEElectronics M6 PRO Review Conclusion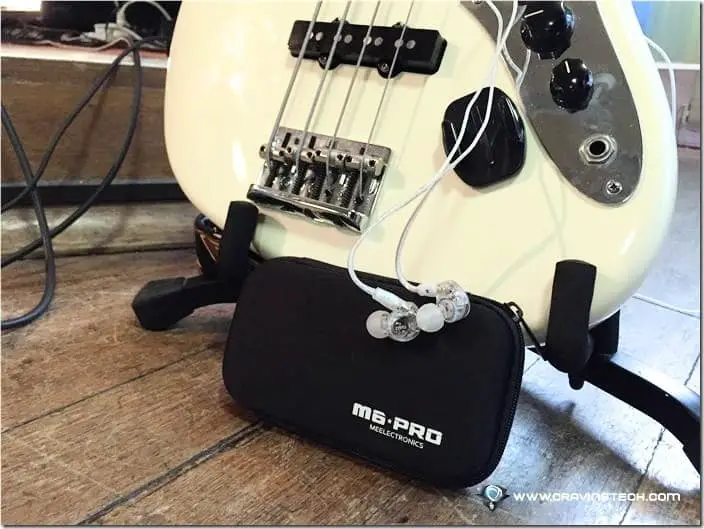 For the price ($49.99), MEElectronics M6 PRO is unbeatable as a musician's in-ear monitor earphones. It's like having your own personalised earphones, thanks to the memory wire design that lets you "mold" the cable to your ears. The sound quality is solid, the noise isolation is excellent, it's stylish yet comfortable, and comes with extra goodies that should have made this product priced higher.
On stage, the M6 PRO looks elegant and subtle with its see-through and over-the-ear design. It has a good sound separation and solid low frequency which help me further to get into the groove and play dynamically with the music team. The earphones stay sturdily over my ears at all times and things never get uncomfortable.
Off stage, the M6 PRO can be used as a regular headset to take calls while listening to your own music with built-in volume controls. A high quality hard case is included in the packaging to protect your M6 PRO, while having enough space to carry both cables and the other accessories.
Sure, you can get stage monitor earphones with better quality from different brands, but you'll most likely be paying around $200 or more. For just $49.99, nothing can beat the value and quality of MEElectronics M6 PRO. Oh, and they are offering a lifetime replacement at half of the price, should something happens to your M6 PRO. How good is that?
Disclosure: Sample was sponsored for the review but all opinions are 100% mine
[AMAZONPRODUCTS asin="B00SLVB71Q"]