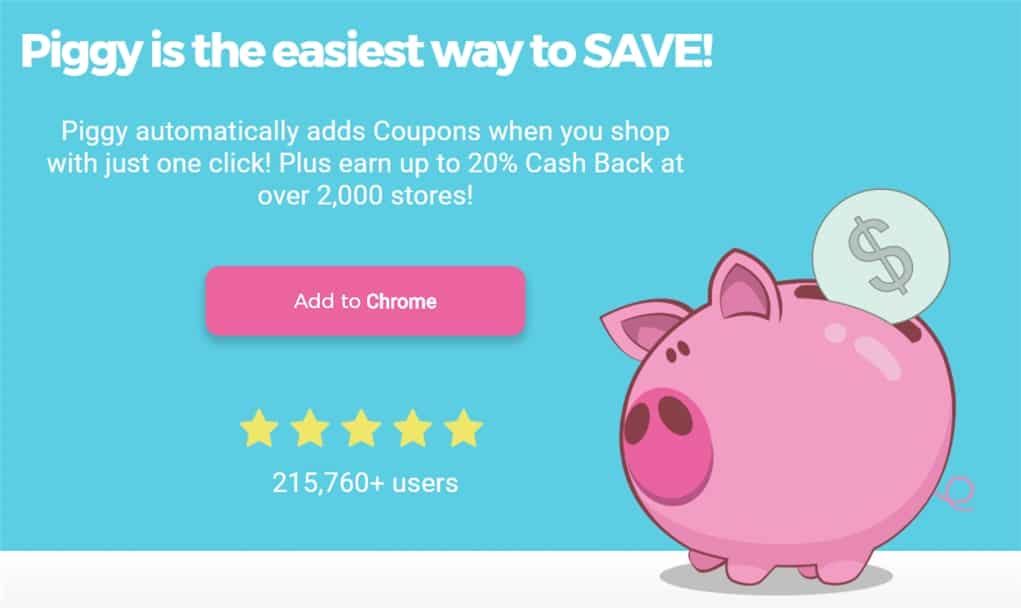 Note: This is a guest post written by Ruth Alexander
You're about to learn the hack that will double your savings as you shop—and ultimately change your life! Here's the foolproof formula for major money saving success: Piggy, a free browser extension that applies coupons and redeems cash back for you automatically, paired with your chosen Cash Back Rewards Credit Card.
It's as easy as 1, 2—there's not even a third step!
This easy hack gets you big rewards with zero extra effort.
Install Piggy before your next online purchase.
It currently works on thousands of stores, from retail to food and furniture, so your every household need is covered.
Besides giving cash back of anywhere between 2% to 5%, Piggy also finds and applies coupon codes as you shop. All you need to do is install it once and it will do all the work for you. At checkout, you may find coupons to try or cash back to activate (in many cases, both!). Instant savings!
Use a Cash Back Rewards Credit Card perfect for your spending habits.
Don't know which one is your match made in (cash back) heaven? Check out this Nerdwallet's list, which discusses in detail the benefits and drawbacks of different cards under the following categories: Average credit, Everyday spending, Flat-rate cash back, sign-up bonus, and bonus category.
Important factors to consider when making your choice: The cash back rate (they range from 1% to 6%), especially at places you frequently shop in, the rewards redemption mechanics, bonuses, and waived annual fees.
Piggy + your Cash Back Rewards Credit Card = 2x the cash back, 2x more money you can spend on other things, or save for rainy days ahead! Download Piggy today and fast track your way to more savings for your household.