Razer DeathAdder V3 Pro Review – After using Razer's most lightweight wireless gaming mouse, the Razer Viper V2 Pro (weighing at just 58 grams), I don't think I can review any other weightier mouse. Swiping and lifting the mouse up and down on the mouse mat during frantic battles didn't feel tiring at all, and it's as if your hand is not holding anything (in a good way).
Razer's latest DeathAdder V3 Pro thankfully, only weighs a bit more at 63 grams. I've never felt the difference somehow and it is a great upgrade for Razer DeathAdder users that have already been used to the shape for many years.
Razer DeathAdder V3 Pro Review – Packaging Contents and Unboxing
Razer DeathAdder V3 Pro Review – Design and Features
Let's talk specs first. Razer DeathAdder V3 Pro is powered by Razer's Focus Pro 30K Optical Sensor with a maximum of 30,000 DPI sensitivity, 750 IPS, and 70G. Razer has decided not to install any RGB lighting inside the mouse to cut weight (yes, those awesome lights do take space and add weight). Mouse with RGB lights sure look cool on the desk, but you won't see it anyway while you are playing. For professional and esport players, ergonomic and performance are definitely much more important than some funky lights!
As a result, you get an esport-worthy wireless gaming mouse weighing at just 63 grams which is 25% lighter than the predecessor, the DeathAdder V2 Pro – which I reviewed back at the end of 2020.
And it's not just the weight count. The weight is well-distributed across the entire mouse body, making it feel unified and well-balanced when I hold it in my hand. The shape, while it's different than the Viper's, feels very familiar and it didn't take very long to adjust. The DeathAdder V3 Pro is a right hander mouse (sorry, left handers!) so we can only find the side buttons on the left side of the mouse.
Like many newer, lightweight, wireless gaming mouse, unfortunately you won't find a good side grip or thumb rest here (this is because those rubbery grips do add some weight). If you like however, Razer has included some self-adhesive grip tapes with sweat-absorbent properties. It definitely adds a far better grip to the mouse at the expense of a bit of weight.
The mouse switches have great tactile feedback and these Razer Optical Mouse Switches Gen-3 also have 90-million click lifecycle.
How about battery life? Razer claims that the mouse has up to 90 hours of battery life (on 1,000Hz polling rate, or 24 hours with 4,000Hz polling rate) and while I don't exactly keep an eye on this at all times, I find that I can game for many days (with a few hours a day) before I have to charge the mouse again (USB-C). The stated battery life tests were done with constant motion so in real life, you'll get more than that.
DPI sensitivity can be changed through the DPI switch at the bottom of the mouse. I always prefer to have one below the scroll wheel like the predecessor (DeathAdder V2 Pro) but eh, I can live with that.
Razer DeathAdder V3 Pro Review – Gaming Performance
So what about gaming performance? I play Overwatch 2 daily (casual and competitive) and have been using the Razer DeathAdder V3 Pro for around 2-3 weeks. In short, I really love the mouse design, comfort, ergonomic, and most importantly, performance. The mouse gives consistent performance in every game I've played and never in a single moment of defeat that I blamed it on the mouse.
The sensor is accurate and can follow my frantic, low-dpi, swipe movement from left to right while playing the fast-paced, online FPS game. It has some intelligent functions like Asymmetric Cut-Off, Smart Tracking, and Motion Sync if you like the technicalities. And I don't know anyone who does this but the sensor also tracks on glass (with at least 4mm of thickness).
Here are some short gameplay videos of myself playing Overwatch 2 with the Razer DeathAdder V3 Pro:
Razer DeathAdder V3 Pro Review Conclusion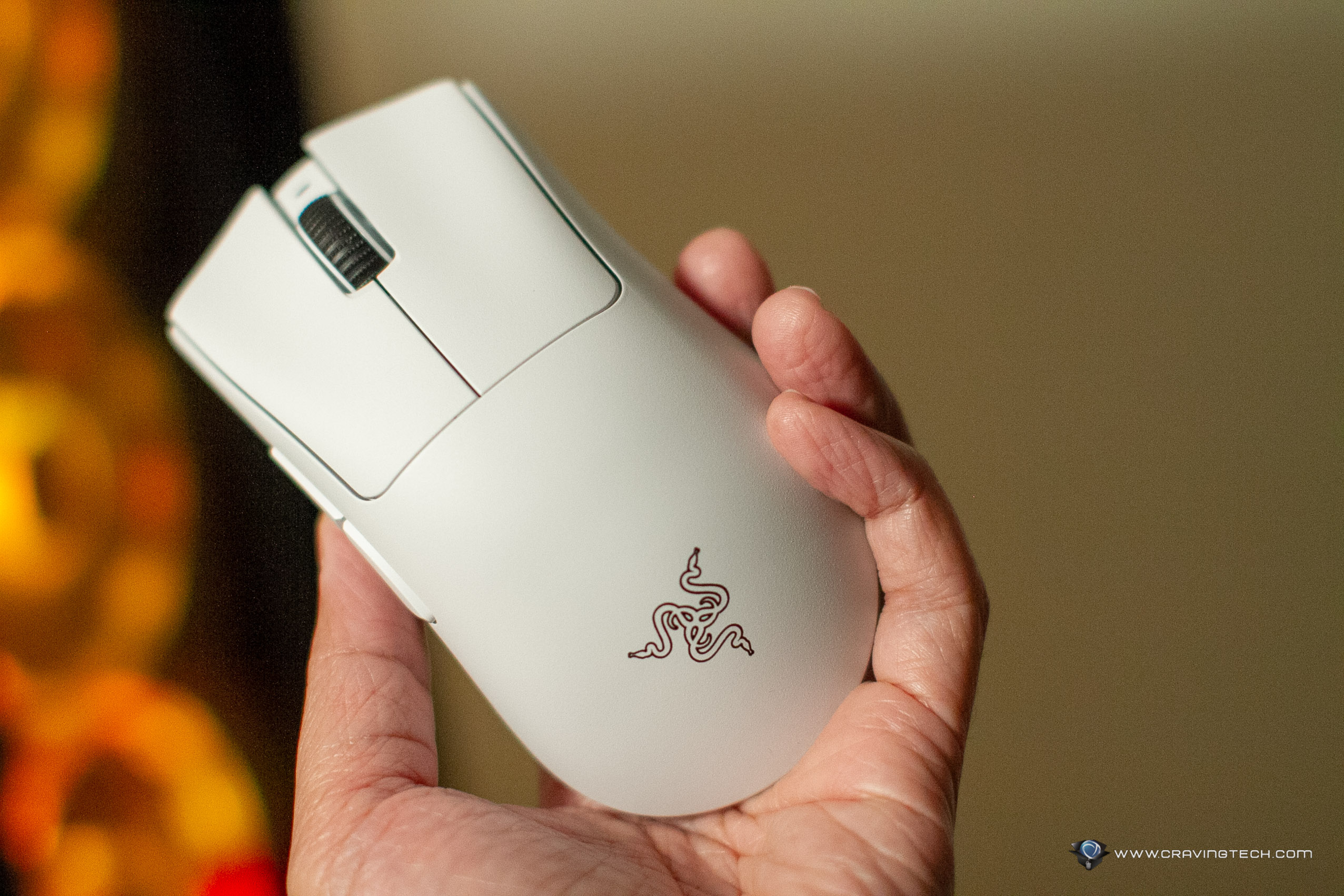 Razer DeathAdder V3 Pro is a high-performing, wireless, gaming mouse that comes in a popular shape that has been around for many years. You've also got the latest, advanced Razer gaming sensor, latest mouse switches, and the latest wireless technology.
I've been gaming with it daily and can vouch for its sensor performance and accuracy. I also like how light it is and that it has a well-distributed weight across the entire mouse body.
Razer Deathadder V3 Pro is available now and retails for A$259.95. Also available at Amazon.com
Disclosure: Razer DeathAdder V3 Pro review sample was supplied for reviewing
Razer DeathAdder V3 Pro Review
Summary
Razer's most familiar mouse shape comes with the latest Razer tech and a lightweight body
Pros
Familiar, natural shape DeathAdder fans love
Simple and minimalist
Very lightweight
Comfortable to hold, well-balanced weight distribution
Excellent sensor performance
Excellent wireless performance
Switches with good tactile feedback and long life
Cons
HyperPolling Wireless Dongle is sold separately (to give you 4,000Hz polling rate)
Doesn't have a good grip (unless you install the included grip tape. Mine still comes in Black, even though the mouse is in White)
No RGB lighting if you care about it
No DPI switch button on top of the mouse (if you like to switch DPI on the fly, you'll have to put it on one of the side buttons, which you may press accidentally in-game)