I was browsing on a forum and someone made a post about an email service at www.in.com. You can create an @in.com email address for free on the site. The site looks great and has a good rank so it's definitely not a scam. Although in.com service is mainly targeted to the people at India, the service is open for anyone around the world.
Curious, I made an account myself and I like what I see so far. The interface is clean and it has lots of nice features needed for an online email service, such as:
Tabbed inbox (so you can open multiple emails on multiple tabs)
Schedule sending an email (never forget saying happy birthday to your partner anymore *oops*)
10 GB of online storage (for emails and file storage)
RSS feed reader and also other popular email services' feeds
In.com Inbox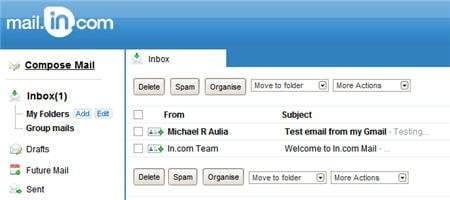 As I said earlier, the inbox looks pretty clean and the interface is not cluttered at all. It's kinda similar like Gmail but with a prettier look. As you can see from the screenshot, I made a test sending an email to this account from my Gmail. I got it in an instant so the service is nothing that I can complain about.
In.com Multiple Tabs
Ever wonder how to copy paste an email part from one to another in Gmail easily? Well at least in mail.in.com, you can open different emails on multiple tabs so you can quickly switch between one and the other easily.

Schedule email sending
This is probably the most useful feature ever on any email services: scheduling your email to be sent in the future. I remember the days when my ex-girlfriend wanted to send me a series of email every day. Well she was going away for a holiday in Europe and she wanted to schedule sending one email a day while she was away (since we would be out of contact for a few weeks). Since no online email service provides scheduling, she ended up writing the "emails" on files and asked me to open it manually one by one, day by day lol. Wish we know about mail.in.com service back then :)
Other features
Other features such as RSS reader, Online storage, and displaying your Hotmail or Gmail inbox are also available but I haven't tried them yet.
All is good BUT……………..!

Unfortunately sending an email from the account will display an advertising footer under your email body text (screenshot above). So yeah, kinda sux but I guess it's good to have an alternative email inbox for different purposes. Knowing this, feel free though to register yourself at mail.in.com for a new @in.com email address!