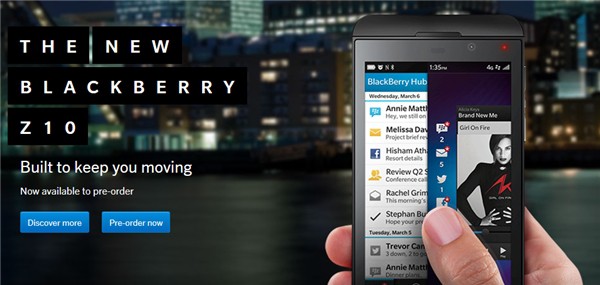 Nobody in the mid-aughts could have predicted that last month's unveiling of the new BlackBerry phone will be the most important event in the company's history since 1996, when the company's founders promised investors that a small electronic device could change how we do business forever.
Research In Motion, the Canadian company that manufactures the once ubiquitous Blackberry is fighting for survival. Blackberry used to be the go-to business phone, a status symbol among white collar types, but now it only has a share of 4.6 percent of the global market for smartphones in 2012, having overtaken by Apple's iPhone and other smartphone makers like Samsung and HTC.
Worth the wait
The main elements of the new Blackberry phones and their operating system have been publicized. RIM had been demonstrating the units for months to a variety of audiences, hoping to inject a sense of excitement for the company's return.
App developers received prototype versions as far back as last spring so that the company can be able to offer a wide variety of apps to its customers once the handsets go on sale..
While analysts and app developers may be uncertain about the future of RIM, there is an agreement that BlackBerry 10, which arrives more than year behind schedule, was worth the wait and a long time coming.
Eager to be competitive again, RIM plans to release two variations of the BlackBerry 10, one a touch-screen model similar to other phones now on the market. The other model is a hybrid with a keyboard similar to those now found on current BlackBerrys as well as a small touch screen.
Revamped software
But what the company is touting is the software. Blackberry was the main phone for corporate users because of its software's ability to manage business and personal information The company hopes that the revamp of their software will lure back corporate clients.
In the new Blackberry, corporate and government information technology managers will be able to separate work-related apps and data on BlackBerry 10 handsets from users' personal material through a system known as BlackBerry Balance.
It will enable an I.T. manager to, among other things; remotely wipe corporate data from fired employees' phones while leaving the newly jobless workers' personal photos, e-mails, music and apps untouched. The system can also block users from forwarding or copying information from the work side of the phone.
Messages generated by e-mail, Twitter, Facebook, instant messaging and LinkedIn accounts are automatically consolidated into a single in-box that RIM calls BlackBerry Hub.
RIM currently has a base of 79 million users globally to eagerly upgrade. However, most of these users are outside the United States, the market that the company wants to have a stronger foothold. RIM has been gaining subscribers in countries like Nigeria and Indonesia but these countries, with their preference for low cost handsets, are not expected to get the Blackberry 10 upgrade immediately.
Note: Images courtesy of BlackBerry Australia