Around midnight last night, I received this email from my hosting, Lunarpages:
Hi,

Recently your account was utilizing excessive resources. Details are as follows:
A detail of the problem is shown below as:

micha75 cravingtech.com/blog 5.10 1.12 0.1
Top Process %CPU 117 …./blogs/index.php
Top Process %CPU 99.0 …./blogs/index.php
Top Process %CPU 54.0 …./plugins/oiopub-direct/cron.php

CPU – 5.10
Memory – 1.12
mySQL – 0.1
I had this problem back then when I received 15,000 visitors in 2 days but I thought WP-SuperCache has already fixed that for good.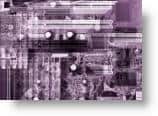 I was installing a new plug-in called Broken Link Checker 24 hours earlier and it made me wonder whether it's the culprit. Although the report mentioned about the oiopub-direct cron job, I've already had that plug-in for months in my blog without any problems.
Nevertheless, I took the 2 plug-ins out of my blog and hopefully it fixes the issue. The support guy needs to monitor my blog's usage for another 24 hours.
They offered me to upgrade to a dedicated hosting ($99/month)..err..no thanks, at least not yet.