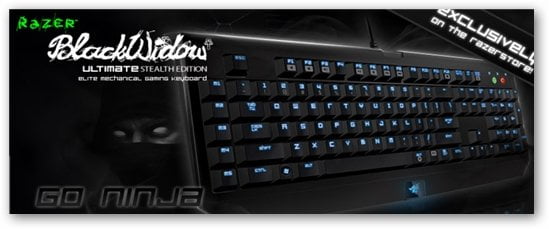 Razer BlackWidow Ultimate Stealth Edition – Not entirely happy with your Razer BlackWidow Ultimate due to the complaints your roommate filed against you? Not to worry, Razer has just launched the Stealth Edition of its most popular mechanical gaming keyboard, the BlackWidow Standard and Ultimate. The keyset still offers tactility but with a quieter feedback. Be a ninja gamer!
NOTE: Check out my Razer BlackWidow Ultimate Stealth review
The Razer BlackWidow Standard and Ultimate Stealth Edition comes with anti-ghosting that allows up to 6 keys to be pressed simultaneously. Don't know what ghosting means? Try pressing 6 keys on your keyboard at once (or less than 6, actually) and you'll hear a loud beep and letters won't get registered and printed on screen (which reminds me the good old days of playing a PC game called Rampage with 3 friends on one keyboard back in the 90s, lol)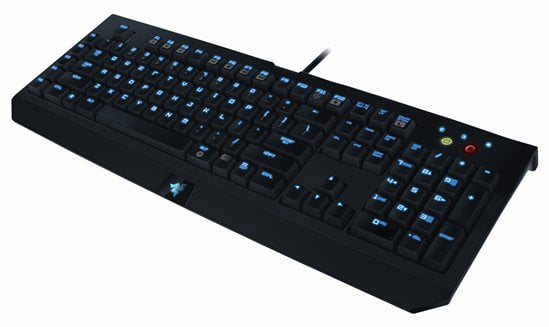 According to Robert Krakoff, President, Razer USA, the Stealth edition offers:
Quieter feedback on the keys, lighter actuation force, extreme anti-ghosting on the Ultimate version, and a new matte black finish make the Stealth Edition of the Razer BlackWidow keyboards the best choice for the unassuming but extremely deadly gamer.
I have been using the Razer BlackWidow Ultimate mechanical gaming keyboard for months and have fallen in love with it. Since I don't play RTS games competitively online, I do find the tactile sound is a bit too loud at times. Though it gives a nice feedback sound (the clicky and clacky) when you type, it certainly would be nicer to have a quieter version. Now you can surprise your roommate who has been complaining that he/she can't sleep when you are on your computer :)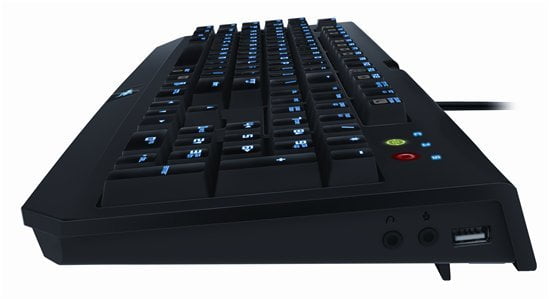 Razer BlackWidow Ultimate vs Razer BlackWidow Ultimate Stealth Edition
So what's the difference in the keys? Well, according to Razer, the original Razer BlackWidow keyboards are using Cherry MX Blue mechanical key switches where as the Razer BlackWidow Stealth Edition are using Cherry MX Brown, which is the quietest among the other Cherry MX switches (Read my mechanical keyboard and the switch differences)
The Razer BlackWidow Stealth Edition is available now and priced at AU $229.95.