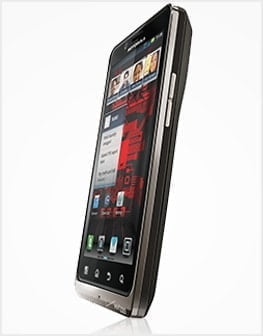 Note: This is a guest post written by Jeremy H
The uncertainty surrounding the Motorola DROID BIONIC and its long development time have led to a surprisingly robust product that exceeds expectations. After almost 8 months, this leader in cheap mobile phones has managed to launch with 4G LTE and a dual-core processor.
Verizon's smartphones have the unfortunate bad rep of being infamously heavy, unwieldy, battery-sucking vampires. The DROID BIONIC from Motorola seems to take that impression and turn it on its head. With a thin and light body, this newest of the new mobile phones hosts a high capacity battery and future-ready hardware that should last you at least the next couple years. If you want the future, however, be prepared to pay: $299.99. Ouch. Let's see if it's worth the investment.

The DROID BIONIC isn't going to be turning heads in a crowd, but its design is pretty slick. At only 5.6 ounces and 0.43″ thick, it won't weigh your pants down enough to need a belt and it'll even fit in girl jean pockets. The downside is that the camera sensors make it bulge out at the top, leading it to measure a bit thicker there. Still, this latest of cheap mobile phones feels solid and trustworthy in your hand and features details like beveled contours, a slick metallic paint job, and a soft touch rear cover.
One of the best features is the 4.3″ qHD (540 x 960) display with Gorilla Glass, which will display anything in brilliant detail and contrast. Underneath this pretty yet rugged exterior lies a plethora of Android buttons and a front-facing VGA camera that can make use of Google Talk video chat. On the back is an 8-megapixel auto-focus camera with LED flash. The DROID BIONIC also features a microUSB port, a 3.5mm headset jack, and a microHDMI port.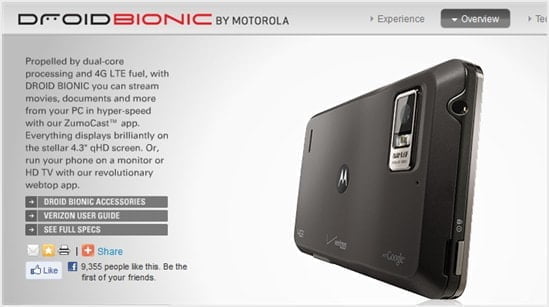 Software-wise, the Motorola DROID BIONIC moves fast thanks to its dual cores. There's very little pause or wait time. The 3D effect of the Android App panel is also impressive. Social networking (Facebook) and syncing with your Google account are built in, and it's as easy to fire off a message with the multi-touch or Swipe keyboards as it is for most cheap mobile phones. Web surfing on this baby is fast and easy with a browser that mimics the style of a computer and wickedly speedy 4G LTE.
The camera screen has digital zoom and the ability to change shooting modes. The DROID BIONIC's video recording, however, is simply outstanding with 1080p quality, and its video playback in DivX 1920 x 1080 resolution is the same amount of awesome, if not more.
When it comes to storage, the Motorola DROID BIONIC boasts 16GB of onboard memory and an additional preloaded 16GB microSD card. 8GB of that is for the typical Verizon apps like My Verizon Mobile, V CAST Media Manageer, and Verizon Video are included with other third-party applications. The extensive list of preloaded apps features Amazon Kindle, Blockbuster, NFL Mobile, and ZumoCast, which can stream files from any of multiple home PCs.
Overall, the Motorola DROID BIONIC is a robust, slim and powerful device that would be considered legendary if it were the first of its kind to perform. Alas, others beat it to the punch. Nevertheless, this kind of many cheap mobile phones may be worth the purchase.
Note: This guest post was written by Jeremy H