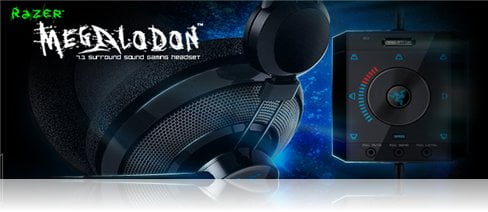 I was surprised to find out that my friends couldn't hear a thing I said after I plugged my Razer Megalodon (a 7.1 surround sound gaming headset) for the first time. They heard a loud noise coming from my microphone. After updating the driver, they still couldn't hear me properly. It's better but they could only hear me barely, clouded by hissing noises from my Razer Megalodon.
Here is how to fix the microphone static noise problem on the Razer Megalodon.
How to fix Razer Megalodon microphone's problem
Download the latest Razer Megalodon driver from Razer's website, especially if you are using Windows 7 64-bit (nevertheless, just update it even if you are on XP or Vista). Update your Razer Megalodon to the latest one and make sure it's done properly.
After the update, on the same page, there is a hint on how to fix the microphone, try it first.
If it's still not working for you, check the blog post from the Cult of Razer about fixing the Razer Megalodon mic noise as well.
Try lowering your Mic sensitivity level on the Razer Megalodon control pad to 0 or 1 (I put mine to 0) and lower your Mic volume level too.
Last thing to do if it's still not there yet: Point your mic upwards, instead of adjusting it next to your mouth. This is because the mic is quite sensitive even at the lowest level (or you might need to adjust the windows' mic sensitivity level further). The last point seems to cure my Razer Megalodon problem (by pointing the mic away from my mouth a little bit – the mic's tip is around my eye level).
Now you can shout and sing coordinate your attack better with your teammates in games!