This is a Sponsored Post written by me on behalf of Tony's Pizza. All opinions are 100% mine.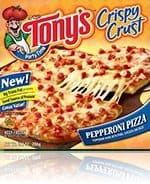 I haven't eaten pizza for quite a while..months maybe? I used to order one for a delivery, normally when I'm just too lazy to go out or when I was throwing a party with a bunch of friends. Delivery took around 40 minutes most of the time though so it's quite interesting to see another alternative, which is a frozen pizza offered by Tony's.
Due to my geolocation, unfortunately, I couldn't get the opportunity to actually taste Tony's real product myself :(
The advantage of having frozen pizzas over delivered pizzas
Ready anytime – no more 40 minutes wait
You can always stock up for unexpected parties (you know, when 5 unexpected friends suddenly rang your house)
Definitely cheaper than the freshly made ones
Tony's Pizza was started back in 1960 by Dick Barlow. Over the years, you can see Tony's Pizzas on groceries and big supermarket. The fact that it's microwaveable is one of the selling point, I guess. Most geeks like me can't be bothered spending their time cooking or heating this up in an oven. So if it's microwaveable, it's definitely a great selling point for lazy bumps like me :D
They have a variety of pizzas available such as the Supreme, Pepperoni, Four Cheese, Meat Trio, and many others. So make sure you check Tony's pizza and also the Free bowling offer they are having.
Unfortunately I never taste a frozen pizza before so I'm still wondering whether it can smell and taste as nice as the fresh one.