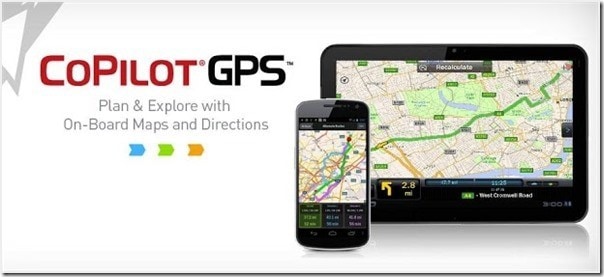 Google Maps is probably one of the most popular apps to navigate your ways from one place to another. The app is also free on every mobile platform (iOS, Android, Windows Phone). However, there are many minor drawbacks that the app has, such as having the constant need for a data connection on your device (to "stream" the maps on the go).
CoPilot GPS is also a free app but you can download the map offline beforehand, so you can use it on a Wi-Fi-only device or without having to stretch your data usage.
Why is it important? Well, you may be travelling to a remote area without good mobile network coverage. When this happens, you don't want to be travelling in the dark just because an app cannot update your current location and its map.
CoPilot GPS also provides POIs (Points of Interests) around you (when you stop, by default) or you can simply search for the name of a POI (such as a restaurant) to make it easier and quicker.
If you upgrade the app, however, you will be pampered with more options: voice guidance with TTS (spoken street names), 3D maps, speed limit warnings (beep when you pass a certain threshold), safety camera alerts, lane indicator arrows, and more.
I really like the lane indicator arrows as it has helped me to ensure that I'm on the right lane far before the turn. It's pretty important especially when you are driving during peak-hours (so you can change lane ahead of time). I also hate it when I'm unsure which exit I should go for when I'm on the freeway. CoPilot has done a really good job on this one.
If you get the CoPilot Live Premium, you'll also be automatically subscribed to ACTIVETRAFFIC™ for a year. ACTIVETRAFFIC™ will notify and update you with a new route when the traffic ahead is heavy. Whether you are going to continue subscribing after the first year, it's up to you.
Last night, I also tested the quickest route option against Google Maps (going to the same place). CoPilot took me quicker by choosing a different route compared to Google Maps. The difference was when Google Maps actually took me to a lot of 40 km/hour zones compared to the 60 km/hour zones with CoPilot GPS.
CoPilot GPS takes a bit longer to get the first GPS lock and the menu animation feels laggy even on my HTC One, but apart from that, I'm loving the app so far.
You can also grab the CoPilot Live Premium if just want to go straight for the premium option with all the features unlocked.
CoPilot GPS (free) on Android | iOS
CoPilot Live Premium on Android | iOS
Disclosure: CoPilot Live Premium forAustralia & New Zealand license was sponsored for the review. Opinions are 100% mine.