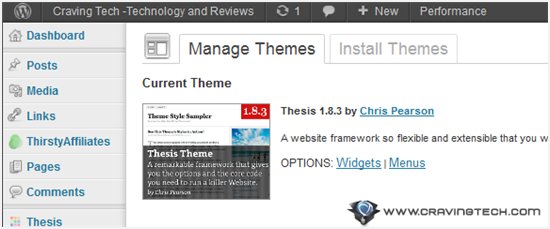 Thesis Theme is one of the best premium WordPress themes (especially in terms of SEO – Search Engines Optimisation) and also speed. Craving Tech, in case you aren't aware, is actually using the Thesis theme – heavily re-modified and re-designed (which took me a while).
Well, the best just gets better because Chris Pearson has just updated it with Thesis 1.8.3. The newer version has a few updated features behind the scenes, including speed optimisation. So if you are using Thesis and still on Thesis 1.8.2, it's time to do the upgrade!
What's new in Thesis 1.8.3 WordPress Theme
[1] Thesis 1.8.3 makes your WordPress blog even faster compared to Thesis 1.8.2
This is done by reducing stylesheets requests from 3 to 2. Though it may not sound significant, having fewer stylesheets have been proven to make a site loads faster. Or you can even reduce it to just a single HTTP request through the Options. When I tried this, my layout was messed up though so I reverted back to the 2 request calls instead.
[2]A drag and drop image uploader support for Thesis header image and favicon's.
This will only be useful if you are new to using Thesis theme, I guess. I rarely (almost never) changed my banner and favicon. Brands shouldn't be changed frequently.
[3] Thesis now supports WP Network (formerly multi-site).
It will automatically create the /custom folders per blog so you can customise each blog differently and independently.
[4] Enhanced GravityForms CSS Support
Only useful if you are using the GravityForms plug-in on your WordPress blog. Thesis automatically detects and adds the necessary CSS to the stylesheets for you.
[5] A few others that are not so important to us end users
—————————-
I love and highly recommend the Thesis theme for your WordPress blog, but only if you have the time to do some customisations. Thesis comes in vanilla and it looks a bit plain. You have to start tweaking some codes and design to make it prettier and different with the other Thesis blogs. Or you can also purchase some Thesis Themes/Skins if you don't have the time or don't understand about CSS and all that.
Thesis helps to optimise my blog to get a higher ranking on the search engines, have a good typography, and I can customise it the way I want my blog to be. The upcoming Thesis 2.0 is also real and going to feature even better things to play around with. Can't wait!