This is my first iPad 2 case review (since I just got my iPad 2 last week) but I have 3-5 more cases coming...
As expected (again), Apple announced the rumored iPad mini earlier today. Just as the name suggested, this is a mini version of the iPad....
The Outcolor for iPad is a photo editing application that transforms your photo into something…fun and cool! I think my photo above already speaks...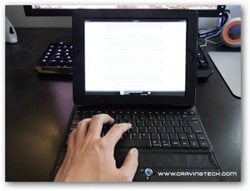 Owning an iPad is great but at times, it can be frustrating to type your notes using the on-screen keyboard. Even though you can...