Longing to go for a holiday but don't know where to go? Why don't you try the Halifax Holiday Matchmaker? Halifax Holiday Matchmaker is a Facebook app that will automatically analyze your Facebook profile (books you read, places you checked in to in the past, etc) and suggest you a place to go for holiday and things you should do in that particular place.
It's quite cool although weird in some ways – well it is automated and computed so suggestions may not be 100% accurate to your taste.
For example, I was suggested to go for a holiday in Sydney, Australia! I don't like Sydney much (compare to Melbourne, that is. It's too hectic and not homey) when I went there some years ago. Well, things may have changed though so thankfully the application tells you why I should go to Sydney.
According to the app:
Being a relaxed kind of guy, you'll like nothing more than heading down under and throwing a few shrimps on the barbie, while soaking up a few Aussie rays. The breathtaking views of the harbourwill make Sydney your perfect holiday spot. Why not bring along Grace Liu, Selvia Louw & Denny Aulia?

To make your holiday extra special we have analysed your profile, your relationships, your friends, hobbies, interests, the books you read, the town you grew up in and even the places you've visited in the past. We have now created for you a tailor-made travel itinerary of perfectly matched things for you to see and do while you kick back at your ideal holiday destination.
Somehow the app comes into a conclusion that I'm a relaxed kind of guy, which is true and that I love staying in Melbourne (definitely by checking that I haven't changed my location for more than 10 years). I don't think recommending me to stay in a hotel with my brother (he's far away in the U.S) and these 2 young girls are the best idea though :)

The application goes further by recommending me places to eat and visit. It even tells me the prices of a coffee and other good things to know about Sydney.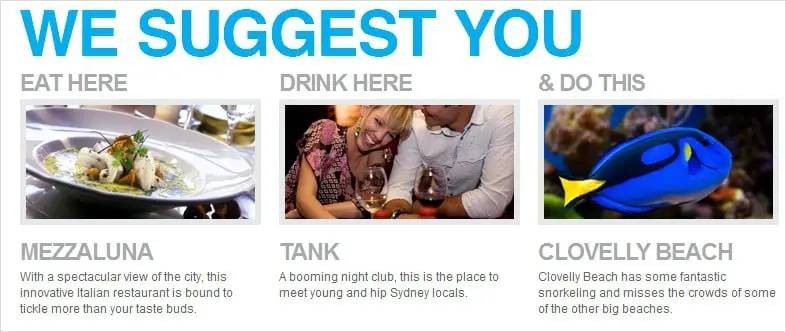 If I'm not happy with Sydney as the recommended place to visit, I can pick from various locations through the same screen.
But the fun is course to let the Halifax Holiday Matchmaker analyze your profile and recommend a holiday destination for you. You do have to let the application access your profile first, which people may not like about. If you are okay with it though, please share the holiday destination that the application has chosen for you and why – would be interesting to know :)
Check out Halifax Holiday Matchmaker application on Facebook.
Note: The post is sponsored by Halifax. Opinion and wordings are 100% mine.