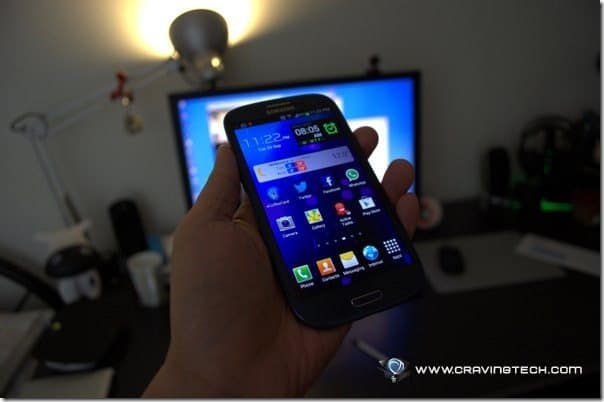 Samsung Galaxy S3 Review – I was on the iPhone 4S and then Nokia Lumia 800 for a couple of weeks. But after using the Samsung Galaxy S3 for some time, I fell in love with the phone completely. Nokia Lumia 800 feels inferior compared to the Galaxy S3 (size, quality, smoothness, etc). Now I know why lots of Android fans want to get a hold of this phone and what the fuzz is all about.
I have used and reviewed the Samsung Galaxy S2, Galaxy Nexus, and Galaxy Note in the past as part of the Samsung Street Squad campaign. The Samsung Galaxy S3 definitely beats them in almost every aspect: better display, clarity, and a solid smoother feel.
The Samsung Galaxy S3 is available in 2 colors. My review sample from Vodafone Australia is the Pebble Blue. The phone has a curvy design and a large 4.8 inch HD Super AMOLED display.
The curvy design feels a little bit awkward to look at but it feels good on the hands. It's also easier to pick the phone up from a flat surface.
The back of the phone feels a bit plastic-y, just like everyone says, but it does not mean that it's a bad phone.
The only drawback about this material (apart from feeling cheap), is that the surface is kind of slippery. When I was holding the phone, there were times when I got a bit of a scare for dropping the phone accidentally. This happened when I tried to reach the top left corner of the screen with my right thumb (as I had to wiggle the phone a bit to reach it, due to the large screen size).
However, the plastic back surface material also means you don't probably need a Samsung Galaxy S3 case at all. Should you find a scratch or two on the back of the phone, you can simply buy and replace the piece quite cheaply.
The screen looks gorgeous and definitely much better compared to the Galaxy Nexus and Galaxy S2 I reviewed last time, in terms of quality and clarity.  The large screen size should also satisfy most large-screen-lovers. Watching videos and browsing the web with the Galaxy S3 give a satisfying experience on a smartphone. The size of the screen makes it a bit hard to completely interact with the screen with just the right thumb though. Often I have to use 2 hands to be able to interact with the S3 comfortably.
I also find that I often mistook the "b" and "n" keys as a spacebar on the on-screen keyboard (I was coming from the iPhone 4S –> Nokia Lumia 800->Samsung Galaxy S3). I'm certain I only need a few more days to get used to the on-screen keyboard size so this shouldn't be an issue.
I love the LED notifications (which blinks in different color depending on the notification type, so you know what notification it is before turning the phone back on) – For example, when I had a new Whatsapp message, the Samsung Galaxy S3 LED blinks white.
The Samsung Smart Stay feature (a feature which will not put the screen into sleep while your eyes are looking at it) is a hit and miss. Sometimes I can see the "eye" icon on the top of the Android OS on-screen, but at times, it's not there even when my eyes are staring at the screen.
The Samsung Galaxy S3 also has a clear reception/call audio quality. Calls are loud and clear.
The Samsung Galaxy S3 has an 8 Megapixel rear camera and 1.9 Megapixel front camera. It has a really fast shutter speed, compared to the Galaxy S2. The quality of the photos is awesome too.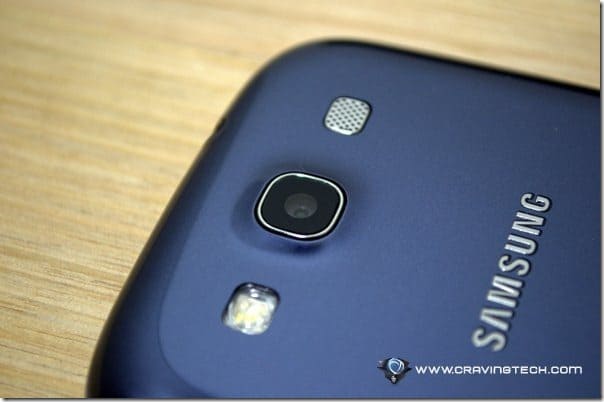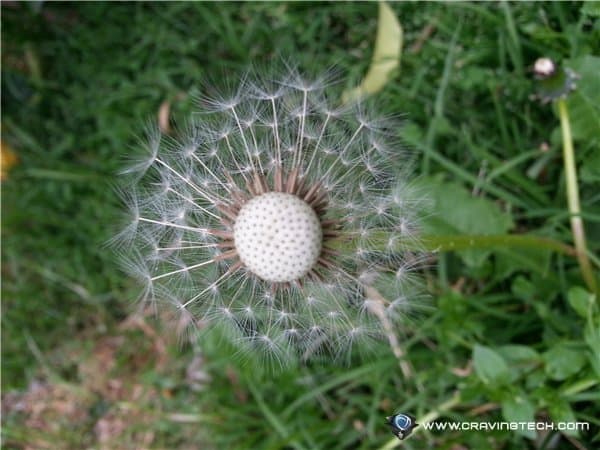 Samsung Galaxy S3 Review – Conclusion
Samsung Galaxy S3
The Samsung Galaxy S3 is definitely the best Android smartphone at this stage, no questions about that (unless if you prefer a much larger screen size like the Samsung Galaxy Note 2).

It's fast, gives a smooth experience on Android 4.0 ICS, beautiful screen, great quality camera, and also packed with a few more small features yet useful (such as the Smart Stay, Direct Call, and a few others).
Samsung Galaxy S3 vs iPhone 5
As you may have known, I'm currently using the iPhone 5 after the Galaxy S3 (haven't written the iPhone 5 review yet at Craving Tech). If you ask me which phone is better, it is a bit hard to answer. In the end, I think it's a matter of your preference between the Android and iOS operating system (as this is the reason why I pick an iPhone 5 compared to the Galaxy S3, for example). You can read my article on the comparisons between the iOS vs Android.
So, you pick! You won't be disappointed with either phone.
Samsung Galaxy S3 on Vodafone Australia
At the moment, you can get the Samsung Galaxy S3 for free if you join Vodafone's $60 plan per month, for 24 months. The plan gives you an unlimited national voice calls within Australia (to any network), unlimited text/sms to local mobile numbers, and 1 GB of data (plus a 500 MB extra data for the first 12 months). For more details and other plans' options, feel free to visit Samsung Galaxy S3 at Vodafone Australia.
Note: Samsung Galaxy S3 review sample was provided by Vodafone Australia.
---
The Galaxy S III is powered by Samsung's Exynos quad-core 1.4GHz processor, which is based on the the ARM Cortex A9. It has a 4.8-inch super AMOLED screen with a resolution of 1280-by-720 pixels, which is housed in a shell that is 8.6 millimeters thick and weighs 133 grams.

FEATURES: 4.8" Amoled HD screen The S3's enormous screen feels big in the hand, although the device is just 16 per cent larger than its predecessor, the 20 million selling S2.

Smart Stay: The phone tracks your eyes, so as long as you're looking at it, the display won't dim or turn off.

Direct Call: If you've got a contact on your screen, there's no need to hit call: simply hold the device up to your face and the number will be dialed automatically.

Smart Alert: Burst shot and best photo The 8MP camera now offers a 20-shot burst mode and will choose the best photo for you. Photos are now possible at the same time as video filming.

Face Zoom and Slide Show: Double tap a face to zoom in; automatic slide show generation zooms in on faces as individual pictures for pictures with lots of people.

Social network and camera integration: Automatic tagging of pictures, and the option to send images directly to those identified in them, called Buddy Photo Share, or display social media profile information on screen. Group Tag lets you tag multiple people in one go, if you set up a group first.

S-Voice: That's S for Samsung, not Siri. This feature allows you to control your phone through voice, eg to turn up the volume, and to ask it questions.

S-Beam: High speed file transfer via NFC and WiFi Direct, between two phones touched together, operating at up to 300Mbps.

Pop Up Play: Play video in a window on any homescreen.

All Share Play and Cast: Share your S3's screen to a TV, or use the screen as a remote control.
The following two tabs change content below.
Owner, Founder
at
Craving Tech
A technology enthusiast, blogger, gamer, and reviewer. Proud owner of Craving Tech
Latest posts by Michael Aulia (see all)