Razer Taipan Review – It's been a while since we had a new Razer gaming mouse (the last Razer mouse I reviewed was actually the new Mamba 2012, which wasn't exactly new).
Razer Taipan, their latest gaming mouse (don't mention the Ouroboros because it's not available as of yet), comes with a whopping 8200 dpi 4G dual sensor system and an ambidextrous design.
It seems to be made for those with small hands though.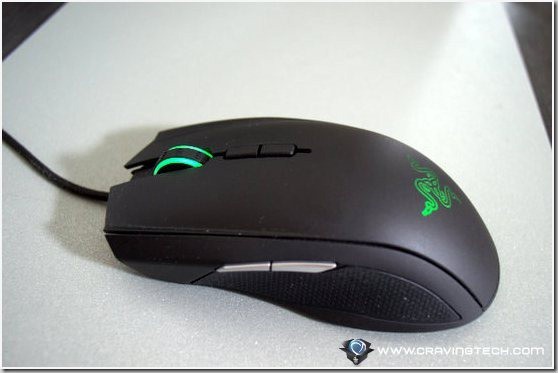 Razer Taipan Review – Unboxing Video
Razer Taipan Review – Design
Razer Taipan comes with high quality matte material with a black finish (goodbye, plastic!) and silver buttons.
Overall, I'm really happy with the material and build quality of the Razer Taipan
The Taipan has 4 side buttons (2 on each side), the usual left-mid-right buttons, and also 2 extra DPI switcher buttons underneath the scroll wheel – a total of 9 buttons and they are all programmable.
Thanks to the ambidextrous design, Razer Taipan can be used left-handed or right-handed (hence, the 2 side buttons on each side). The mouse is also comfortable to use, with the right amount of weight feel. It seems that the Taipan is made for gamers with smaller hands though as I find it to be smaller in size compared to the other Razer mouse I've reviewed before (Lachesis, Imperator, or Original Mamba/Mamba 2012). If you own a Razer mouse and think that the size is a little bit too big for you, then Razer Taipan will put a smile on your face.
The shape is just right, though I'm sure it can be way better if it's specifically designed for right-handed (or left-handed for that matter). Razer Taipan also has a rubberised thumb grip which makes the experience in using the Razer Taipan even better.
The Razer's green theme lights the scroll wheel and also the Razer logo. The color can't be changed in Razer Taipan, though, which makes me wish that I have the new BlackWidow Ultimate version to match (in green).
The cable is also braided for durability with gold plated USB connector.
Razer Taipan Review – Features and Impressions
Just when you thought that a 5600DPI mouse is an overkill, how about 8200DPI? Razer Taipan is equipped with an 8200dpi 4G Dual Sensor System (laser and optical) for exceptional accuracy and calibration on any surface. In fact, using the Synapse 2.0 software, you can actually auto-calibrate the mouse to work best on your specific Razer's mouse pad (I'm using Razer Scarab):
The fast sensor helps when you are playing online competitive First Person Shooter games, and the support for having a higher DPI is compulsory when you game with multiple monitors. I myself only use about 4300 DPI (assuming sensitivity is set to 1 in-game) but I know friends who use more than that when they are playing COD 3 Modern Warfare.
Razer Taipan is accurate, fast, and smooth when I tested it with Left 4 Dead 2, Battlefield 3 and Bad Company 2. The tactile feedback of the buttons are perfect and the middle mouse button is soft, yet firm to press. This gives me a slight enjoyment over playing Left 4 Dead 2 when zooming in and out of a sniper rifle (some gaming mouse that I reviewed in the past had a hard-pressed design and it was frustrating).
Desktop experience doesn't disappoint either. The mouse is accurate and smooth when I had to travel through the edges of the screen (when doing video editing that requires accurate positioning and lots of clicking+dragging).
Razer Taipan Review – Conclusion
Razer Taipan is a straight-forward ambidextrous gaming mouse without having too much features which you can probably live without. It provides what most gamers want, an incredible gaming experience with comfort, precision, and style.
With its black-matte finish, silver buttons, and the glowing green backlighting, you cannot go wrong having the Razer Taipan on your desk, for both gaming and non-gaming purposes.
Do note though that if you have large hands, I would still recommend to get their other gaming mouse model instead.
Note: Razer Taipan review sample was provided for the review
---
Razer Taipan
Warning: Highly Venomous
The Razer Taipan, a choice gaming mouse amongst professional gamers, has been upgraded with a powerful new sensor in its sleek body. The 8200dpi 4G laser sensor offers exceptional tracking precision with zero interpolation for high-performance wired gameplay.
The Pro-Gamer's Choice
"I like so many different things about this mouse, from the reliable performance to the accurate tracking, but the comfort definitely takes the crown. I didn't think an ambidextrous mouse would be more comfortable than an ergonomic one, but Razer managed to nail it. The mouse is fairly light and I noticed my average score in games go up after switching. After daily use for several months, it still looks and performs like it is brand new." - Steven "Korok" Ashworth Team Liquid | Dota 2
view larger
Improved ambidextrous ergonomics
Designed with extensive feedback from professional gamers, the Razer Taipan's ambidextrous form suits a wide variety of grip styles and hand sizes. Whether you're right-handed or a south-paw; use claw, palm or fingertip-grip, this mouse stays firmly in hand and comfortably so for extended periods of gaming
Hyperesponse buttons
From Razer's very first gaming mouse to now, our mice buttons are designed to be hair-trigger sensitive. This means as soon as you think it, your finger has already mouse clicked it. Utilizing highly durable micro switches, there is a pronounced tactile feedback to your fingertips with each actuation, so you get the absolute assurance that you're winning with precision
view larger
8200dpi 4G laser sensor
The Razer Taipan is outfitted with the most advanced and configurable sensor yet, the all-new 8200dpi 4G laser sensor. It tracks so precisely, you always hit targets exactly where you need to. It can also be calibrated to your specific surface, and has adjustable cut-off to lift-off tracking, empowering you with more tournament-grade control than ever before.
Green LED lighting
The Razer Taipan features bright green lighting on the mouse scroll wheel and Triple-Headed Snake logo.
view larger
Side buttons for more ways to kill
Whether you're left- or right-handed, buttons have been strategically placed on either side of the Razer Taipan that can be easily programmed and actuated to execute any command, skill, macro to put you ahead of the competition.
view larger
Razer Synapse enabled
Enhance your Razer Taipan experience with Synapse, Razer's hardware configurator with online cloud support. From sensitivity to lift-off tracking to surface calibration, you'll be able to customize every detail. Better still, this data is saved in the cloud, so you can play your way wherever you are. Razer Synapse keeps your Taipan in peak performance via automatic driver and firmware updates so you'll be on top of your game, all the time.
The following two tabs change content below.
A technology enthusiast, blogger, gamer, and reviewer. Proud owner of Craving Tech
Latest posts by Michael Aulia (see all)