Razer BlackWidow Ultimate Review – We've heard back about Razer's new mechanical keyboard, the Razer BlackWidow and the Ultimate edition back then in August 2010 (Gamescom 2010). It has been years since Razer released a gaming keyboard so the news sort of rocked the gamers' world (or at least Razer's fans) including myself as I used to own Razer Lycosa and I wasn't too fond with it.
Let's have a look whether Razer BlackWidow Ultimate is the ultimate weapon for gamers.

Unboxing video
Check out my Razer BlackWidow Ultimate unboxing video:
Design and Looks
Just like most of any other Razer products, the Razer BlackWidow Ultimate is coated in black with a glossy finish. In real life, as much as on the screenshots you've seen on the official product page, the BlackWidow Ultimate looks really sleek and sexy: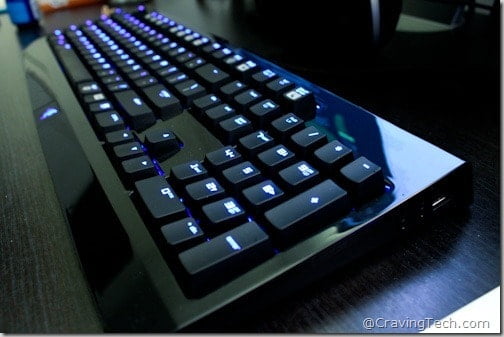 I expected this keyboard to be huge somehow from the screenshots and the videos, but it's actually quite compact in size.
I like how most keys are designed to be uniformed in sizes because other keyboard manufacturers tend to make some keys smaller than the usual. In summary, I like the overall keys layout (maybe personal preference here): the backslash key is located above the ENTER key, macro specific keys next to the WASD keys, and the Windows key is located between the Left-Control and Left-Alt key, where it should be. Gamers who often press the Windows key accidentally can turn on the Gaming mode on the BlackWidow Ultimate with 2 key presses (Function + Gaming).
The only minor anomalies are the sign labels, which are printed below the numbers rather than above them. I didn't realize this at first because I know that getting the "@" symbol, for example, is achieved by pressing Shift-2. It may take you a while to adjust, however, if you are not sure where the symbols are since the labels are different here.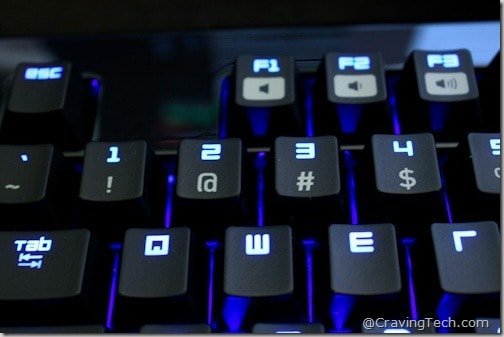 There is no wrist rest unfortunately, but the keyboard does not stand too high from the surface so typing on the BlackWidow Ultimate is still comfortable even without one. I love how the Razer team put their logo at the bottom part of the keyboard as it makes the keyboard somehow sexier. The multimedia function keys are located on top and can be accessed by pressing the Function key with one of the F-keys. You need to use 2 hands to control the volume, a little price to pay for having the Windows key on the right side of the keyboard.
The keyboard material is also free from becoming a finger print magnet which is a plus, considering the glossy surface area around the keyboard.
Main Features
Mechanical – Cherry MX Blue Switch
Razer BlackWidow Ultimate is a mechanical keyboard (read my other post about mechanical keyboards if you don't know anything about it or read through Razer's mechanical gaming keyboard section), meaning it's less tiring to type but at the same time the response time is higher. Now Razer defends that the Cherry MX Blue is the best switch for gaming although some argue otherwise. Since I've only been exposed with Cherry MX Black gaming keyboards, I can't really give my opinion on this one. The Cherry MX Blue (the one that the BlackWidow Ultimate uses) gives a distinct tactile feedback, the sound like when you clicking a mouse. These clicks-clacks feedback are important so you know whether you have successfully pressed a key. A great feedback to have when you are playing RTS (Real Time Strategy) games. However, also note that the feedback noise is quite noisy and you wouldn't want to have this keyboard if you are sharing a room with others or use it in an office!
The packaging has an opening around the keypad so you can give the keys a try in a store, to get the feel.
Individually backlit keys

The Razer BlackWidow Ultimate keys are individually backlit and there are 5 different backlight settings to choose from: no light to the brightest (1-4). The last setting makes the lights glow slowly (from nothing to the brightest to nothing and so on).
Macros and Profiles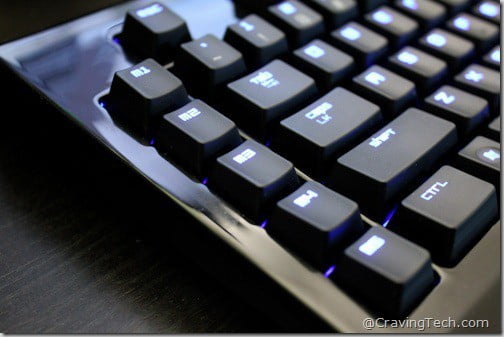 There are 10 customizable software profiles with practically unlimited macro keys. The 5 extra dedicated macro keys on the left side of the keyboard are nothing compared to how you can set a macro on every key on the keyboard! (minus the Function key and a few other ones of course). So on each profile, you can have a different macro on a key – perfect if a key is not being used at all in a game and you want to take advantage of it.
You can either record the macros on the fly or use Razer's software (included in the BlackWidow Ultimate driver) to do it. The software is cool and user friendly: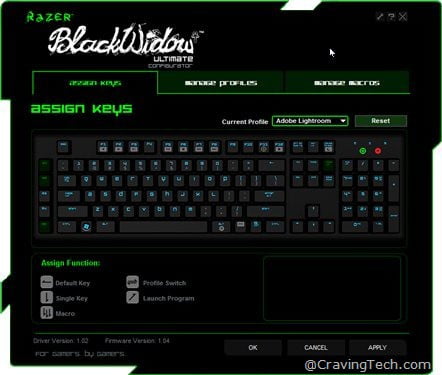 You can quickly see which keys have macros on them (colored differently) and you can disable or program a macro on the keys through the drop down lists.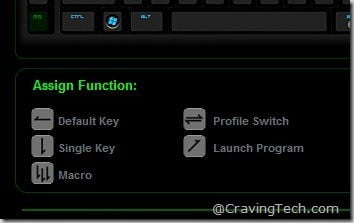 You can also assign a profile to automatically switch when you run a certain game or application. Unfortunately there is no auto detection to switch back to the default profile when you leave the game or the application. The macro lists also tend to get overcrowded and cluttered because when you make a macro, it's not being limited to the currently selected profile. The good side is that a macro can be used in many profiles but the down side of this is the list grows so quickly overcrowded. Since a macro is normally meant for a specific game or application, I'd prefer the software to limit seeing/setting up macros only on the currently selected profile.
An extra USB slot and Audio jacks
On the right side of the Razer BlackWidow Ultimate, there is an extra USB slot, an audio-out jack, and a microphone-in jack. Gamers who use a gaming headset such as the Razer Megalodon should be happy with these additional slots. Not too sure why the team designed it to be on the right side of the keyboard where your mouse is (Left should work better). So unless you have some space between the keyboard and the mouse, it can get quite crowded there.
Razer BlackWidow vs Razer BlackWidow Ultimate
What's the difference between the Razer BlackWidow and the Ultimate edition?
The design and everything looks the same except that the Razer BlackWidow Ultimate has:
An additional USB Port
The media Jacks (mic-in and audio-out)
Individually backlit keys with 5 different lighting profiles
Which one should you get? It's up to you, of course, juggling between the above additions and the money you have in your wallet :)
Overall Experience
Typing experience
Not all of us use a gaming keyboard to simply game. We spend some time chatting, typing, writing emails, updating our Facebook statuses, and many others. Typing on the Razer BlackWidow Ultimate (or on a Cherry MX Blue switch) is a pleasant experience since you don't have to use the same force needed to type as the rubber-dome keyboards (non-mechanicals). As such, you'll type faster because the transition from pressing a key to the other feels so much better. I do find that it's a bit hard when you have to double tap on a key as the experience feels stiff. You can feel this when you need to double-tap on a game or when you need to delete a few letters by multi-tapping the Backspace key. It's not a big problem but the experience is not as smooth as multi-tapping on a Cherry MX Black switch.
Gaming experience
As far as experience in gaming, Razer BlackWidow Ultimate rocks. Keys are responsive, feel light-weight, and the rapid key rebounce helps when you need to press 2 different keys alternately, consecutively. The BlackWidow Ultimate also has a better actuation distance (just half way press needed to register), so you basically respond faster in game. It might only be for some split milliseconds but if you can release that spell half a second quicker than your enemy in World of Warcraft, it might win you the duel, right? Or perhaps when you reload a little bit quicker than your enemy in Call of Duty Black Ops :)
Thanks to the limitless macro capabilities, it's easier to play an MMORPG game like World of Warcraft as I can chain different skill commands for different situations. I also tend to plug my headset a bit more now as the extra USB + audio jacks do not give me any reason not to.
Razer BlackWidow Ultimate Review Conclusion
Of course, at the end of the day, if you've been reading this review all along, the same question remains: Should I buy the Razer BlackWidow Ultimate? If you already have a mechanical gaming keyboard, then maybe not really. Unless if you want the extra slots (USB + Media jacks), the tactile feedback (the clicky sound after pressing a key), and the blue-y Razer's backlighting coolness.
If you are looking to upgrade your keyboard, however, I'd recommend getting the Razer BlackWidow Ultimate. Razer BlackWidow Ultimate is sexy, mechanical, looks great on the desk, great for both gaming and non-gaming, pretty compact & sturdy (heavy), good material quality, and other features that I've discussed above. If you already own a Razer Lycosa, Tarantula, or the Arctosa, the Razer BlackWidow Ultimate is a worthy upgrade and you'll feel the difference right away in build quality with bonus features you haven't experienced before.
The Razer BlackWidow Ultimate is definitely Razer's ultimate gaming keyboard so far and if you are thinking which Razer's gaming keyboard to buy, the answer is easy.
Note: Razer BlackWidow Ultimate Review unit was provided for the review
Razer BlackWidow Ultimate Review – Pros
+ Quite compact in size
+ Backlighting
+ Macro keys
+ Mechanical, CherryMX Blue switches
+ An extra USB slot
+ Accessible media jacks for headphones
+ Good tactile feedback for RTS gamers
+ Sexy
+ Sturdy
Razer BlackWidow Ultimate Review – Cons
– No palm rest
– Noisy
Feel free to contribute on this Razer BlackWidow Ultimate Review post's comment section below.
---
The RAZER RZ03-00380100-R3U1 BlackWidow Ultimate Mechanical Gaming Keyboard is the first mechanical gaming keyboard designed to pave the way for a whole new feel and accelerated gameplay. A full mechanical key infrastructure delivers distinctive tactile feedback, superior gaming-grade response and unsurpassed actions per minute with an extended lifespan of over 50 million keystrokes. Its five additional macro keys with on-the-fly recording and optimized key matrix allow you to stay in complete control of every frenzied battle as you outmaneuver your adversaries and perform back-to-back assaults.
The following two tabs change content below.
A technology enthusiast, blogger, gamer, and reviewer. Proud owner of Craving Tech
Latest posts by Michael Aulia (see all)