Philips SensoTouch 3D Review – This is my review on the latest Philips electric shaver, the Philips SensoTouch 3D. There are a few SensoTouch 3D models but their performance & technology are basically the same, apart from missing minor features or aesthetics. I'll mention about the differences later in this review post.
So does SensoTouch 3D make a difference compared to the previous model, the Philips Arcitec?

Philips SensoTouch 3D Review – Looks
Similar to the previous Arcitec model, the SensoTouch 3D looks like a futuristic space ship's flight joystick at a glance: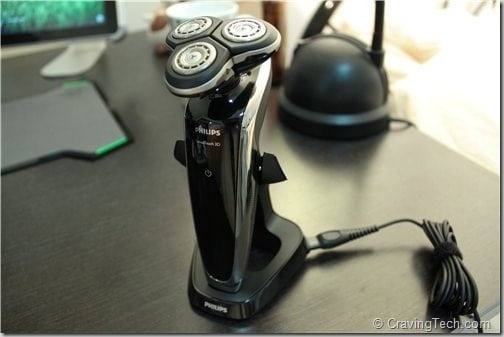 The build quality is really, really good – from the materials up to the finishing touches. The overall design is really slim as an electric shaver and it also has an anti-grip material so it won't slip out of your hands when you are shaving:
There is also a handy trimmer on the SensoTouch 3D to trim your sideburns.
The SensoTouch 3D that I have is the RQ1290cc that comes with the cleaning system (Jet Clean):
and the package also comes with a nice compact travel pouch:
Philips SensoTouch 3D Review – model differences (RQ 1250 vs RQ 1260 vs RQ 1280 vs RQ 1290)
Based on the SensoTouch 3D usage information guide I have, here are the differences between the RQ1290, RQ1280, RQ1260, and RQ1250:
The RQ 1280 and 1290 will tell you how much battery left on the LCD display in minutes whereas the RQ 1260 and RQ 1250 will be using some sort of indicator bars.
The RQ1250, RQ1260, and RQ1280 don't have an automatic lock whereas the RQ1290 has a motion sensor that automatically locks the shaver if it's on the move for more than 5 minutes, which is cool if you frequently travel and often forget to safely lock the shaver away.
A "CC" simply means that the package includes the Jet Cleaning system.
Philips SensoTouch 3D Review – Closer look at the shaver features
"3D"

In case you've been wondering what the 3D tag is all about, it actually refers to the GyroFlex 3D feature, with contour following heads. These heads will follow the curve of the skin's surface nicely, reducing pressure and irritation to the skins. If you had an old electric shaver model, you must have realized that shaving the neck's area is no trivial task. I still remember a few years back that I even needed to cut some of my neck's hair off with scissors after shaving with an electric shaver.
Philips SensoTouch 3D UltraTrack Heads

3 x 3 UltraTrack heads with combinations of 3 specialized tracks: slots for normal hair, channels for long or flat laying hair, and holes for the shortest stubbles. These 3 UltraTrack heads are the main parts of the SensoTouch 3D responsible for giving the closest shave.
When you clean these heads after you shave, you can clearly see the thickness of these heads' layers (much thicker than the Arcitec model):
Philips SensoTouch 3D Wet or Dry Shave? Up to you.
The SensoTouch 3D technology supports both shaving in dry and wet condition. It even supports using the shaving gel to shave! Now honestly this is the first time I've ever heard an electric shaver that can do this (correct me if I'm wrong). During the 2 1/2 weeks test for the review, I shaved 4 times with different conditions: 1 dry, 1 wet, 1 dry, and 1 with shaving gel. All worked really well. If you always get red rashes on your skin using a dry electric shaver, always remember that SensoTouch 3D works well with shaving gel for your sensitive skin. Or you can shower and shave at the same time with SensoTouch 3D. The choice is yours!
Philips SensoTouch 3D Review – Jet Cleaning System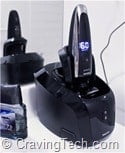 On the RQ1008 Jet Clean system (the one that 222I have), you can set the cleaning mode to either AUTO, ECO, or INTENSIVE. The AUTO mode lasts for 2 hours (including cleaning and drying) whereas the ECO lasts for only 1 hour. The INTENSIVE lasts for 2 hours but it adds an extra session of cleaning.
The other alternative, RQ1007, only has one mode which is the AUTO mode.
Cleaning the SensoTouch 3D shaver heads is very easy. I normally wash the heads under the sink with hot water first and then put the shaver on the Jet Cleaning system.
Philips SensoTouch 3D Review – Impressions and Conclusion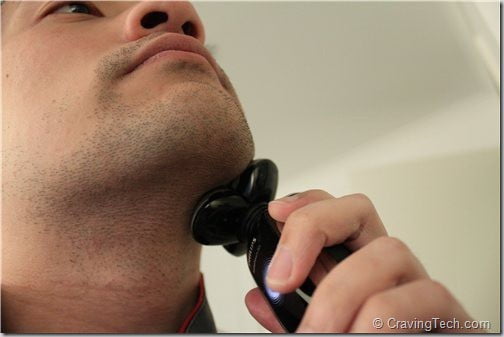 The Philips SensoTouch 3D is the newest electric shaver from Philips after the Arcitec model and it doesn't disappoint. The overall looks are really classy, futuristic and elegant, built with high quality materials, and simply…amazing in every little thing you can think of. It's the kind of gadget that will make every fan trembles with excitement. From the moment you activate the shaver (touch the screen to power up) even until you clean it on the Jet Cleaning system, the team at Philips really want you to enjoy using the shaver as much as the shaving process.
But of course, you don't buy a shaver because it looks good (although it can be a factor) but because it shaves good. Philips SensoTouch 3D really gives the closest shave ever so far from all the high end shavers I've tried (the Philips Arcitec and Braun Pulsonic 7). When I turned it on for the first time, I could already tell from the high pitch spinning sound that the SensoTouch 3D is different than the other shavers I've tried.
It shaves well, thanks to the sturdy grip, combined with the GyroFlex 3D feature. Shaving under the nose feels a bit awkward at first with the three heads but somehow hairs got cut off even if I wasn't so sure that I got the heads at the right places. Shaving the neck area is still a challenge, because you'd tend to miss a few stubborn hairs even with 3 heads spinning and cutting like crazy. Since it's not exactly clear which parts of the heads you should use to aim for that troublesome spot, you'll probably end up doing a few random circular motions around the area.
From my experience in shaving with the SensoTouch 3D for four times in 2 1/2 weeks period, both long and short hairs can be cut easily by the SensoTouch 3D UltraTack heads (normally an electric shaver tends to have problems in shaving really long hairs).
Since you can do either a dry or a wet shave with SensoTouch 3D, this really is an all around shaver that works great under different hair conditions.
If you can afford it and you are looking for a new electric shaver, get it, you won't regret it. If you ever regret in buying the SensoTouch 3D, not to worry because there is a money back guarantee from Philips. But please try to shave with it at least 4-5 times before you decide to return it. It may take some time for your skin to get used to the SensoTouch 3D. I had a few red rashes only on my first shave and it was all great experience afterwards.
Pros
+ Looks cool and stylish
+ Shaves the closest among other electrical shavers
+ Plenty of battery life
+ Great cleaning solution
+ Battery and other indicators
Cons
– Hard to shave longer hairs
---
Sale price available for a limited time. Offer not combinable with other offers, discounts or promotions.
For the Ultimate Shaving Experience
Philips Norelco Senso Touch 3D Electric Shaver gives you the ultimate shaving experience. Its innovative technology provides superior shaving performance without sacrificing skin comfort or convenience.
Close and comfortable shave
Slides smoothly over skin
Shaves long and short hair
Comfortable shaving with or without gel
Jet clean system cleans, charges and lubricates
Easy grip handle with ergonomic grip
Portable cordless operation
A travel lock and comes with a protective pouch
Skin friendly precision trimmer
The Gyro flex 3D, ultra track head and skin glide of this shaver can give you a pleasantly smooth shave even in the trickiest areas.

Just For You: All skin types

A Closer Look: Philips Norelco Senso Touch 3D Electric Shaver is a great way that can give you perfect closeness for a shave that lasts longer.

Get Started: Charge the shaver and use the shaver close to skin for best results.

"
---
Philips norelco sensotouch 3d provides our closest shave yet. combining gyroflex 3d, ultratrack heads and skinglide, results in an extremely close shave in fewer strokes. gyroflex 3d has three-dimensional-contouring. it pivots around, tilts inward, and flexes outward, to adjust seamlessly to every curve of the face and neck, minimizing pressure and irritation. the ultratrack heads combine channels to catch the longer hairs, slots to catch the normal hairs, and holes to catch the shortest stubble; catching every hair with fewer strokes. The razor should be charged for one full hour before the first use and the battery capacity indicator displays the shaving minutes left accurately after two or three full charges.
Note: Philips SensoTouch 3D Review unit was sponsored for the review. All opinions are 100% mine

The following two tabs change content below.
Owner, Founder
at
Craving Tech
A technology enthusiast, blogger, gamer, and reviewer. Proud owner of Craving Tech
Latest posts by Michael Aulia (see all)