MEElectronics Air-Fi AS1 Review – The Air-Fi AS1 from MEElectronics is a Wireless Bluetooth speaker with Speakerphone. Its compact, stylish, and professional design is suitable to be used in any environment (home or office).
You can stream your music, audiobooks, game sound, and even make/receive calls with the Air-Fi AS1!
MEElectronics Air-Fi AS1 packaging:
The packaging includes:
AFS1 wireless Bluetooth speaker unit
USB cable for charging
Lanyard
User manual
The Bluetooth speaker unit is round shaped, lightweight, and easy to carry (you can even strap it into your hands with the included lanyard if you want to). The unit has a few buttons located at the bottom of the unit, but you can trigger them by pressing the corresponding surface at the top of the unit. The surface has a clean smooth surface because of this hidden buttons design (as the physical buttons are actually located at the bottom of the speaker).
There are controls for volume & music playback, Bluetooth pairing, power, and also to manage calls (such as answering, rejecting, etc). Though at first the AFS1 looks like an ordinary Bluetooth speaker, it's actually a perfect unit to be used in a conference call. It has a built-in microphone and the call controls can do more than just answering and rejecting calls. You can also do a redial and place an active call on hold.
The shape is also professional & stylish, perfect in a meeting room or office environment.
I also love the way they place the feedback LED (Blue, Red, or alternate) in a non-intrusive way: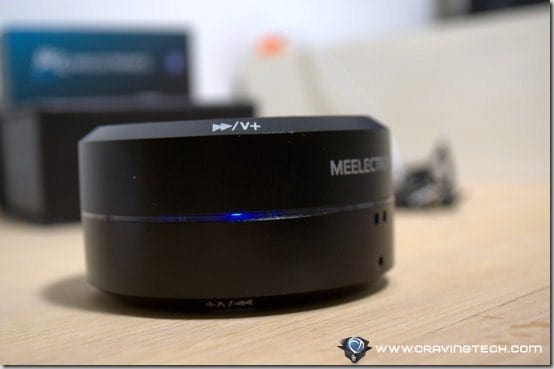 MEElectronics Air
As for the sound quality, I was amazed at how clean is the sound coming from this compact unit. The Bass is not too overpowering and the audio is crystal clear. Sure, the Bass is not strong enough to make the unit rattling on the spot but the balance is just perfect.

Watching movies (and movie trailers), playing games, and listening to music or podcasts on my iPad are now more breath-taking with the MEElectronics Air-Fi AFS1. With its compact design, I can place it anywhere inside my room/house and enjoy a much cleaner, richer sound. The volume is also loud enough to cover a small room.
It's a pity that it does not have a 3.5mm audio jack, however, in case you have an older non-Bluetooth supported device (or to connect it to my Nintendo Wii unit). But that's the only negative I can find on the AFS1.
NOTE: MEElectronics Air-Fi AFS1 review sample was provided for the review
---
Wireless Audio Streaming - Instantly stream music, movie soundtracks, audio books, game audio, and more from your tablet or smartphone, with 360 degrees sound that is far better than the sound from the tiny speakers built into your device. Highly Portable for Use Anywhere - Take the AFS1 with you wherever you go - the beach, the pool, the bath, hotel rooms, and anywhere else you want to enjoy better sound quality from your phone or tablet. Turn any Room into a Conference Room - Improve the clarity and volume when you use the speakerphone function of your smartphone, turning any location into a conference room. Intelligent design- Compact aluminum housing with hidden controls for a clean look and round shape looks great and takes up less room for storage. Compatible With - Most modern phones and tablets, Macs, many laptops, Bluetooth dongles, and media players with built in Bluetooth. Control functionality may vary by device and application. Bluetooth Specification : 2.1+EDR Bluetooth Profile: A2DP AVRCP Operating Range: 10m Driver: 50mm dynamic driver Frequency Response: 100Hz-20KHz Loudspeaker Output: 3W Signal-To-Noise: greater than or equal to75dB Playback Time: 8 hours Charging Time: 3 to 4 hours
The following two tabs change content below.
A technology enthusiast, blogger, gamer, and reviewer. Proud owner of Craving Tech
Latest posts by Michael Aulia (see all)