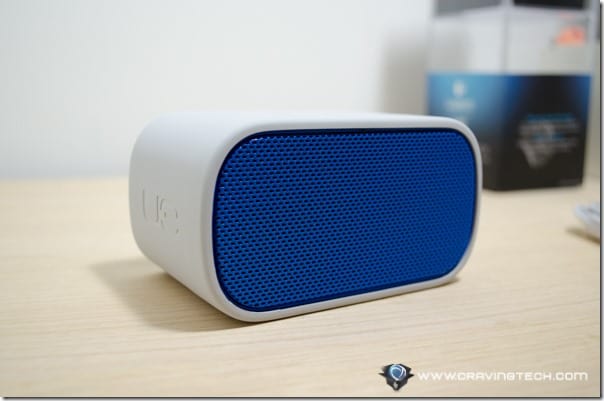 Logitech UE Mobile Boombox Review – I have reviewed many portable Bluetooth speakers in different size at Craving Tech. Portable is obviously quite relative but in terms of size, the Logitech UE  Mobile Boombox stands in the middle compared to the others I reviewed. It is not small enough that you can place inside your pocket but portable enough to be carried with ease.
But how about the sound? The design? The feel? After all, size does not matter.
Logitech UE Mobile Boombox Review – Packaging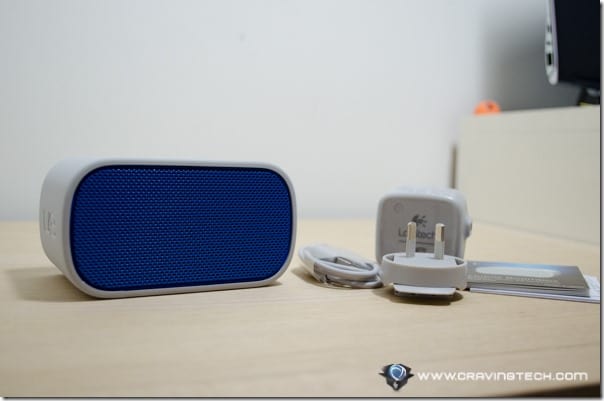 Logitech UE Mobile Boombox Review – Design & Features
The Mobile Boombox comes with a variety of color options so you can pick from the funkiest to the conservative look and feel. The review sample I have from Logitech is the Blue-White colors combination.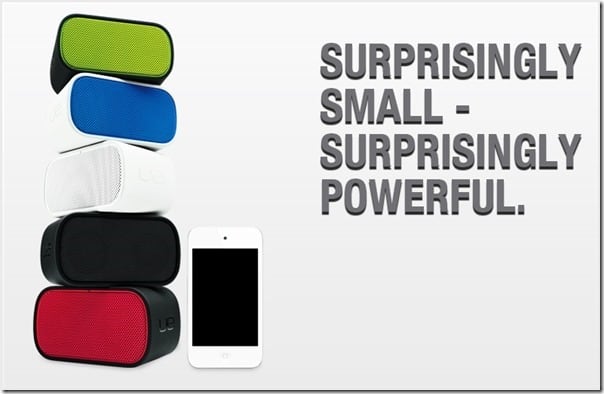 I like the shape, material, and look-and-feel of the Mobile Boombox overall. Its design is clean, minimalist, and beautiful to look at. Its rubber material means the speaker is easier to grip and stays flat on the surface. The speaker itself weighs about 300 grams which makes it ideal to be placed sturdily on top of the car's dashboard.
The volume controls and Bluetooth pairing button are located on top of the speaker, also coated in rubber. There is a small LED next to the Bluetooth pairing button to indicate the Bluetooth connection status.
Pressing these buttons doesn't feel awkward despite of the material and actually have a nice tactile feedback to them. Pairing is pretty simple; simply turn the Mobile Boombox on (the power button is located next to the charging port) and then press+hold the Bluetooth pairing button to go to pairing mode.
The Mobile Boombox is rechargeable via micro USB (power adapter included) and estimated to have 10 hours of battery life (according to Logitech).
There is also a 3.5mm audio jack next to the charging port so you can plug a non-Bluetooth device into the Boombox. The 3.5mm audio cable is not included in the packaging, however.
The quality of the sound is quite amazing, considering the size and price of the Mobile Boombox (about AUD 99 at JB Hi-Fi by the time this article was written). Even at higher volume level, the speaker can maintain its sound clarity and richness. The bass can be heard though it sounds a bit muddy (but expected from most portable speakers of this size).
I actually brought this to my music practice last Saturday and my friends were in awe. The volume was loud enough to cover our main hall and I could pick up the sound of the instruments clear enough during our practice session.
With a built-in microphone, the Logitech UE Mobile Boombox also serves as a speakerphone. Its size is perfect to be used for group discussions/meetings and as I mentioned before, in-car (both for music listening and making calls).
Logitech UE Mobile Boombox Review – Conclusion
Logitech UE Mobile Boombox
The Logitech UE Mobile Boombox is a Bluetooth portable speaker with a clean, minimalist design and packs a punch. The size, somewhat rugged material, weight, and the sound quality make it as the perfect companion to be carried to parties, meetings, or in car.

And of course, you can also use the Mobile Boombox while playing your favorite games on a smartphone or tablet.

With plenty of colors to choose from and an affordable price, there really is no reason not to pick this one up if you are looking for a portable mini boom box of your own.
Logitech UE Mobile Boombox Pros
+ Clean, minimalist, stylish design
+ Rugged material, good for outdoor
+ Clean and clear sound
+ Portable in size, fits in one hand
+ Easy to pair, can pair up to 8 Bluetooth enable devices and connect up to 2 devices at the same time
+ LED and sound feedback
+ Have an option to connect via 3.5mm audio cable
+ Affordable
Logitech UE Mobile Boombox Cons
– Bass is a bit muddy
– Cannot fit inside a shirt's pocket
Note: Logitech UE Mobile Boombox Review sample was provided for the review
The following two tabs change content below.
Owner, Founder
at
Craving Tech
A technology enthusiast, blogger, gamer, and reviewer. Proud owner of Craving Tech
Latest posts by Michael Aulia (see all)